Even after Jordan Spinelli laid down one of her best trips, she wasn't exactly waiting to hear her number when the announcer called out first place for the Dover Saddlery/USEF Medal at the Raleigh Indoors Winter Classic I (North Carolina) on Feb. 22-25. After all, she and Lights Camera Karaoke had only just moved up to the 3'6″.
"When they called me first, I wasn't expecting it at all," said the 16-year-old from Randleman, North Carolina. "I honestly thought I was second or third. It was a complete shock because I wasn't really paying attention that much. So when they called out my number, all the girls looked at me, and they were like, 'Good job!' I was like, 'What do you mean? I don't get it.' "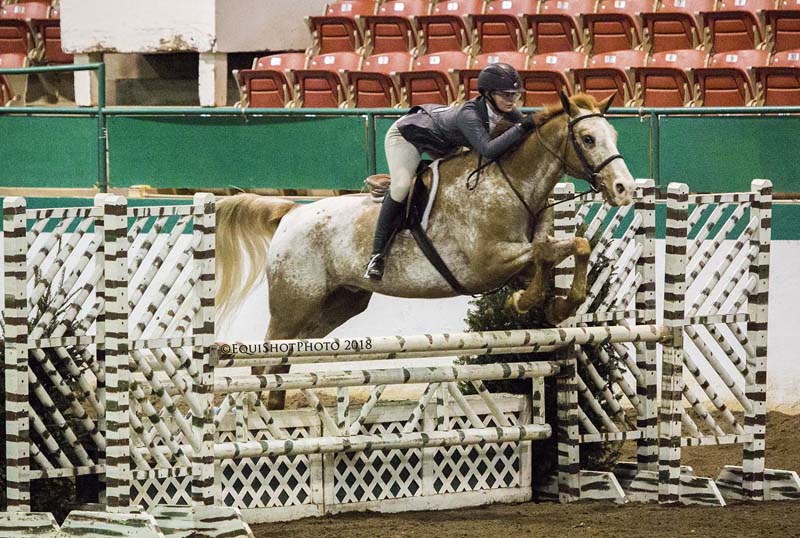 But even showing at 3'6″, let alone winning at the height, wasn't ever something Spinelli envisioned when her mom Tracy Brown first surprised her with "Kony" about four years ago. As a large animal veterinarian, Brown helped with the breeding process of the now-14-year-old American Warmblood gelding (Kalomino—Impressive Rhythm) with the spotted coat. And when she learned that he was for sale, she scooped him up to be Spinelli's short-stirrup hunter.
"It was kind of a fluke," said Spinelli. "My mom was just looking for a horse that I could do the hunters on.
"I knew that when I first saw him, we were going to connect, and he was going to be a great horse for me," she continued. "We have the same personality a little bit where it just clicked instantly."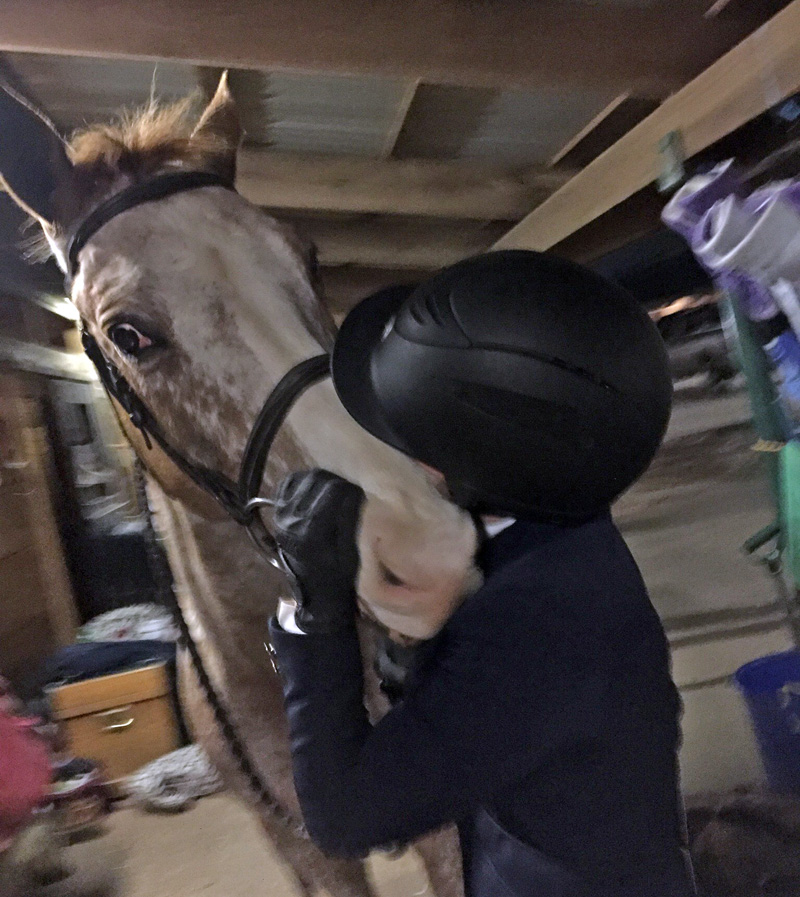 With horses in her blood, Spinelli began riding in the dressage arena early on before her family's move to North Carolina opened her to 4-H horse shows and the local circuit. But with the "goofball" Kony, Spinelli moved up and started competing at the C level, first in the short-stirrup and gradually through the pre-children's and children's divisions.
"At first I wasn't really expecting him to be that kind of horse for me," said Spinelli. "I'm ecstatic that he is, and he's such a good boy. But like when I first started doing the C shows, it was like, 'Oh I really like this, and this is definitely something I want to peruse.' And then he just kept getting better and better."
But not one to settle, Kony kept outperforming for his human and fulfilled Spinelli's A-circuit dreams as the pair moved up to the 3'3″ junior hunters in 2016—even competing at the USEF Junior Hunter National Championships—East (New York) last year.
"It was completely incredible because I had always wanted to do that for the longest time," said Spinelli. "I just never actually thought that I would end up going, especially last year because we had just moved up to the 3'3″."
But through it all, Spinelli has taken full care of Kony along with her mother's other two horses at their home. With the mother-daughter duo tag-teaming, they've created a well-oiled system of waking up at 6 a.m. to tend to the horses' cleaning, watering and feeding needs.
"Then I can go to school," joked the sophomore at Randleman High School. "I know basically everything [about our horses]. It's really fun because you connect with them on a different level because you're doing all the work."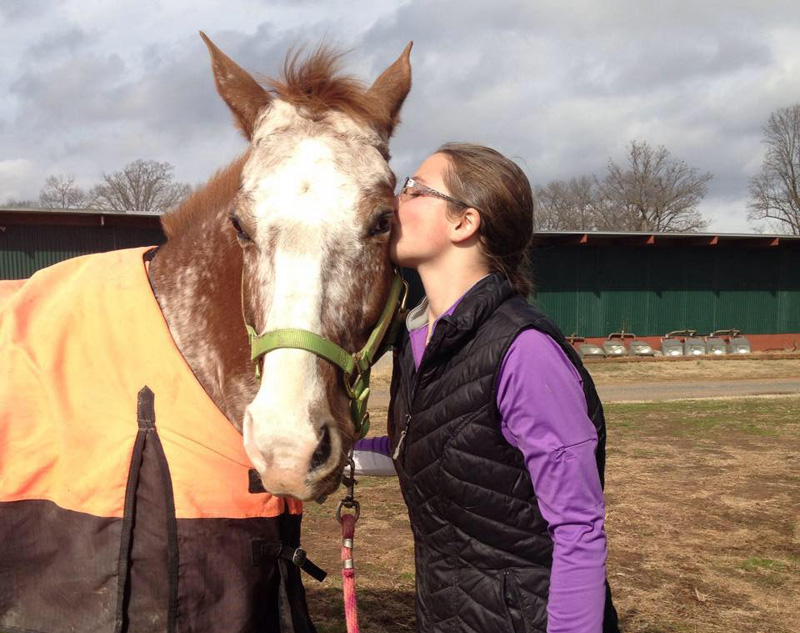 About once a week Spinelli loads up Kony to take a lesson with either hunter trainer Joey Barley or dressage trainer Nancy Sharpless. On the other days after school, it's up to Spinelli to discipline herself and push for improvement as she and Kony work by themselves.
"I've learned a lot of exercises and stuff to work on whenever I am at home," said Spinelli. "If I get stuck or anything, I always call my trainers before I ride to ask, 'Is there any certain thing you want me to do before I get on?' Usually I copy what I did in my lesson to try to further it through. But whenever I'm stuck, my trainers always let me call them. I'm like, 'I'm really kind of stuck. He might be doing this today. I don't really know how to fix that. How can I do that?' They're really great about it. I can't thank them enough."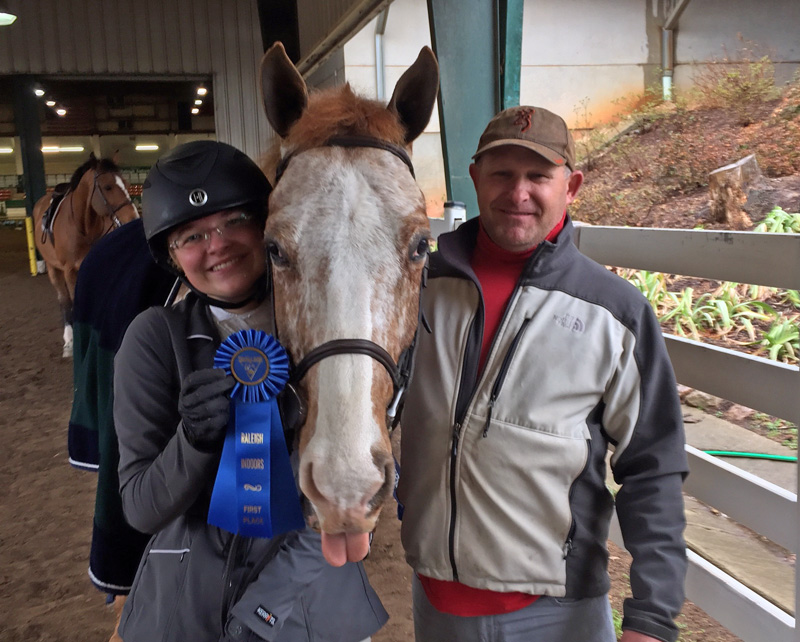 While she juggles the equine duties independently, school responsibilities call for some of her attention, as she is captain of her swim team and a member of the Beta Club and Food For America.
"[But] riding is my one and only love really," said Spinelli. "Sometimes the time just makes itself."
As Spinelli and Kony start tackling the 3'6″ small junior hunter division for the first time this year, the win at Raleigh checks off one of her 2018 goals: qualifying for the Hunterdon Cup held at the USEF Junior Hunter National Championships.
"It was just a really big surprise because he just packs me around," said Spinelli. "He's such a good boy. He definitely made the weekend for me."