I have not blogged since October of 2015 about my Thoroughbred project horse "William," but I'm happy to report he is doing well and with me for the winter in Wellington, Fla.
Last fall I spent a lot of time in Wellington overseeing Heritage Farm's barn construction project. William was back at Heritage Farm in Katonah, N.Y., being ridden by Heritage Farm trainer Dottie Areson. We would talk about his progress and program over the phone and text messages. Dottie was starting William over small jumps and small courses, and she would have someone video this for me with their phone and send it to me.
I was asked to judge the hunter division at the Retired Racehorse Project Thoroughbred Makeover event in Lexington, Ky., in October. This event was a great experience for me as I got to see and be a part of this firsthand. I invited Heritage Farm trainer and rider Laena Romond to judge with me and design the courses. This event was well run and showcased the efforts of trainers and riders and the versatility of the American Thoroughbred as a sport horse.
In December we started sending horses to Wellington to compete in some of the pre-circuit shows, and by January the full Heritage team was here in Wellington to show at the Winter Equestrian Festival, including the horse known as William.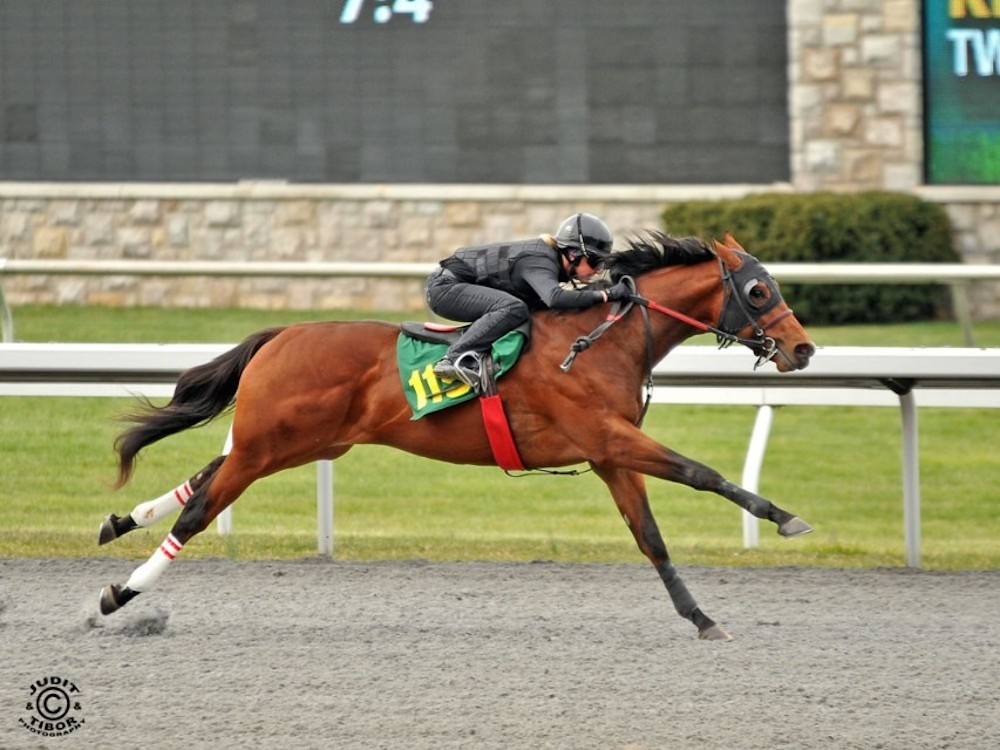 William as Bold Charger the race horse. Photo by Judit & Tibor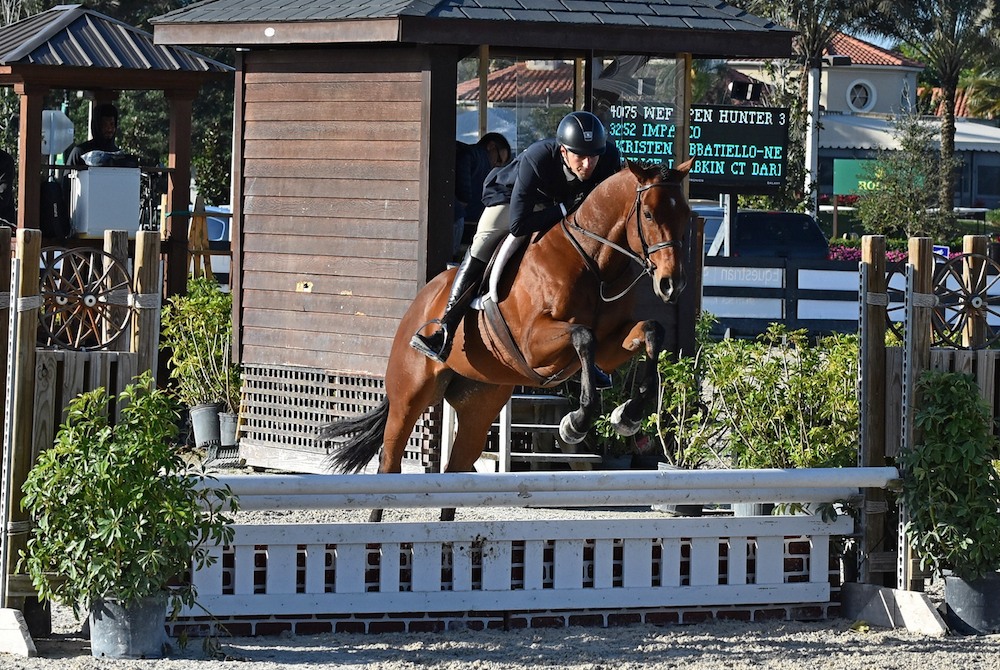 William as Boscobel the show horse with Oakley Clark. Photo by Michael Dignelli
Finally, my horse and I were in the same town for the next three months. I was happy to be here in Florida as well with my family: my wife, son and brother. My brother (and Heritage Farm head trainer) Andre had a riding accident in October and broke his femur, requiring surgical repair. He has made a full recovery. Andre is very fit and kept active and upbeat during this process, which helped him heal and recover.
When William arrived I had a lot more horse on my hands. His energy level was high, and there is less turn-out here. It was cool here in January, cold at times, and the weather also played into his energy level. For the most part, William has been a somewhat quiet horse, as long as he gets a few hours of turn-out. At Heritage in Katonah we have a lot of paddocks and turn-out, but it's not the same in Florida—here we have six paddocks and rotate as best as possible.
To get William back in the groove he spent a few nights out in the paddock. We are feeding William a little more as well, trying to get him to look a little better with the idea of getting him in the show ring.
Let's talk about his Jockey Club name—"Bold Charger." Not a great name for a show hunter. If we were going to show William in the jumper division I would have left his race name and showed him as Bold Charger. I have read about the school of thought that it's easier for people to track ex-race horses and their breeding if their race names are not changed. For the hunter division I wanted a new name, so I choose "Boscobel" after the historic Hudson Valley mansion. I like one-word names; I hope it serves him well.
When William arrived in Florida he had a rider change. Heritage Farm trainer/rider Oakley Clark took over the reins. Oakley was the first to ride William when he arrived in July. William has had three riders so farm at Heritage—Lindsey Baker, Dottie Areson and Oakley Clark. They all ride great, and they all have a little different style. Oakley has taken a real interest in William, getting him ready to horse show.
In a perfect scenario I would have taken William to a few small shows somewhere to get him started, but we are in Wellington, and he is ready now, so he's showing at WEF. Although there are Take2 Thoroughbred divisions here for both hunters and jumpers, the horses have to jump 3 feet in the hunters with in-and-outs. William needed to jump 2'6" to start.
We have shown William in WEF Weeks 7 and 8 in the low hunter and the baby green 2'6" divisions. In the weeks prior to showing, we took William up to the showgrounds, hacking around and getting him used to the whole environment there.
Show day! I wanted to make sure William looked beautifully turned out when he made his debut. He was beautifully braided, mane and tail, with a fake tail sewn in as well. I used a rubber D-ring snaffle bit and a very nice show bridle and martingale.
I think William was the only Thoroughbred showing in his hunter divisions, but this is of no concern for me. He is very fancy in my opinion. When you watch him go, he looks like a show horse—warmblood or Thoroughbred, they must look the part and go well!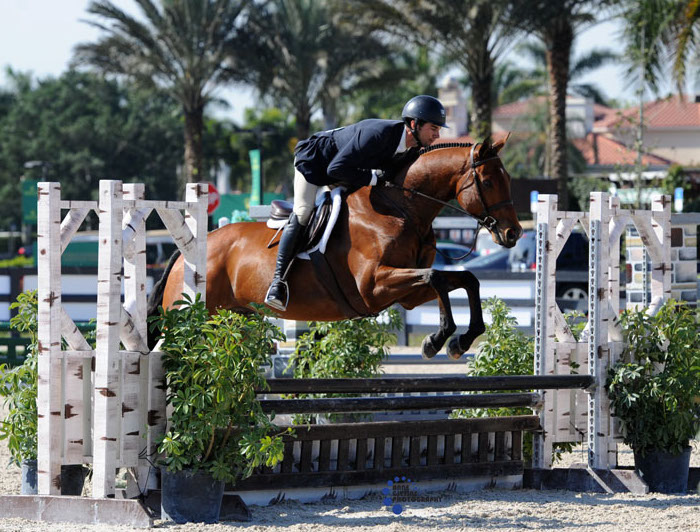 William and Oakley Clark showing at WEF. Photo by Anne Gittins
William is brave to the jumps. When the jumps are 2'6" the horses just canter the jumps. In the first rounds Oakley added a stride in the lines to get William used to being in the ring and jumping. The classes were run back-to-back, so we did two classes adding a stride in each line and two classes with the correct strides.
William is pretty easy to prepare on show day so at the ring he was quiet. He needed to get used to carrying more pace at the canter, opening his stride, landing after the jump, and moving along on an open stride to the next jump in the line. He has always been a good lead changer, so the changes looked sharp and correct. In both weeks of showing William got low ribbons over the jumps; I have to say I was very pleased.
We have William shod in steel shoes; he is a pretty good mover in them. We did one hack class for practice the first week of showing, and if I wanted to try to be more competitive here he would have to be in aluminum shoes to step up the movement. I plan to leave him in steel shoes for the time being; he also has pads. It takes a while to get an OTTB horse's feet in shape. William had an underrun heel you see in many horses off the track.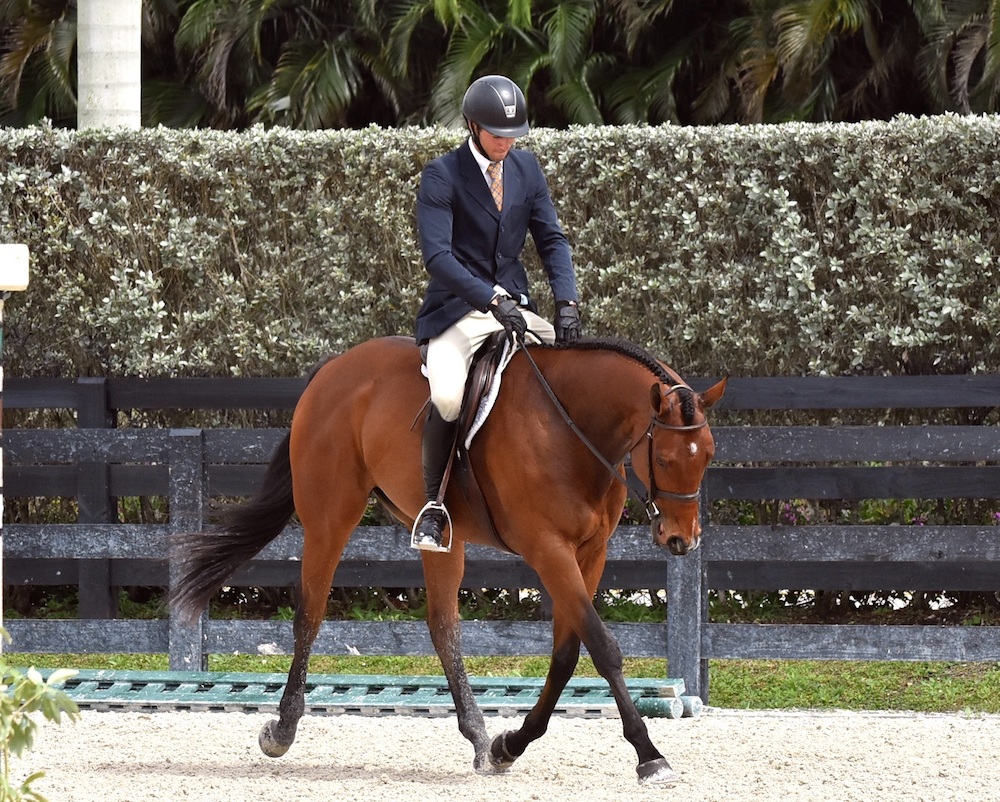 Oakley and William in the under saddle class. Photo by Michael Dignelli
Our plan for the rest of the circuit is to spend Weeks 9 and 10 continuing to train him at our facility. We'll be concentrating on the flatwork, getting him stronger from behind. Oakley has added working on the counter-canter to his flatwork; this is hard for young horses at first. The counter-canter requires the correct bend and helps with balance and strength.
We will school him a few times over jumps as well. Then, in WEF Weeks 11 and 12 we plan to show him again in the same 2'6" hunter divisions. We may opt to move up to 2'9" here as well.
William is a 5-year-old now, and he continues to gain weight and muscle and look more mature. I am very pleased with William; I am really enjoying the process of bringing along my Thoroughbred show horse!
Michael Dignelli, along with his brother, Andre, co-owns Heritage Farm in Katonah, N.Y., where multiple talented hunter/jumper junior stars have learned to ride. Michael manages the daily operations and business of Heritage and lives on the farm. He grew up riding and showing alongside Andre and will be sharing his experience of developing an off-the-track Thoroughbred prospect.