He's earned the respect of horsemen, horses—and, most importantly, his own family.
When Wilhelm Genn arrived in Florida more than 20 years ago, he had no idea just how much time he'd end up spending there.
He first traveled from Germany to Wellington with a group of horses to sell. The trip would have been a quick one, but his soon-to-be wife, Patricia, just happened to keep her show hunters in the same barn.
"That's how it all started," said Genn. "We were married six months later."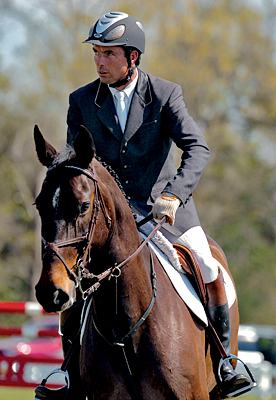 "Obviously, he was very cute," said Patricia with a laugh. "He didn't speak [English] very well, but I was really impressed watching him ride—he is a beautiful rider. And it was pretty instant—we were married a few months later."
Although Patricia's forte was the hunters, they soon focused on producing jumpers. Genn estimates that he's brought 50 horses to the grand prix level, and he's had phenomenal success in the young jumper divisions. In 2007, he scored the most clear grand prix rounds—44 clears from 85 rides in 25 classes. He also had the most clear second rounds in the nation at 29 and the most placings at 66.
For Genn, horse showing has always been a family affair. His father, Theo Genn, followed his dream of working with horses after returning from World War II, and now Wilhelm's own sons are preparing to follow in his footsteps.
Wilhelm competed at the German Young Riders Championships three times, and at age 21, he won his first grand prix on a horse his family had bred and trained.
"In the beginning, I also did dressage and eventing, which is how most kids start in Germany," said Wilhelm. "Everyone is required to get basics in dressage before jumping, and I'm a big believer in that."
But the excitement of show jumping—and, he said, the need to be so precise and accurate—soon called to him.
Running Rheinland
He and Patricia, who celebrated their 20th anniversary last May, returned to Germany soon after their wedding to help with the family farm while Wilhelm's father was suffering from cancer. After he passed away, Wilhelm had to make plans.
"We came back [to the United States] and bought a farm in Lebanon, Ohio," said Wilhelm. "It's an hour and a half north of Cincinnati, and my wife is from Cincinnati."
Patricia acknowledged that that choice, driven by her homesickness, involved a major sacrifice for Wilhelm, who, she said, had been offered a spot on the German team and a guarantee of horses to ride.
Instead, he landed on 30 acres in Ohio, where they started with two small barns and no fencing. They called it Rheinland Farm, after the Rhine River in Germany.
"It's funny when you look back—our first two horses were $1,000 horses off the track," said Patricia. "We had been a broodmare farm and boarding barn to pay the bills, and we started 2-year-olds. It's really changed over the years."
Personal Profile—Wilhelm Genn
One Of His Biggest Challenges: Moving to the United States in the 1980s and trying to find German beer and good bread.
Favorite Sports: "If I had more time, I would play more tennis," he said. "I love Formula 1 racing—I watched it all the time growing up. And I've really learned to like football."
Career Highlights: 1997 Midwest Grand Prix Rider of the Year; 1999 Young Jumper East Coast Finals winner; 2004 Young Jumper East Coast Finals winner.
Grand Prix Wins In 2007: Aboard Chantal: $25,000 Lamplight Grand Prix at Equifest II (Ill.); $25,000 Lamplight Grand Prix at Equifest I (Ill.); $25,000 Showplace Grand Prix at Showplace Summertime (Ill.); $25,000 Grand Prix at St. Louis Festival I (Mo.); $25,000 Grand Prix at Lake St. Louis (Mo.); IHP Budweiser Grand Prix at Gulf Coast I (Miss.); $25,000 Grand Prix at Lake St. Louis (Mo.); $25,000 Grand Prix at Lake St. Louis Holiday(Mo.).
Aboard Happy Z: $25,000 Grand Prix at Showplace Fall Classic (Ill.); $25,000 Grand Prix at Lake St. Louis Harvest (Mo.); IHP $25,000 Ledges Grand Prix (Ill.); $25,000 Grand Prix at St. Louis Festival II (Mo.); $30,000 Showplace Grand Prix at Showplace Spring (Ill.); $25,000 Grand Prix II at Spring Fiesta III (La.); $25,000 Grand Prix at Spring Fiesta II (La.); IHP Grand Prix at Lake St. Louis (Mo.).
On Ariado: $25,000 Grand Prix at Lake St. Louis Festival I (Mo.); $25,000 Grand Prix at Lake St. Louis Spring (Mo.); $25,000 Grand Prix at Gala January Jazz III (La.). Aboard Loredo: $25,000 Grand Prix at St. Louis Festival I (Mo.).
"My wife and I had to make sacrifices, but it all turned out really well," said Wilhelm. "The kids sacrificed because I was gone a lot, but it's made us more connected, tighter than most families. Whenever we were together, we tried to do fun things because we didn't see each other as much. Maybe in a couple of years I can spend more time with my wife and make up for the time we lost when she stayed home with the kids, and I was on the road."
Patricia said they were just determined to make things work, in the business and in their marriage. "What makes any marriage succeed?" she asked. "It's all compromise and the mindset that you want to make it work."
Their three boys—Wilhelm, 20, Theo, 18, and Ryan, 16—have all ridden.
Wilhelm is attending Miami University (Ohio), and Ryan, who began riding five months ago, is already preparing to show this spring. Theo has shown in six grand prix classes and placed in four of them since giving up football and basketball 41⁄2 years ago to ride.
"Now I'm addicted," he said.
One of Theo's rides is Ariado, an 11-year-old Holsteiner, at the grand prix level. "It's a great horse for him," said Wilhelm. "He had his first grand prix start and placings with a gray mare, and we sold her and another one he was riding, so I gave him Ariado."
Theo also competes an upcoming 7-year-old, Cohiba, a horse who won the 5-year-old Young Jumper Finals and was second in the 6-year-olds. They are currently in the high junior/amateurs, but Theo hopes to move up to grand prix this year and do the 7- and 8-year-old classes.
"The father and son training is not always easy," said Wilhelm. "I think we have a good relationship and separate training from when we go to the hotel."
Patricia agreed that the relationship worked surprisingly well. "It's nice when you have such a good role model," she said. "Theo sees his dad succeed every day, and he wants to aspire to that also.
"The boys are getting to the age where they're more friends [with their father]. He's always been the lenient one," she added with a laugh, "and I was the disciplinarian."
Theo said one of the reasons the relationship works well is because his father doesn't talk a lot when teaching him. "He gives hints without drilling," said Theo. "I've maybe had five real lessons. He just tells me I'm doing a good job unless I am really doing something wrong."
Theo said his father has always given him the right tips at just the right time. "He never taught me to go fast until I was ready," said Theo. "It wasn't about winning, it was about getting better and moving up."
The two younger boys both school online.
"School is still the first priority," said Wilhelm. "Someday Theo would like to be a professional, but he has to do college first."
Coming Together
In 2007, things went especially well for Wilhelm in the competition ring. Why?
"Some horses were not sold in 2007," he said. "We usually sell everything and ride whatever is not sold. We had an 8-, 9-, and 10-year-old. As the horses get older, they know their job better as long as you keep them healthy."
Wilhelm's equestrian background comes mainly from his father, but he also rode for Alwin Schockemoehle for a few years in his early 20s.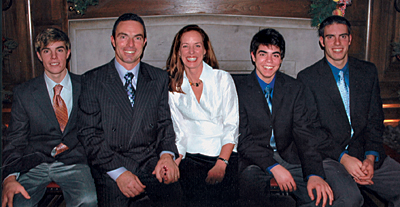 Now, he sells 10 to 20 horses a year, all of which are imported from Germany. "They're mainly jumpers but also some equitation and hunters," he said.
He searches for untapped young talent, generally 4- to 6-year-olds. "The older horses I can't afford if they are the quality I want," he said. "I have to buy them when they're younger, before anyone sees if they are good. I bring them over, develop them, and show them on the circuit and sell them."
"A lot of his success is because he's honest with people and does the right thing by the horse and the customer, and people respect him," said Patricia.
Denise Wilson, 18, Oconomowoc, Wis., has trained with Wilhelm for two years, with the goal of becoming a professional herself one day, and she said he's a mentor as well as a trainer.
"He's a great businessman, and I want my business to take the mold of his," said Wilson, who keeps eight horses with Wilhelm and is already selling investment horses with the help of her family.
"He's not just helping at the ringside," said Wilson. "He stresses horsemanship, like why he feeds the way he does, and the training never stops. What really drew me to him is that he's respected not only as a rider but also as a horseman. I really needed and wanted to learn that."
Wilson said he's also made a huge difference in her flatwork. "It's shown a lot in my riding," she said. "Everything
is about confidence. When I came, I was unable to train a young horse, and now 75 percent of my horses are under 7. He's molded me into someone who trains a horse every time I sit on a horse."
The Right Horses
Wilhelm looks for young horses whose dams have a good competitive record and good breeding, and he finds he's especially partial to Holsteiners with some French blood. "Even if a horse looks nice, I won't buy him if he's not from a good mare," said Wilhelm.
"I have four or five really good 6- and 7-year-olds starting [this season]," he said. "I'm really excited about this group."
One of Wilhelm's best horses, Happy Z, won eight grand prix classes in 2007.
"She's out of a mare who jumped some international classes," said Wilhelm of the 10-year-old, Dutch Warmblood mare. "When I bought her, she didn't look like a grand prix horse, but her mother passed on her heart."
Happy Z won her 16th grand prix in 2007. "Now I'm quite attached to her," said Wilhelm, who plans to do some indoor shows and World Cup-qualifying classes with her this year. "She's a small horse and very feisty—a chestnut mare. She's very sweet in her stall, but when you ride her, you have to always watch it. You never knew when she will buck or kick. I don't want to take that away from her because I think it gives her the edge. She has so much heart and personality—she tries very hard and is quite special."
Chantal, a Holsteiner owned by Wilhelm's sister-in-law, Laura Ryan Barnaclo, also produced in 2007, winning eight grand prix classes. Chantal, whom Wilhelm bought as a 4-year-old, starred in the Young Jumper Finals, winning the 7- and 8-year-old finals and finishing second as a 5-year-old and as a 6-year-old.
"I really believe in the young jumper classes," said Wilhelm. "I'm glad it is growing in the States. Every one of our horses goes through the program."
He keeps approximately 18 horses on the circuit and shows eight to 10 of them.
"I enjoy the people [on the circuit]; there's a lot of friendly people, and I enjoy being around them," said Wilhelm. "I obviously love the horses and love competing."
"He's really involved in his horses and takes personal pride," said Wilson. "He really knows each horse back to front and has a relationship with them."
She also noted that he has a relentless work ethic: "He never gets tired of working; he is so dedicated to it. He always double checks everything before he leaves, even though he has people to do that, he takes it on himself. He inspires me—he really keeps me on the ball," Wilson added.
"Hard work is the key," agreed Theo. "He wins a lot, but he is constantly working on himself to get better. Whenever he comes out of the ring, there is something that could have been different."
Wilhelm said he had that desire to compete even when he was in school, on track and soccer teams. "I'm competitive in everything I do," he said. "I sometimes hear from my wife that I'm too competitive."
Wilson said watching him ride a jump-off is thrilling. "He's so fast, but he doesn't run the horse off his feet. He turns so tight, and he's technically perfect. It's sometimes impossible to beat him," she said.
Theo decided about a year ago that he wanted to follow his father in business, and Wilhelm thinks Ryan will too. "I hope to do the bigger classes that [my father] wasn't able to do because he had to earn money to support his family," Theo said. "Whenever he got a really good horse, he had to sell it, but in the past four
years, he's kept some grand prix horses for himself.
"I love the horses and everything about it," added Theo. "It's a lot of fun for me, and I want to stay close to my Dad and brother—it's sort of a family thing. He's very down to earth and a really cool dad."
At the age of 48, Wilhelm plans to continue running his business until his sons can take over. "Then I'll retire and maybe ride three or four horses a day and spend time with my wife," he said. "I would never quit [riding], just cut back."
That challenge of finding the right horse and bringing it to the highest level still appeals to Wilhelm. "I like training—buying a green prospect and forming it into a professional athlete who enjoys what he's doing and becomes a winner at whatever level he is capable of," he said.
But the respect of his own son may mean even more than all of the clear rounds he jumped this year. Theo couldn't think more highly of his father.
"When it comes to horses, he's a genius," said Theo. "I think he is one of the greatest as a rider; I'd put him up there with anybody."
Beth Rasin