The University of Kentucky leaves their mark as they claim their first national victory.
They may not have a school banner, but the University of Kentucky Wildcats made their presence known at the Intercollegiate Horse Show Association National Championship Show, winning the Collegiate Cup Team Championship at the Los Angeles Equestrian Center, Los Angeles, Calif., May 8-11.
Led by coach Michelle Zimmer, the Wildcats took the Collegiate Cup team competition, winning three classes and earning 21 points for victory over St. Lawrence University (N.Y.), Skidmore College (N.Y.) and the University of Findlay (Ohio), who tied for second place with 18 points.
In their second appearance at the IHSA Nationals, Zimmer didn't let Kentucky's club sport status affect her team's potential.
"Last year we were the Griswolds of Nationals; we didn't have anything that matched," senior Callie Schott joked. "We didn't even have a banner for the awards presentation this year!"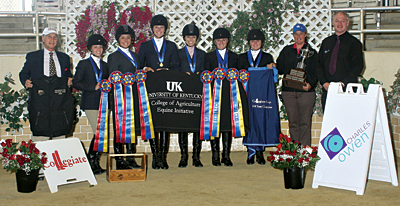 Though the school doesn't benefit from owning many horses, and the riders take only one lesson each week (often sharing helmets), Zimmer's students held their own in some of the most difficult classes of the competition.
Ali Cibon first triumphed in the team intermediate over fences before Schott took both sections of the open division, winning the over fences and the flat.
"I was really fortunate with the horses I drew. They were fabulous. I rode a horse named Classy in the over fences class, and she was amazing and so much fun," Scott said.
As the reserve champion in the 2007 Cacchione Cup, Schott returned to Nationals looking to win the title. A mediocre flat score and minor faults over fences in the second round kept her out of the top 10 in the Cacchione Cup, but Schott refocused to help her team secure victory.
"I was really disappointed with how I rode individually. I really wanted to win it this year, but I just seemed to have bad luck with the circumstances," she remarked. "I focused instead on being competitive for the team."
St. Lawrence, Skidmore and Findlay traded second- and third-placed ribbons, keeping all four schools in contention for the team title. But Schott, riding the University of San Diego's (Calif.) Zadok, won the open flat on the final day to secure the Wildcat's first national victory.
"We kept looking at the scores, wondering if we had enough points," Zimmer said. "It was such a close race, and we were worried about every other team out there against us."
Zimmer praised her students' abilities to balance schoolwork and qualifying for Nationals. "Since it's only a club sport, the girls don't ride much if they don't own a horse," Zimmer explained. "The past few months they've been preparing for this, riding as many horses as they could possibly find."
The team's efforts paid off, as they remained undefeated during the season prior to Nationals. "We didn't even need to go to the last show to qualify for this," Zimmer said.
When not competing for her school, Schott shows in the amateur-owner division with her horse, Wild Rose. Based in Versailles, Ky., the business management major trains at her family's River Mountain Farm with parents Trey and Elaine Schott. She plans to compete at Devon (Pa.), and upon graduating in December, will turn professional.
Zimmer looks forward to helping the equestrian team grow at Kentucky after claiming such a prestigious title, and the riders have an added bonus as well: Schott and Cibon, along with teammates Allison Davidson, Rebecca Wichard, Sarah Bybee and Louise Bowden, all received Charles Owen helmets for their win.
A Testing Triumph
The 34 riders who qualified for the Cacchione Cup showed their breadth of skills during the three days of competition, but none could compare to Drew (N.J.) University's James Fairclough II. He received an 86 in the flat phase, which put him behind four other riders, but he shot ahead over fences and consistently remained at the top during the multiple tests.
"I didn't want to take too many risks, and I tried to play it safe as long as I could," he said of each round.
Individual high-point open riders from 31 regions competed for the Cacchione Cup, which tests riders' physical and mental abilities to adapt to different horses.
"I was basing my preparation for this doing no stirrup work, and I was hoping Michael [Page] was going to do that for us. He didn't, but I at least was in shape," he said of judges Page and Sue Ashe, who presided over the English classes.
Though he deemed the flat section his "weakest area," Fairclough's initial over fences round on Friday was rewarded with a score of 90. Riding forward and flawlessly, he showed his strength among many conservative rides. Ashe and Page were both impressed by all the overall quality of the class.
"The riders of the IHSA have become more aware of their responsibility," Page said. "We now have more intelligent riders riding, and that's fundamentally what you get down to in this competition. The riders have an opportunity to be rewarded for their skills."
The field was narrowed down to the top 10 on the third day; they returned for a second jumping phase. The course allowed competitors to move up in the rankings if they opted for the more difficult options, including a choice to leave out strides in bending lines or to take inside turns. Many riders' rounds were marred by deep distances, and many chose an easier track.
Initially in the second-placed position, Dartmouth (N.H.) University's Daisy Freund looked poised for a top score until she missed at the trot fence, resulting in a refusal. Freund finished the course nailing every other distance but dropped to 10th.
Returning last in the order, Fairclough galloped into the ring and straight to the first fence. He opted to take a large turn to the third trot fence, but where most riders steadied for eight strides, he pushed for the forward seven. A smooth transition to a halt and counter canter to the last fence earned him the top position again.
Hannah Mayer, of The College of Charleston (S.C.), moved up to second place and joined Fairclough for further testing. Both riders returned to the ring and switched horses to complete a shortened version of the first course, which ended with riders completing a full circle before returning to the lineup. Fairclough again rode a textbook perfect round, but broke to the trot after the final fence, almost forgetting the circle completely.
"I was so excited that I hit every distance, I looked at the last fence and knew I had nailed it," he said. "I totally forgot the circle, and by the time I broke it was too late to cover it up. I was so mad at myself."
Mayer followed Fairclough and chipped the first two fences. Since both riders suffered noticeable mistakes, Ashe and Page had a single horse brought in for the final test. Fairclough and Mayer rode the same work-off course again, and Fairclough emerged the clear winner.
"I would say my versatility was my greatest strength over the three days," he said. "It was really difficult when we had to switch horses because I didn't know them at all. I never saw it go before and just jumping on and went, that was the most interesting part of the competition."
Fairclough competed in the major equitation classes as a junior. "I wasn't phenomenal, but it was good prep for this," he said. "The more pressure there is, the more I like it."
Coach Karen Sykes added, "He's got this wonderful ability to make everything look easy. He's got great basics, and he goes back to those. He just gets stronger in competition."
A 22-year-old economics major, Fairclough is from a family of horsemen. Initially, he attended the University of Vermont and spent two years skiing, but he returned to riding after the hiatus. His parents, James and Robin Fairclough, operate Top Brass Farm in Newton, N.J, a top hunter/jumper and driving barn. His mother is an experienced grand prix jumper rider, while his father is one of the few international four-in-hand combined drivers in this country.
Due to the relative proximity of Drew University and Top Brass, Fairclough trains with his mother and Jack and Kate Benson of Briarwood Farm, where the university team trains. He also credited his success to training in Europe with Stalhen Hendrix, based in Barlow, the Netherlands.
"They're really hard on me. They broke me down to the basics. The first few weeks I was there, they wouldn't let me jump. I was just flatting and doing lead changes," he said of his international training. Fairclough, a junior, plans to spend another summer training with Hendrix.
"It took him a little while to figure out the 'catch riding' of college school horses, but now he's got it. He enjoys the challenge of figuring out a horse that he's never ridden before," Sykes said.
Page noted, "You see them do things you're not sure of, because they've never been on these horses before. But their experiences in college help them evolve to become more confident. You have to look through the horse and look to the rider. When they don't win, it's not because the horse isn't good enough, it's because the rider isn't good enough, and that's what's inherently a wonderful characteristic of what this class represents."
In The Zone
Dubbed the "walk-trot" queen, Virginia Intermont's Jamie King didn't relinquish her title, claiming the individual walk-trot class. Winning the reserve championship in the team walk-trot a year earlier, King's goal was to claim the individual title in her final year at VI.
"It was definitely a goal of mine, and I've worked for it," she said. "I've been practicing all year for this."
Led by head coach Eddie Federwisch, VI's riders regularly gather top placings at IHSA competitions. Federwisch credited the longe line for his team's success.
"I keep it simple: If you're on the track team you run laps, if you're on the basketball team you shoot free throws, if you're on the riding team you longe," he said laughing.
King was pleased with her draw for the class, University of San Diego's Cassidy. "She was a really good mare, pretty forward. I like the forward ride, so it was good for me, and I had a lot of fun," she said.
Federwisch "drafted" King two years ago for the walk-trot division and couldn't be more pleased with the outcome. Though she had only trail ridden before, King quickly become a viable member of the team. Her consistent performances come from her dedication to practicing, a trait that stands out to her coach and is rewarded in the ring.
"I just try and keep doing what I do. Going into the class, I focused on keeping my position correct, and I think the judges saw that," she said.
King plans to continue studying biology, her major, in hopes of attending veterinary school. "I've loved riding at VI. You get to know everybody, you see them every day and they've all been so supportive," she said of her alma mater.
King's performance and Hollins University's (Va.) second place in the novice equitation over fences—won by sophomore Abby Gonzalez—gave Zone 4 valuable points. Comprised of Virginia Intermont, Hollins University, Bridgewater College (Va.) and the University of Mary Washington (Va.), they gained the most points to win the Hunt Seat Zone All Stars Championship.
Both Ashe and Page, who've judged numerous IHSA Championships, are pleased with the growing trend of the competition and predict the sport will continue evolving.
"When you look at it in terms of the context of the number of schools, the collegiate students and the collegiate students who are now collegiate riders, it's really making an impact on the sport," Page said.
"There's so much energy, so much excitement, and it's quite fabulous," Ashe continued, who judged her first IHSA Nationals in the 1970s at St. Andrews College (N.C.). "This organization has grown by leaps and bounds."

Beth Johnson