When Calli Lipping bought Wild Affair in 2016, she was hoping to get to her first international event, then maybe sell the mare and find something that could take her to her goal of advanced.
Their partnership didn't start out very smoothly at novice and training, as Lipping was still green herself, but somewhere along the way things clicked, and "Maggie" kept answering the questions.
They completed their first advanced at the Horse Park of New Jersey Horse Trials I, held June 19-20 in Allentown, New Jersey. The run marked the end of Lipping's young rider career as she's moving on to college and an overseas internship in the fall.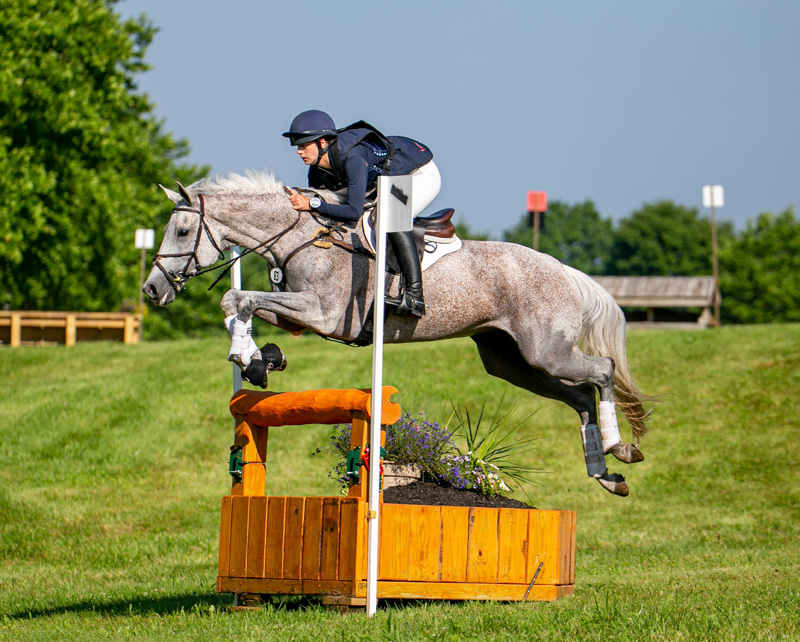 "As we went along, we'd have one schooling, and [trainer] Lillian [Heard] and I would look at each other like, 'Well, we might as well move up. There's nothing really stopping us.' She really loves the cross-country, and I can't believe she carried out this kind of unseeable goal for me in the five years I've had her. It's really cool," she said.
Lipping, 19, grew up in Bethesda, Maryland, and got into eventing after she watched the eventing show jumping in person at the 2012 London Olympics with her mother and grandfather.
She immediately signed up for lessons at nearby Bascule Farm, where she met Lillian Heard. Heard helped her find her first horse, which she competed through training level, then Lipping found Maggie through professionals Courtney and Elizabeth Olmstead.
Known as Dino Rider on the track, Maggie (Black Tie Affair—Wild Magnolia, Apalachee) had 15 starts and had completed her first training level horse trial with Elizabeth.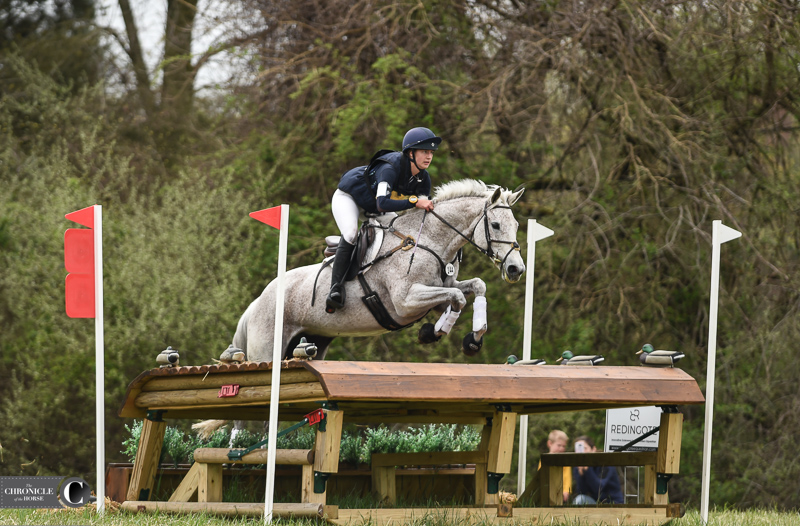 "I went from a 15.2-hand Hanoverian that you didn't have to touch him to put his head down and would spook off of every single jump to this powerhouse of a Thoroughbred that took every bit of strength to get through," Lipping said. "She would run at the fences, and I didn't know what I was doing. Luckily we had Lillian, but we definitely had moments where I think both of our confidences were getting busted because I was so green, and she really needs a confident ride, and I need to be relaxed for the both of us, which is something that a 14-year-old had to learn the hard way."
Despite the learning curve, Lipping thinks the early challenges helped them in the long run.
"Most people have a horse that can take them to the prelim level and has the capabilities to jump in and out of everything and want to do the job, but at training level, she was like, 'You need to be way more accurate than that,' " she said. "I'm really glad I learned that lesson early because it made moving up to prelim and intermediate and advanced much more seamless for us."
Lipping has worked for Heard every summer since 2015, but after three seasons of training level with some issues cross-country here and there, she realized she needed to buckle down to get better.
"I wasn't riding as confident and wasn't putting her in the right place for the jumps, and she really needed that," she said. "Lillian and I both decided we were going to stay in her program and try to keep her fit and ready, and I would drive up and back [to Heard's barn in West Grove, Pennsylvania] from school. That fall it definitely clicked. I was riding in a regular, consistent program, and having Lillian help me work out the kinks—it was a lot of driving, but it was totally worth it. I established this home away from home. Maggie grew to love it in Lillian's barn."
By the winter of 2019, they'd moved up to prelim. They still were having some show jumping challenges, but on cross-country, they'd found a decent groove.
"Things weren't perfect yet, and I'm a perfectionist, and I really wanted to get as close to it as I could," she said.
Unfortunately, their preparation for their first FEI event in 2019 didn't go to plan, with a withdrawal due to weather, a rider fall and a stop in their three starts before the MARS Equestrian Bromont CCI2*-S Under-25 (Canada).
Lipping was nervous, but they won.
"It was the coolest thing ever," she said. "I think that was one of the biggest highlights of our career because we didn't win wire-to-wire. It was the most confident she'd ever been."
Since that spring, Maggie hasn't had a cross-country jumping penalty. This May, they completed the Jersey Fresh CCI3*-L.
"I know our dressage scores aren't always the best, and the rails are usually mine, but it's pretty cool to have something like cross-country be your best thing," she said.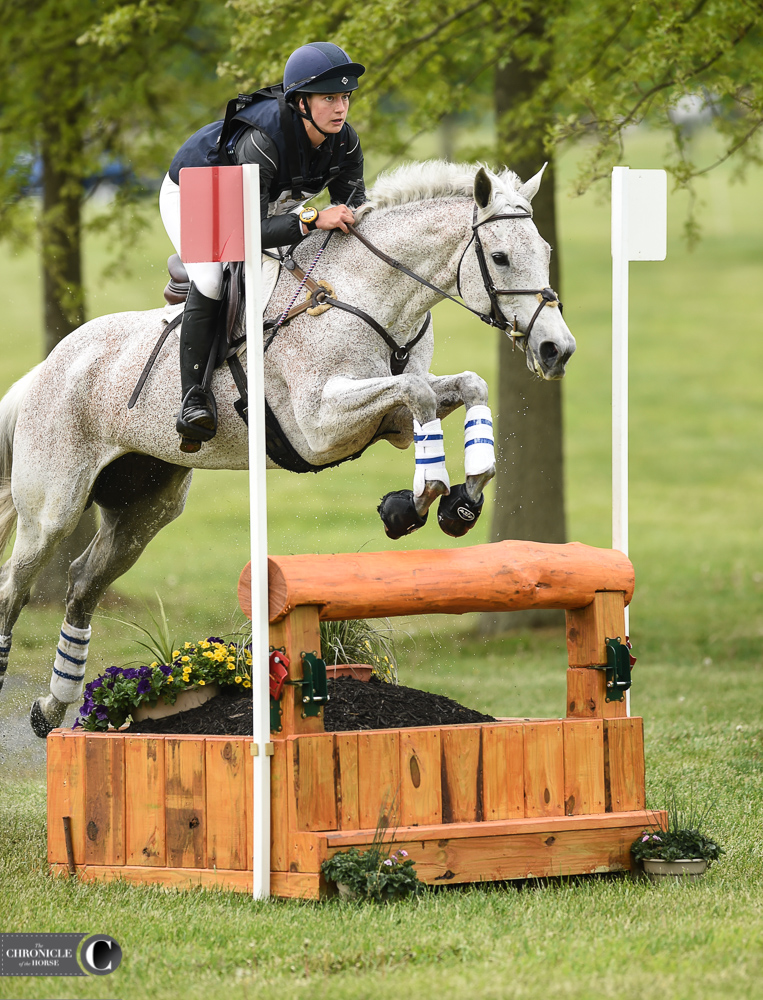 For their first advanced, Lipping just wanted a clear cross-country jumping round, and she got it, adding 10.4 time penalties. With two rails in show jumping, they finished 21st.
While dressage can be hard for Maggie, now 14, she loves the jumping.
"It was cool to have her take care of me where I need to be taken care of and to just keep instilling that confidence over the bigger jumps," said Lipping.
Their completion was bittersweet though, as Lipping is leaving competitive riding to pursue her career goals. She took a gap year to work for Heard full-time and now says it's time to focus on other things. She credits Heard's program for allowing her to reach her goal of going advanced.
Maggie will be leased as a schoolmaster to Heard's working student Luiza Morgan.
"She loves her job and loves working, and she's got a mature mindset on her. I think she'll do really well with Luiza because she has the same mindset," she said. "We're all three peas in a pod in that way. I know mares really like to have a partnership, and she's pretty cool with who she likes. She definitely likes Luiza, so I'm excited to see what happens."
Lipping is applying to universities and would like to attend George Washington University (District of Columbia) nearby.
"I'm ready to try some other things and start working towards being able to support myself in the horse world because I know that's the only way I'll be able to do it," she said.
While she's sad to stop riding temporarily, she knows it will be worth it.
"Ending on the advanced note, and a successful one at that, is pretty cool," she said. "It makes it a lot easier to step away from the highly competitive scene and start trying some new things and see what else is out there. I always want to have it within arms' reach."
She's interested in peace and conflict studies and foreign relations.
"My mom works for Institute of Peace and has gotten to meet what I think are some of the most amazing and inspiring  and selfless people throughout the world," she said. "I just think, as a person who lives a very privileged lifestyle in Bethesda, Maryland, I can try to do my part to try to help. I got to dedicate a year to horses and myself and my ambitions, and now I really want to try to help other people. I think a lot of the fulfillment I get from horses is helping and taking care of animals, and I'm looking for that same fulfillment with resource distribution and helping children in need. I have an internship that I'm hoping to leave for in October in Bogotá, Colombia, that would be teaching kids with resource distribution and working on peace and conflict there."
She's currently living at home and working at a restaurant over the summer to pay off some of Maggie's bills before she leaves for her internship.
"Horses have always been a very grounding thing for me and a very motivating thing," she said. "Every single day, I woke up because I wanted to go see Maggie, and whenever I felt myself losing sight of what's important, Maggie would ground me. That was something I had throughout high school, but at the same time I was trying to maintain good grades, trying to see my friends, and I had a lot of things I wanted to do. There was balance, but it was hard to maintain that balance. I always thought, 'I wish I could just do horses,' because the other things were much more stressors in my life than they were fun things, and horses were always fun.
"I dedicated my gap year to riding horses, then I was like, well, maybe I should dedicate the next part of my life to trying something else. My parents are really supportive of that and have always been supportive of me. I know I'm lucky, but I want to do something with that luck for sure."