Did you know that grand prix show jumper Georgina Bloomberg has a pet pig? Bloomberg is a vocal supporter of animal rescue, so when a black-and-white pig was in need of a home, she opened her doors.
Read all about how Wilbur came to be in Bloomberg's life in the premiere issue of the Chronicle's new lifestyle magazine, Untacked. (You can read the first issue for free here; subscribe to not miss out on upcoming issues!) The cover story is all about the new chapter in Bloomberg's life—her pregnancy. Read how she's dealing with the media pressure, her thoughts on motherhood, and how she's going to balance showing and motherhood. Untacked also incudes an in-depth profile of the Peterson family of show jumpers, a unique look at Ronald Reagan's equine interests from one of his Secret Service agents, a build-a-bridle visit to a leather workshop, Test Lab of some riding sock styles, and a fantastic Holiday Gift Guide.
Also, in the Dec. 2 issue of The Chronicle of the Horse are photos of Wilbur's party to celebrate his first anniversary with Bloomberg's family. That issue is the annual Amateur Issue and features stories on how to maximize your clinic experiences, profiles of inspiring amateurs and a humor story about some imaginary new amateur rules. There's also in-depth coverage of the inugural U.S. Dressage Finals, the Royal Winter Fair, the Las Vegas National CSI-W, the EAP Finals, the FEI General Assembly and lots more. Subscribe now and don't miss it!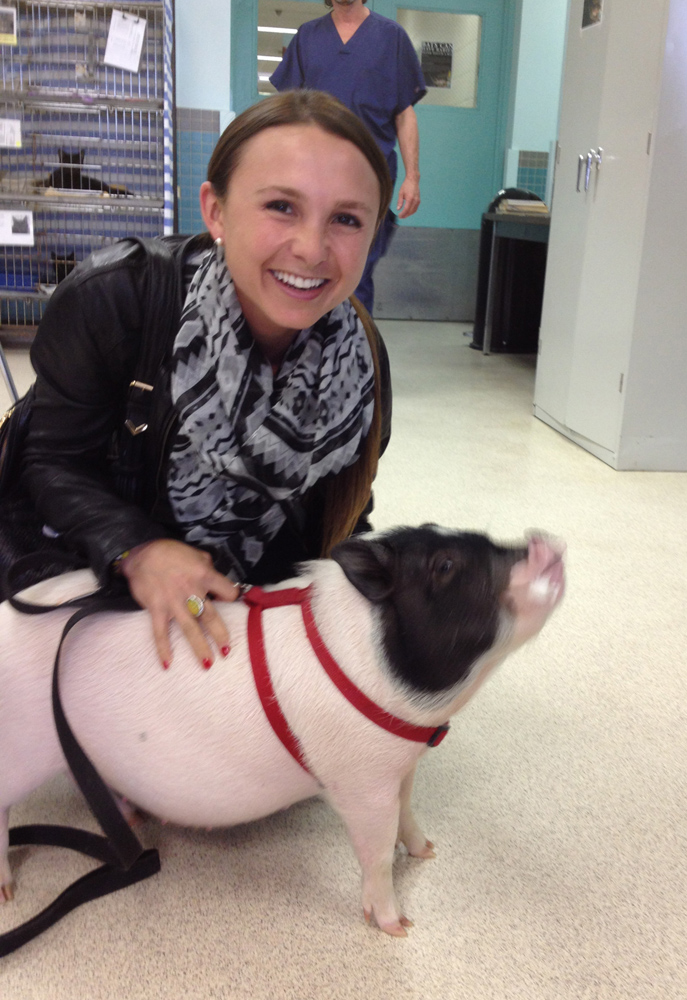 Bloomberg found Wilbur in a New Jersey shelter. "Pigs need rescuing just as much as dogs and cats," Bloomerg said. "There are a lot of pigs that end up in shelters or pig rescues because people buy piglets and then are surprised when they actually grow into pigs. If people are interested in having a pig as a pet, they can look up a good pig rescue to find one instead of buying one."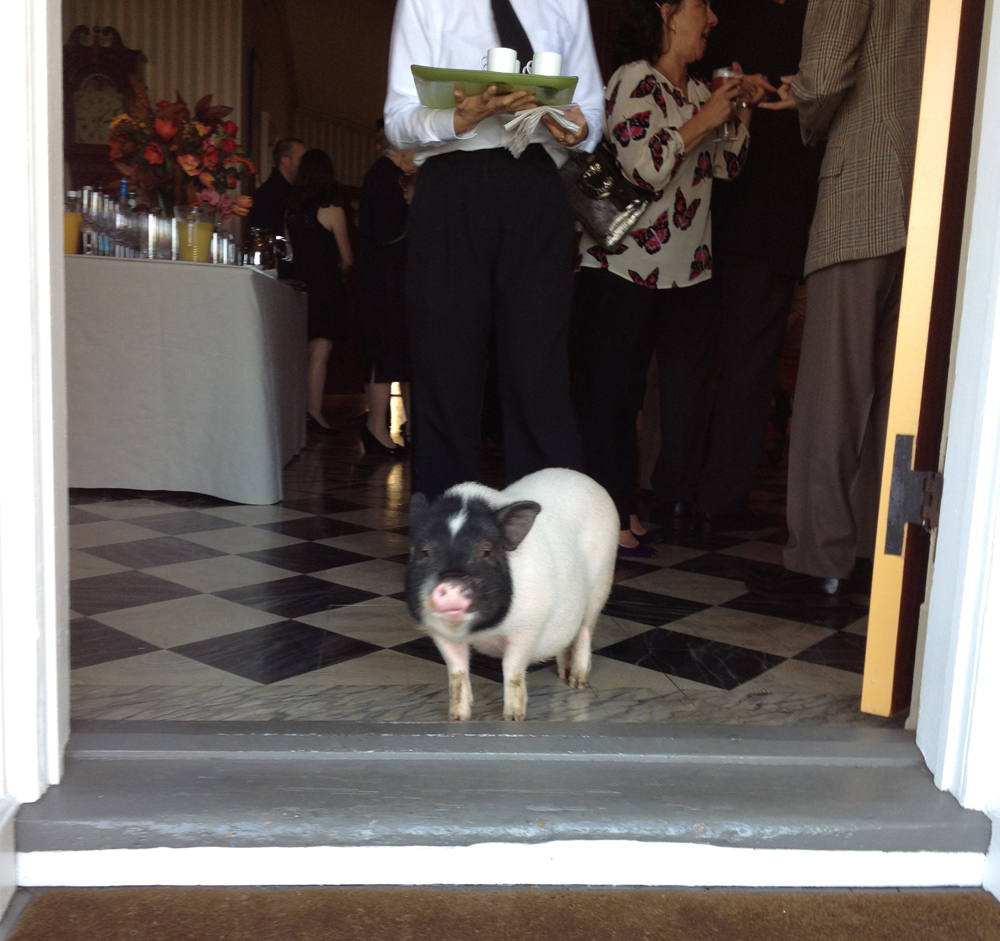 Wilbur spent Thanksgiving 2012 at Gracie Mansion, the official residence of the Mayor of New York City, courtesy of Bloomberg's father, Michael Bloomberg.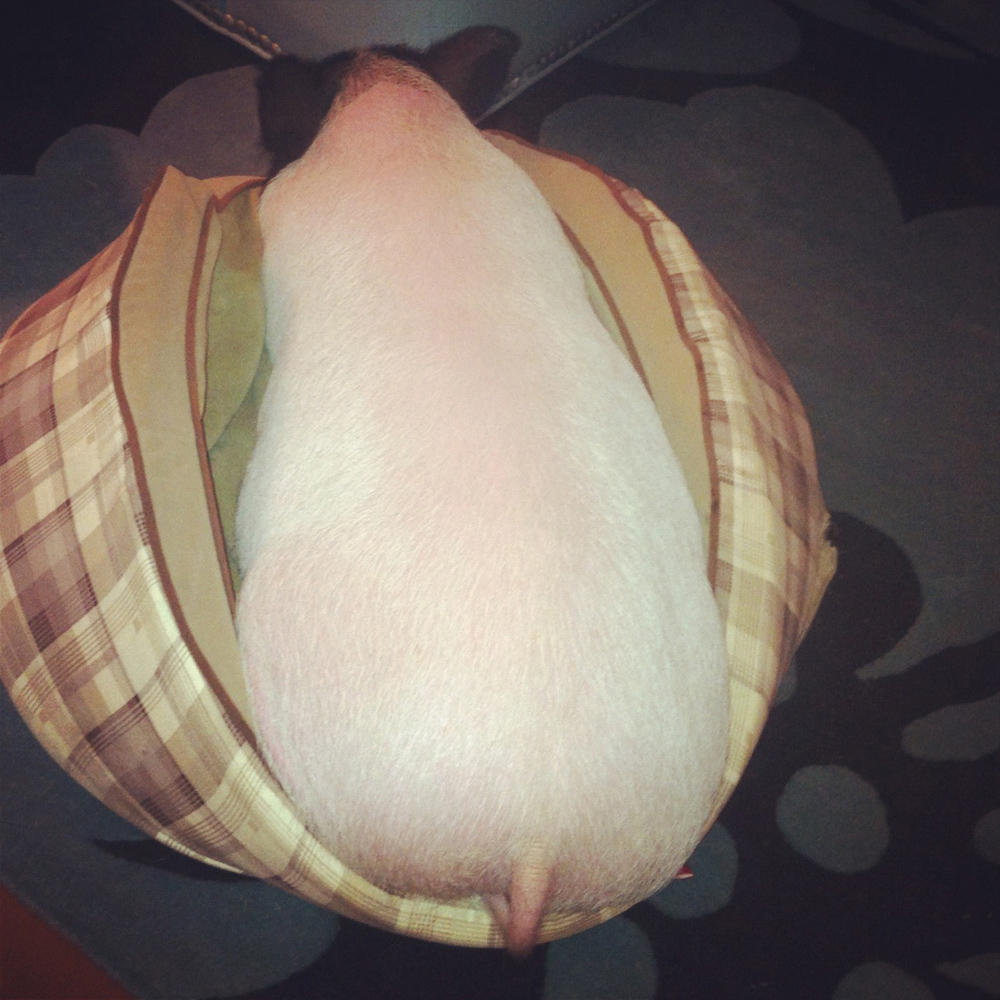 Wilbur has his own dog bed in Bloomberg's house. He's always on a diet, but loves apples.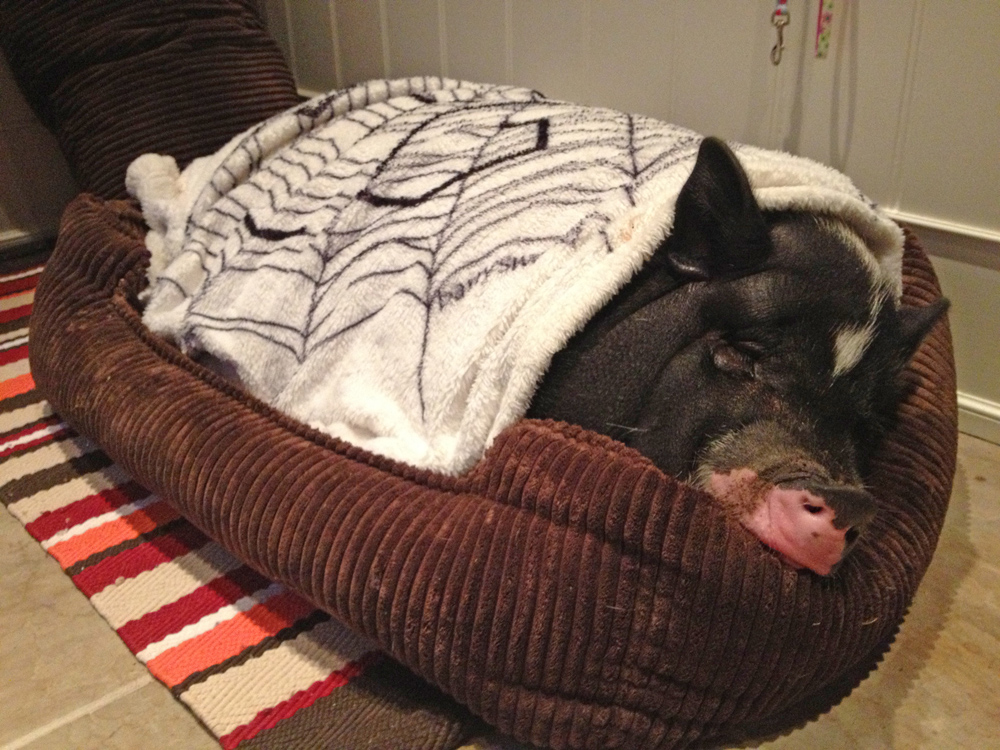 Wilbur knows how to relax.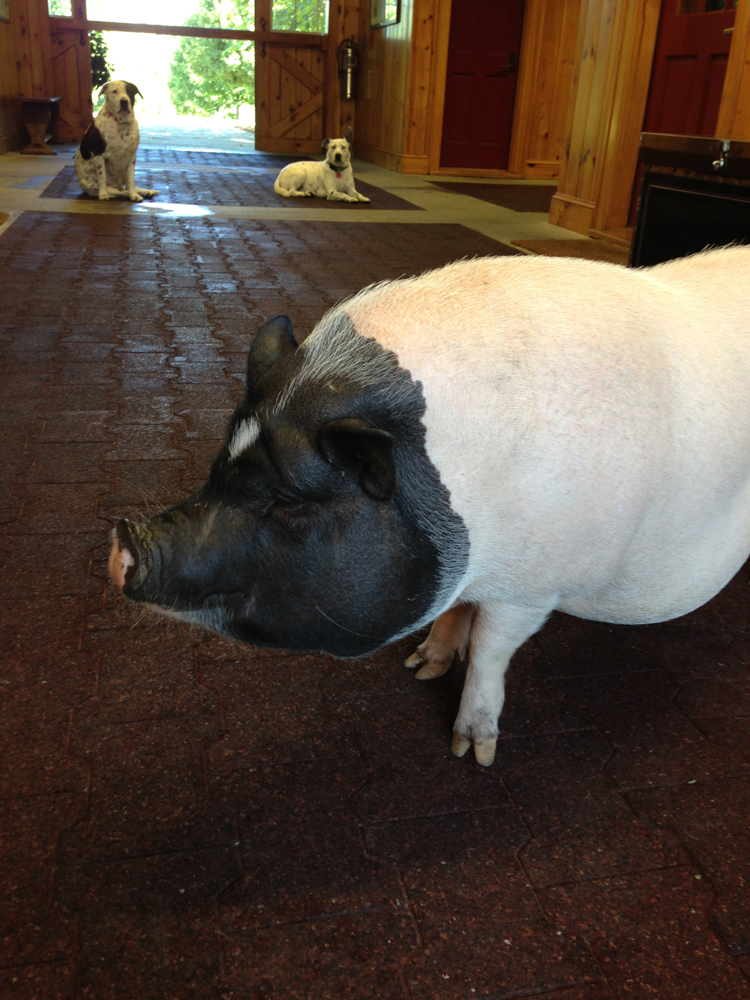 Wilbur spends his days down at the barn with Bloomberg's dogs, hanging out. "He and Jimmy Doyle, my trainer, are in love. Wilbur follows him around all day at the barn. Jimmy has trained him to stay out of the office and the tack room and to site for treats," Bloomberg said. "Wilbur's favorite thing to do is to sneak into the sand ring when no one is watching and roll around in the sand. When he gets caught he likes to run around the ring as fast as he can before making his exit just to show that he won."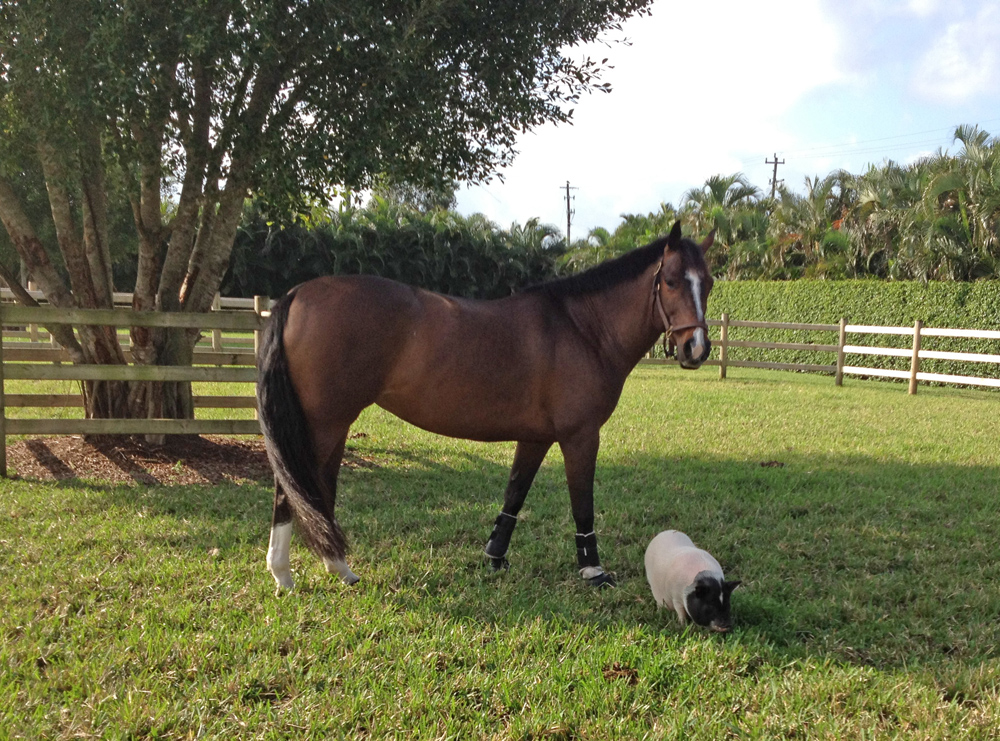 Wilbur visits with all of Bloomberg's horses, but South Street is his favorite.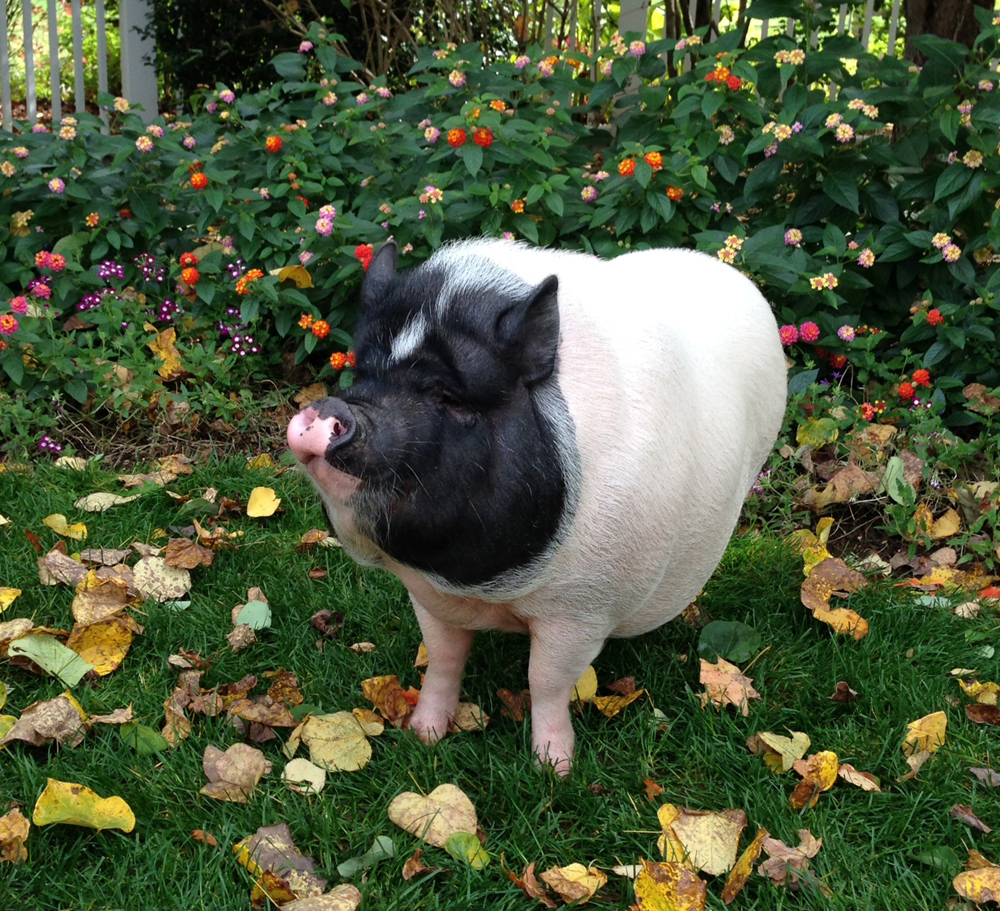 Wilbur has become a treasured member of Bloomberg's family. "We are strictly a no-pork-product family now," Bloomberg said. "No bacon, sausage or other pork products are allowed in the house. I strictly avoid them now and even my dogs aren't allowed to have pork chews or bacon-flavored treats."
Want more Wilbur? Don't miss the first issue of Untacked and the Dec. 2 issue of The Chronicle of the Horse.