Whether you'll be joining us in Lexington, Ky., for the USHJA International Hunter Derby Championship or sitting at home glued to the live stream, you'll need someone to root for.
Unfortunately, the Chronicle's cover boy for the Hunter Derby Preview Issue, El Primero, is sitting out the championships. "I am so disappointed not to have El Primero to ride in the Derby Championship," said his rider, Louise Serio. "He developed an eye condition that he had recovered from but his owner was concerned that [traveling and competing] would stress him too much and that it would reoccur.
"It was even harder to take when we were chosen to be one of Jimmy Torano's Top Picks and be on the cover of the Chronicle! Fortunately I still have Temptation to show in Derby Finals. Good luck to all the horses and riders this week," Serio said.
While we're missing El Primero and some other big names this year—Brunello, Jersey Boy and Mindful won't be joining us—there are still several to look out for. Kelley Farmer still has five mounts, three of which Jimmy Torano picked as possible top-10 finishers, and Liza Boyd has a lovely new partner in Like I Said.
Without any previous winners in contention, this could open the door for an unknown and we'll be sitting on the edge of our seats until the very end. Whether you'll be rooting for a big name or hoping for an underdog, with 71 entries there's sure to be a pair that strikes a cord with you.
I've put together a few that you won't want to miss, and my coworkers at the Chronicle weighed in with their favorites as well. Who are you rooting for and why? Tell us in the comments!
For a full rundown of the entries, check out the USHJA International Hunter Derby Championships Preview Issue of the Chronicle, which has our annual roster with photos, fun facts on 10 pairs you might not be familiar with and of course our projected top 10. I'll be on the scene in Kentucky with my co-worker Ann Glavan to bring you updates and photos from the horses and riders in the show ring and behind the scenes.

Horses jog mid-day Thursday, Aug. 18, and the classic round kicks off at 8:15 a.m., Friday Aug. 19. The top horses will return for a handy round starting at 6:30 p.m. Saturday, Aug. 20. You can watch the live stream of the classic and handy rounds at eqsports.net. You have to create a log-in, but the stream is free.
If you're someone who knows there's more to life than horses…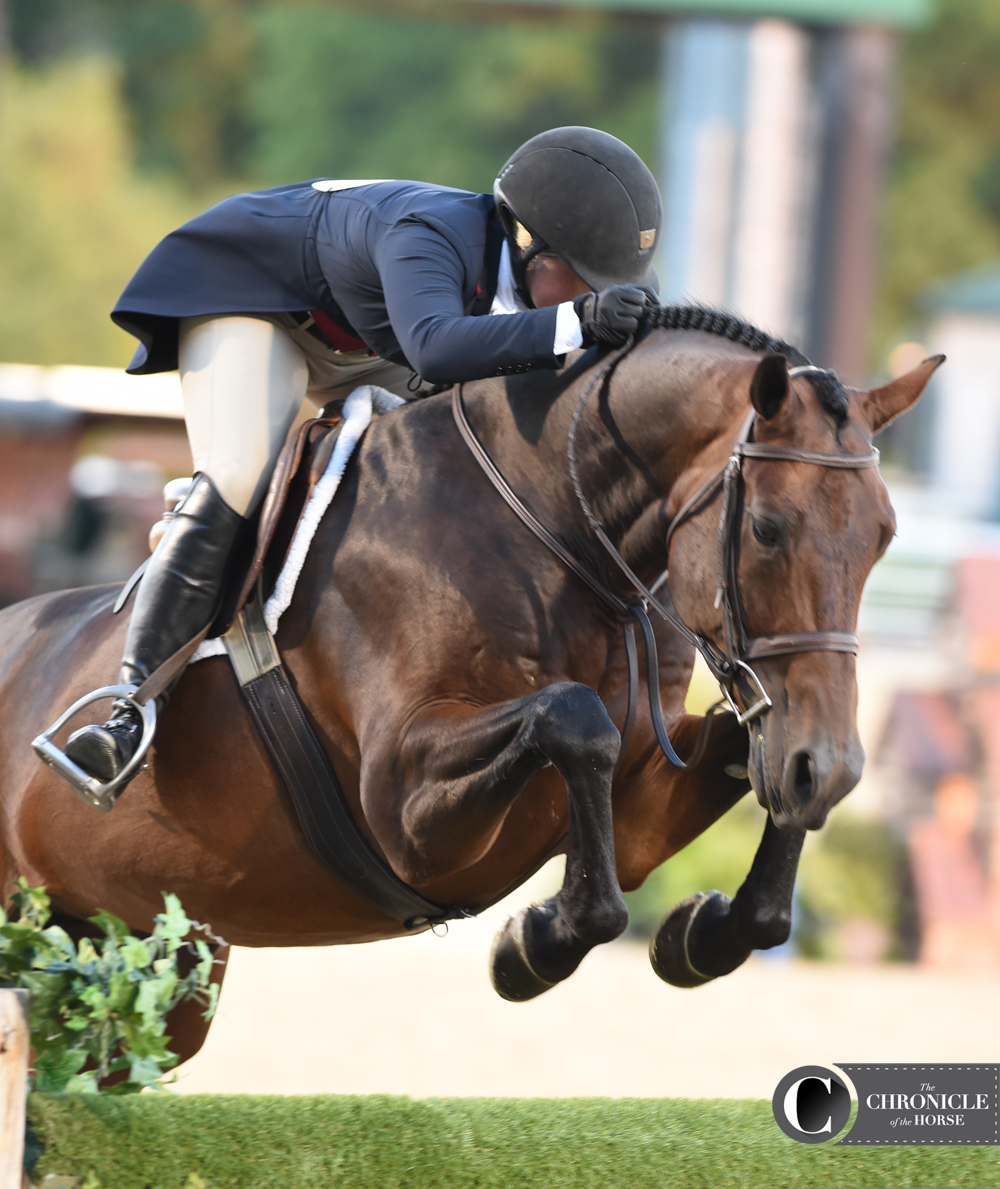 Piper Benjamin and Corvine. Photo by Kimberly Loushin
She's just 20, but Piper Benjamin knows she wants to help people for a living. This summer she's interning at Catholic Charities as she pursues a degree in social work.
"Over the school year I worked at a substance abuse treatment center for women, and I really, really enjoyed that," she said. "So I think maybe working where clients are staying there and living there and it's a program for a certain amount of time—maybe a psych ward or a hospital or something like that. Because I really enjoy getting to know the clients well and kind of talking to them for most of my day."
Benjamin will be showing her horse Corvine for the third year in the championship.

If you've ever dreamed about taking your OTTB to Kentucky…


Jena Halstead and Side By Side. Photo by Jerry Mahome Photography
We'll be seeing a Thoroughbred in the Rolex Stadium for the second time this year. Jena Halstead trained Bankrupt when the gelding showed in the 2011 championship with Taylor Halger. This year she'll be riding the 11-year-old Side By Side who shows in the first year greens with her and in the adult amateur hunters with his owner Jessica Daetwyler.
If you've ever been sidelined due to injury…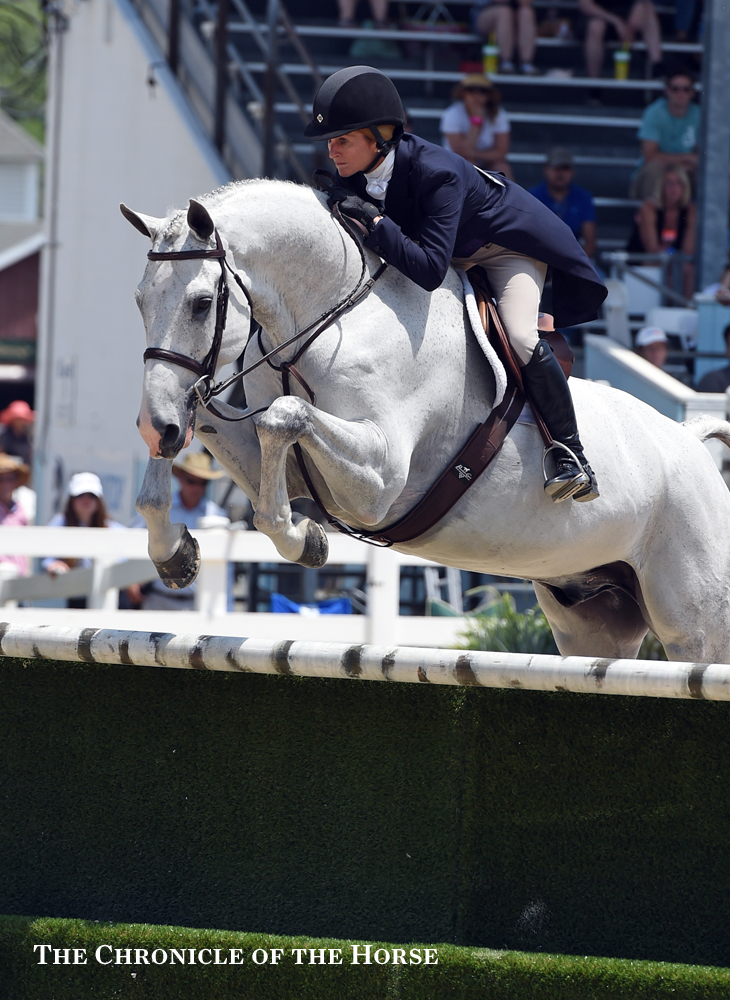 Sandy Ferrell and Fifty Shades. Photo by Molly Sorge
Both Peter Pletcher and Sandy Ferrell had to sit part of the season out this year after bad falls.
Ferrell broke her back in December and had to wear a back brace. But she didn't let it dampen her spirit and took it as an opportunity to create a new fashion accessory. We'll see her back at derby finals with Fifty Shades.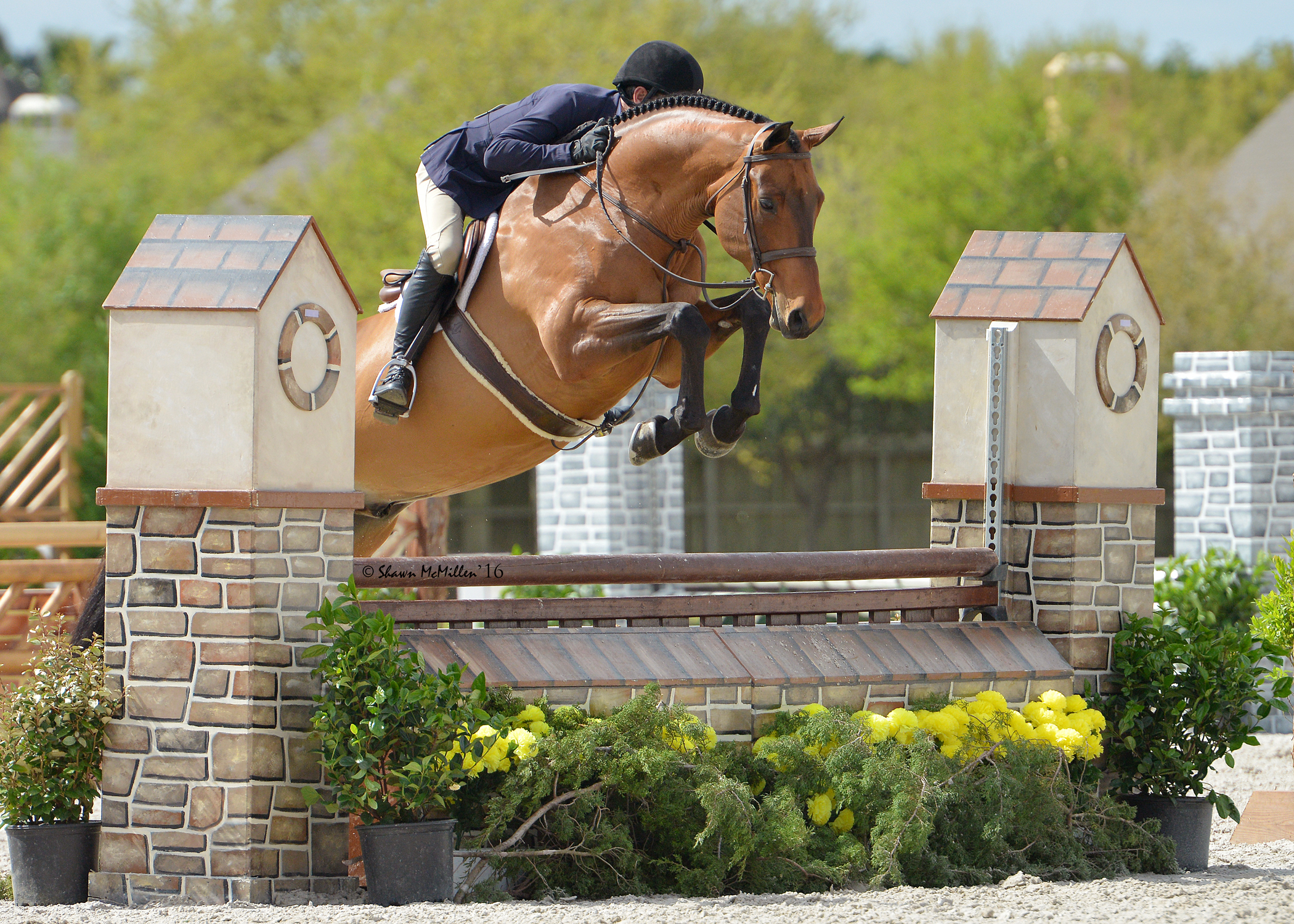 Peter Pletcher and Quirino. Photo by Shawn McMillen Photography
If you were down in Florida for the Winter Equestrian Festival you might have seen Pletcher watching his horses from the ground in a sling. He was reaching to shake someone's hand when his horse spooked and dumped him. This wasn't the first time he's spent more time riding a golf cart than a horse, in 2011 he suffered a back injury that required him to hand the reins over to his fellow pros. You'll have plenty of opportunities to root for him, as he's showing *Cash*, Columbia and Quirino.
If you're all thumbs when it comes to tying stock ties…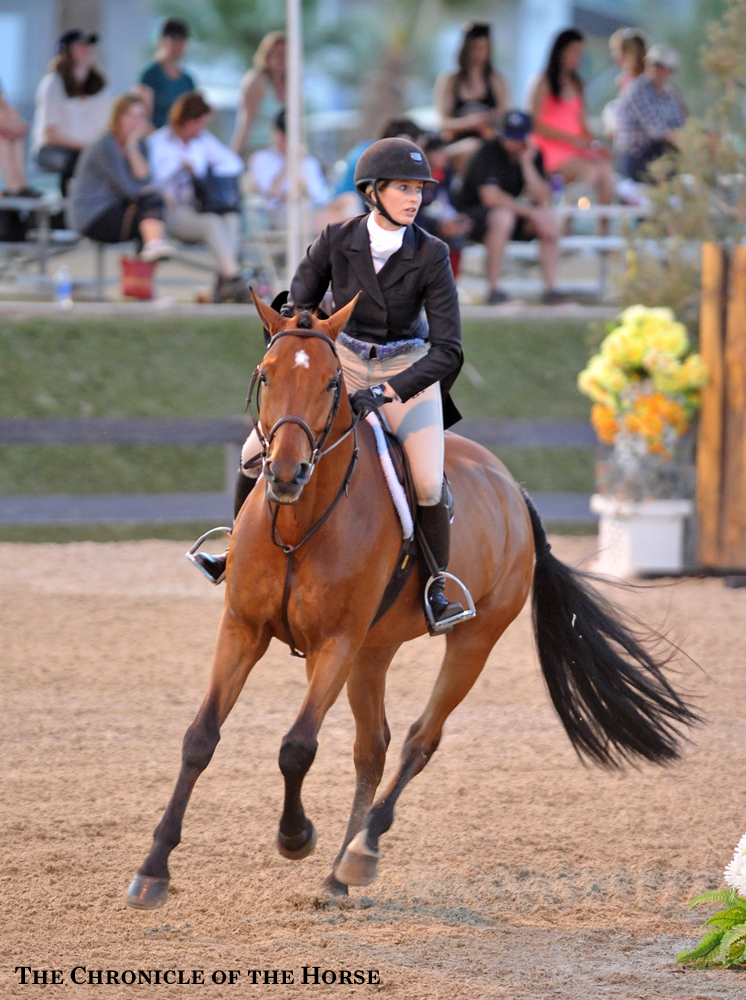 Hope Glynn and Full Circle. Photo by Kimberly Loushin
There's no shame in asking for help, even Hope Glynn fights with her stock tie every time the occasion calls for her shadbelly.
"I still can't tie a stock tie; I don't think I've ever tied a stock tie the same way twice," Glynn said. "I ask random people, I make up my own knots. I think I should write a book that's like 'A Hundred Incorrect Ways To Tie A Stock With Hope.' Style Stock makes really cool stock ties, and they come with directions on how to tie them, so that's right up my alley."
Glynn has two horses attending the championships this year Corriendo Tau and Full Circle.
If you spend a lot of time looking through pedigrees…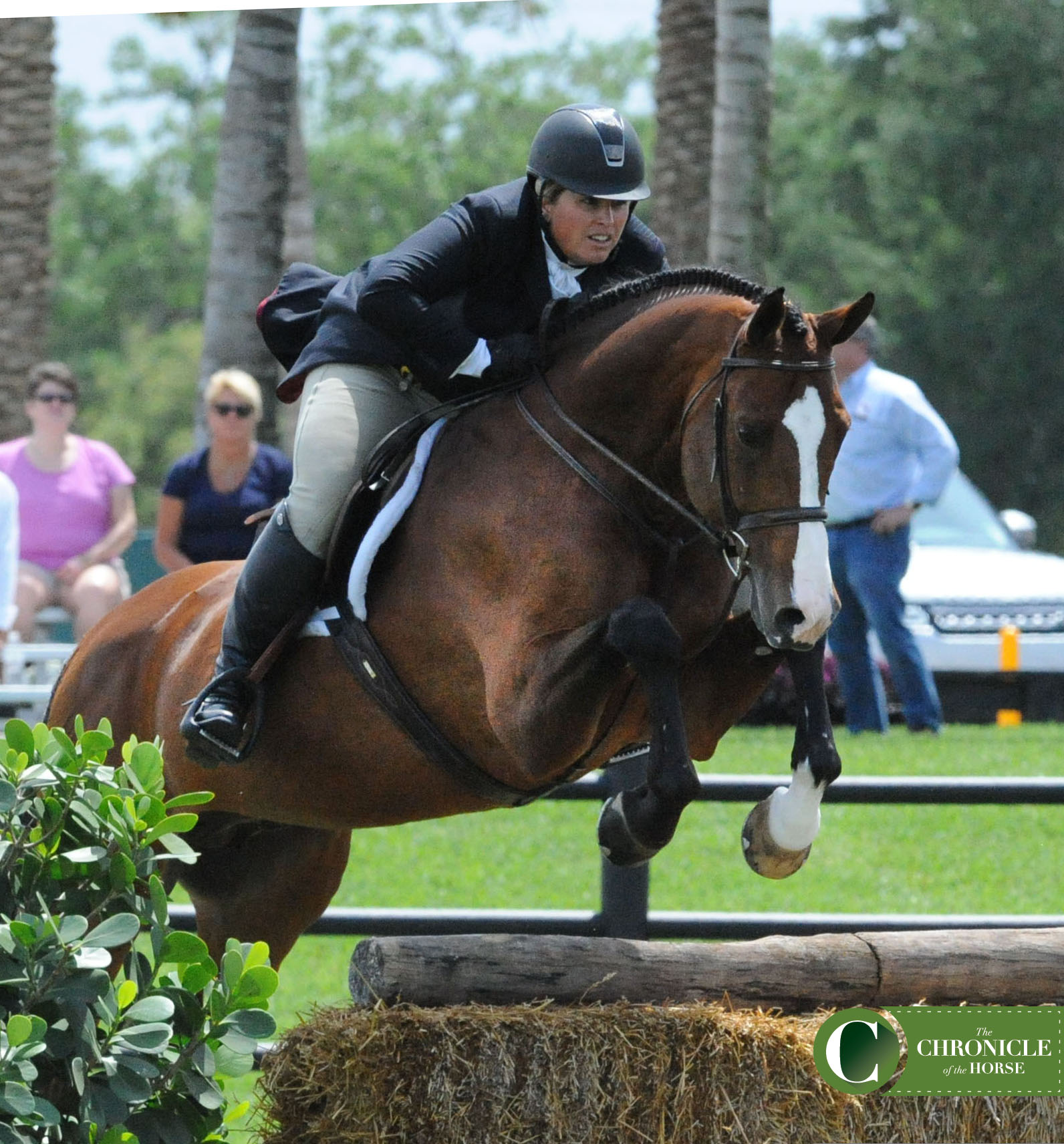 Callie Seamand and Carrico. Photo by Catie Staszak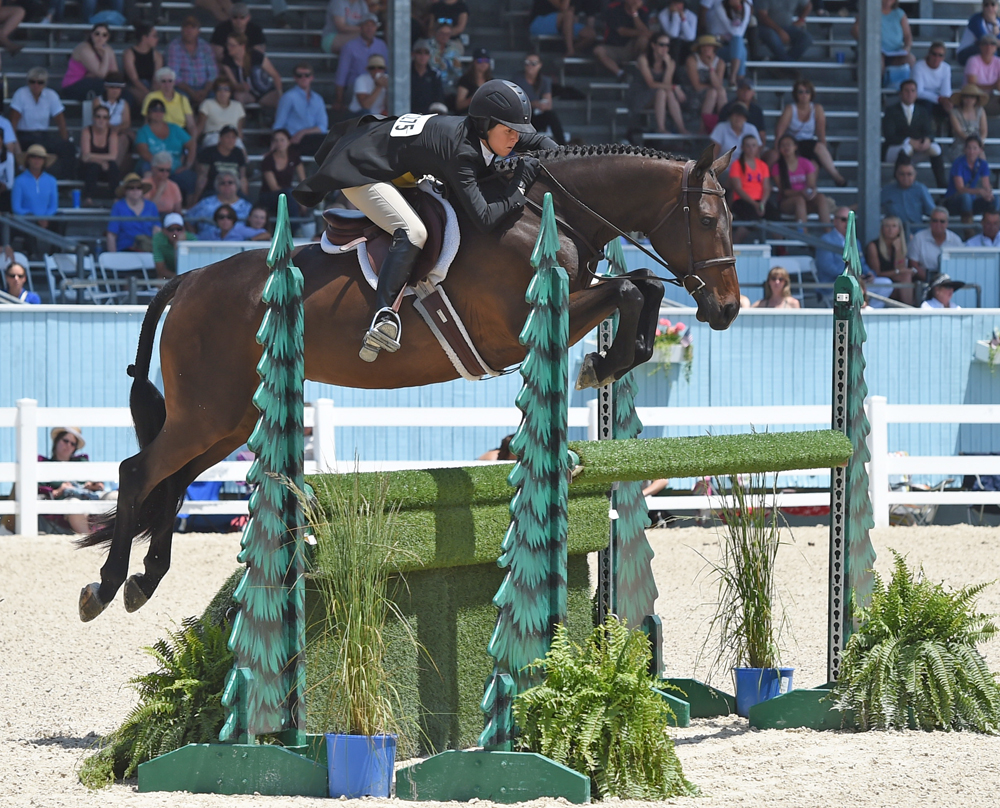 Like I Said and Liza Boyd. Photo by Molly Sorge
It might interest you to find that Callie Seaman is bring Carrico this year and his daughter Like I Said will be showing with Liza Boyd. Before coming to the States, Carrico showed in grand prixes and was a prolific breeding stallion in Ludger Beerbaum's barn. While many of his progeny have gone on to jumper careers Like I Said is making a name for herself in the hunter ring.
If you're a foxhunting fan…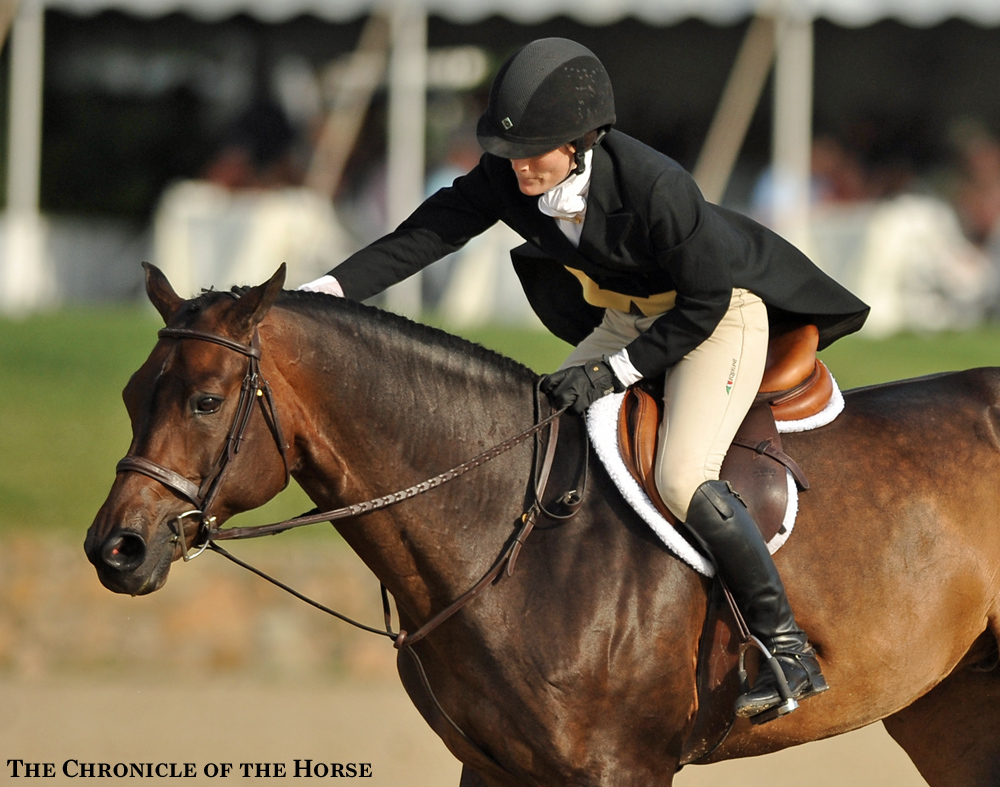 Sloane Coles and Autumn Rhythm. Photo by Kimberly Loushin.
Sloane Coles grew up in the middle of Virginia hunt country which means she's spent plenty of time riding out. She's also the one to ask if you need help with your stock tie, she's had plenty of practice making sure everything is perfect before going out on the hunt. She'll return to the championship this year with Autumn Rhythm.
Other Chronicle staff weighed in with their picks.

Molly Sorge, Associate Editor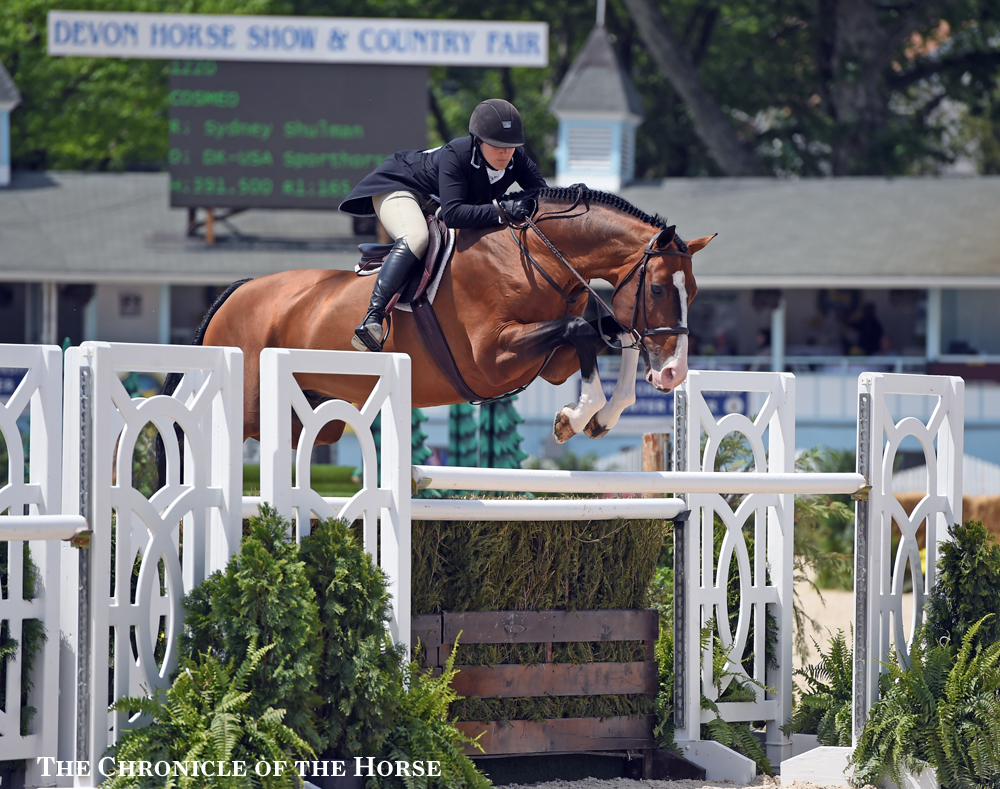 Sydney Shulman and Cosmeo. Photo by Molly Sorge
Is it shallow to be cheering for Cosmeo and Sydney Shulman just because I took a pretty picture of them? Perhaps. But I'm happy to be guilty of that.
I don't know much about Cosmeo, but I do know that with his flashy chrome and jaw-droppingly perfect form over a big fence, he makes a gorgeous picture. I took only one photo of him at Devon, and it was the kind where you click the shutter and have a feeling of "nailed it" even before you look at the image you got.
While Kelley Farmer is certainly coming to Derby Championships with a trailer full of horses primed to win and she's certainly due a blue in this class, part of me feels like it's time for a "virtual unknown" to win. Shulman certainly isn't a new face in the show world, but she's a young professional just a few years out of her junior career. A win on such a big stage would be a game-changer for her (and make for a great story to tell for the Chronicle!).
Without Jersey Boy, Brunello or Mindful in the order of go, there isn't really a glaring "one to beat," and it's a far more wide-open field than in some previous years. It would be a lot of fun to see a young professional like Shulman or another from the list take that big title and make young riders dream "what if?" again.
Lauren Foley, Editorial Production Manager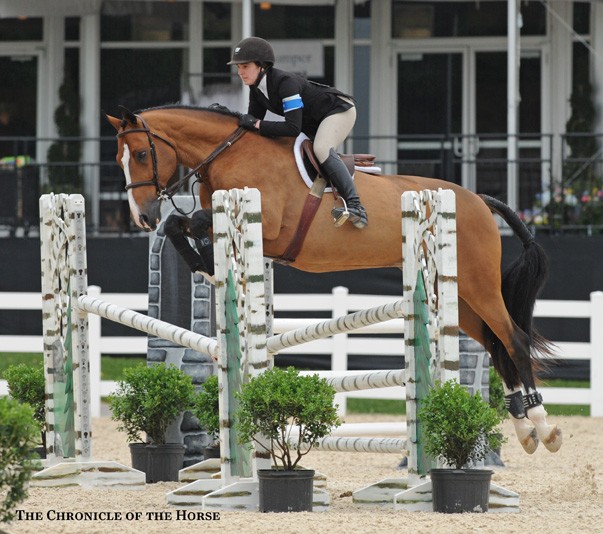 Kelli Cruciotti and Monterrey. Photo by Mollie Bailey
After proofreading this year's derby roster, I'm rooting for Monterrey and Kelli Cruciotti. I think they have a good shot at winning since the horse is so experienced and reliable. I also love the way he is managed—ridden and shown just enough to keep him fit and happy—because at this point in his life, the horse knows what he needs to do and doesn't need to be drilled or shown every week. And I was really pleased to read that Kelli's family plans to keep Monterrey forever, even as a pasture pet. That love and good care deserves to be rewarded with a win on August 20.
Mollie Bailey, Senior Reporter and Marketing Coordinator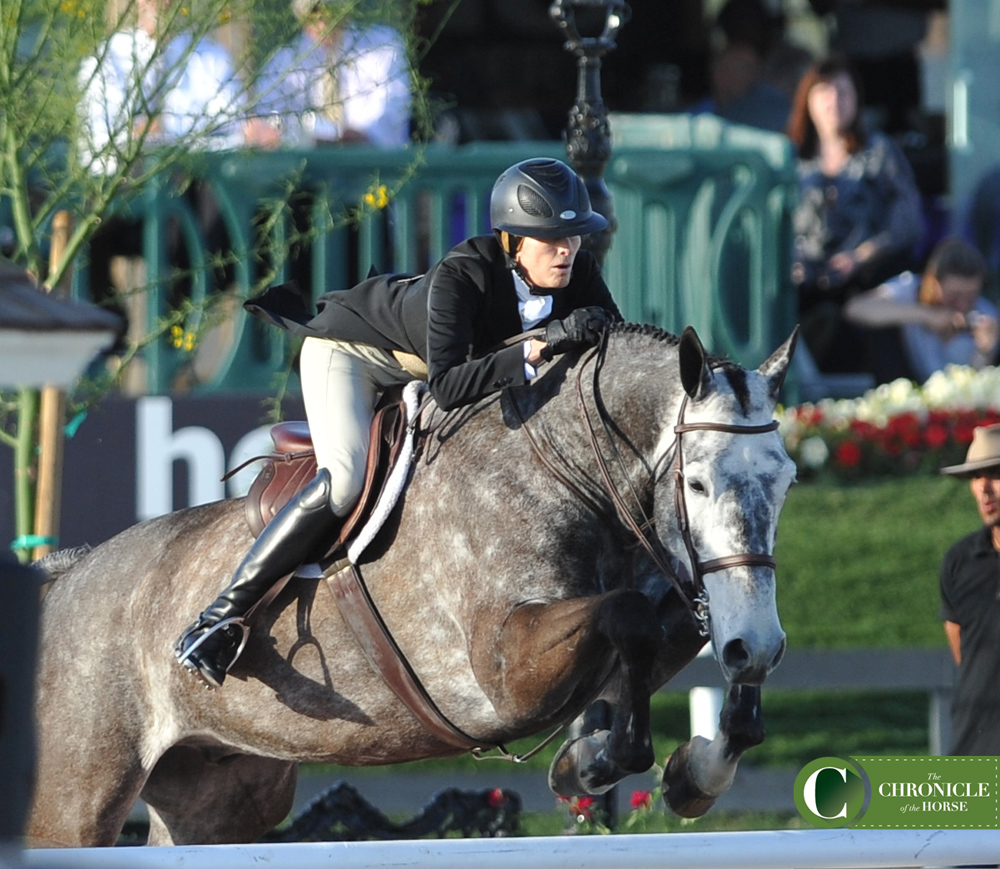 Jenny Karazissis and Legacy. Photo by Kimberly Loushin
Jenny Karazissis rides the hair off everything she sits on, and she makes every one of her mounts look easy. We haven't seen her come to USHJA Derby Championships since the debut year, which is too bad because she never, ever rides into a ring for second place. She and her husband Kost make an admirable team, simultaneously competitive, supportive and great horsemen. Jenny's a commensurate professional, and one of the nicest folks you'll ever meet, and I'm excited to see her and Legacy coming back to Kentucky.
Ann Glavan, Editorial Staff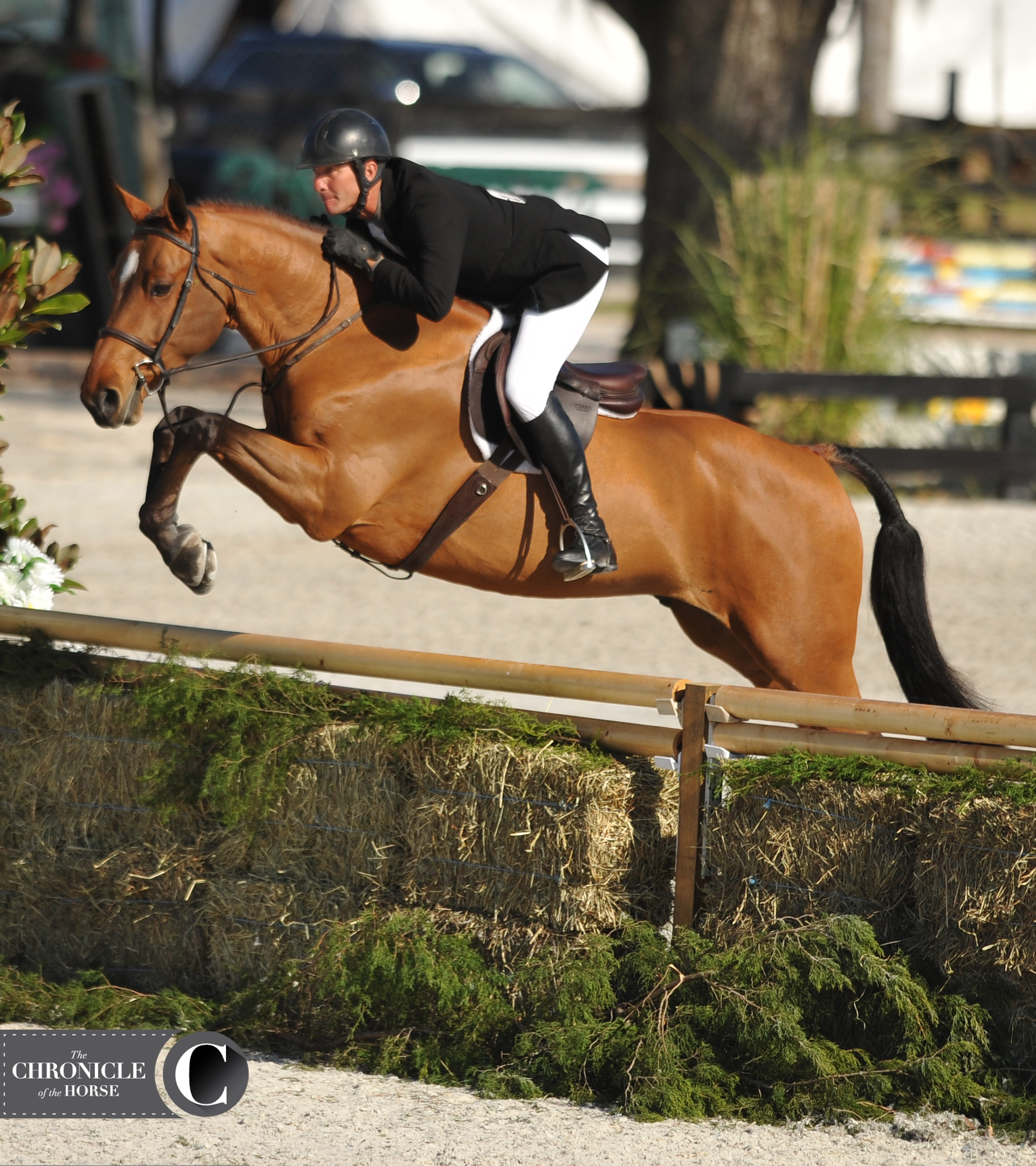 Kris Killiam and Mr. Big. Photo by Kimberly Loushin.
Kris Killam and Mr. Big are who I'll be cheering loudest for at derby finals this year! I will always root for my Midwest hometown heroes, and Killam originally hails from Omaha, Neb. I grew up competing at many of the same shows Killam attended (Mason City, Iowa., and St. Louis, Mo., shout out!), and have always admired his sportsmanship and good sense of humor. And adding to the appeal, Mr. Big is an American-bred warmblood!
Catie Staszak, Editorial Staff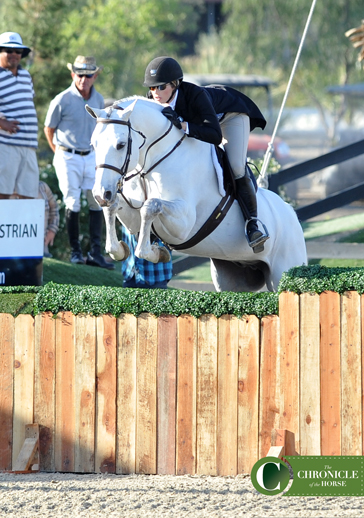 Hope Glynn and Corriendo Tau. Photo by Kimberly Loushin
I'm constantly reminded of how small the horse world is. When I called Hope Glynn for an interview about her derby championship contender Corriendo Tau, I learned that we had a mutual connection, as Hope spent some time training my former equitation horse L. Alta Vida for his now-owner out in California. "Pokey," as he is affectionately known, gave me my best trips at indoors as a junior; he was unquestionably the greatest equitation horse I ever had.
"Pokey is the best!" Hope exclaimed on the phone, and right then she got my vote. I also couldn't help but become a fan of Hope's darling grey mount with the pony-like expression. As Hope said, "He's the type of horse that you naturally gravitate toward, because he's so cute."
Just last year, Corriendo Tau was a pre-green horse, and when Hope first got him, she wasn't sure if the 9-year-old was cut out for the hunter ring due to his nervous tendencies. Her patience with the recently gelded Swedish Warmblood paid off, and a relaxed, happy horse and rider finished second in the USHJA International Hunter Derby at Franktown Meadows (Nev.). I'll be rooting for them to move up one position in Lexington.
Laura Lemon, Editorial Intern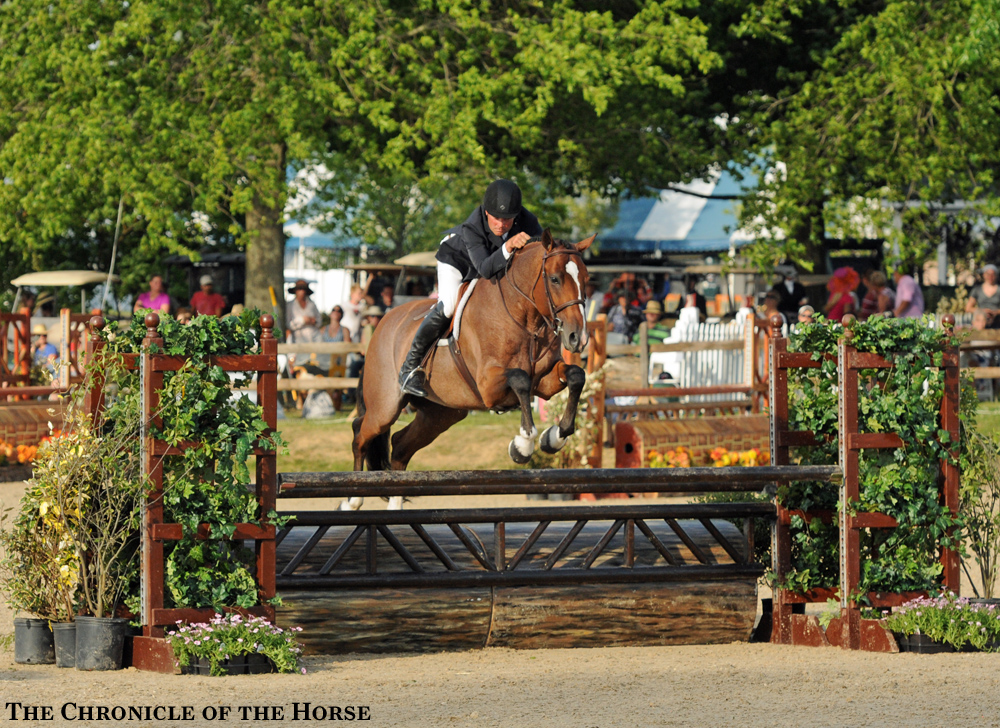 Jason Berry and Colbalt Blue R. Photo by Haley Weiss
Being born and raised in Southwest Virginia, I grew to know Jason Berry from the local shows, long before he started doing more of the "A" circuit shows and the derbies. He has always cracked me up with that subtle dry humor, and he also has the cutest family imaginable – a miniature-Jason named Carter and a new little girl named Sydney. His son, Carter, in particular, looks just like Jason except with his wife, Alisa's, blonde hair. While there are so many pairs that I can't wait to watch, I will be cheering for Jason and Cobalt Blue R representing the Southwest Virginia Hunter/Jumper Association.