When Grégory Wathelet jumped the fourth jump, he saw the crownpiece of the bridle slide forward. "Uh, oh," he thought.
Wathelet, of Belgium, was on course in the Prix du Qatar during the Longines Global Champions Tour Paris on July 5, and Conrad de Hus' bridle was slipping off forward over his ears. "I didn't really think about [pulling up]. I wanted to finish because I wanted to qualify for the grand prix the next day," Wathelet said.
Wathelet wasn't too surprised the bridle was making an exit. The same thing had happened in a schooling area a few months ago. Conrad de Hus has tiny ears and thick neck, making it easy for the bridle to slide over his ears. "[In the schooling area the first time it happened], I was able to hop off straight away and fix it and it was fine," Wathelet said.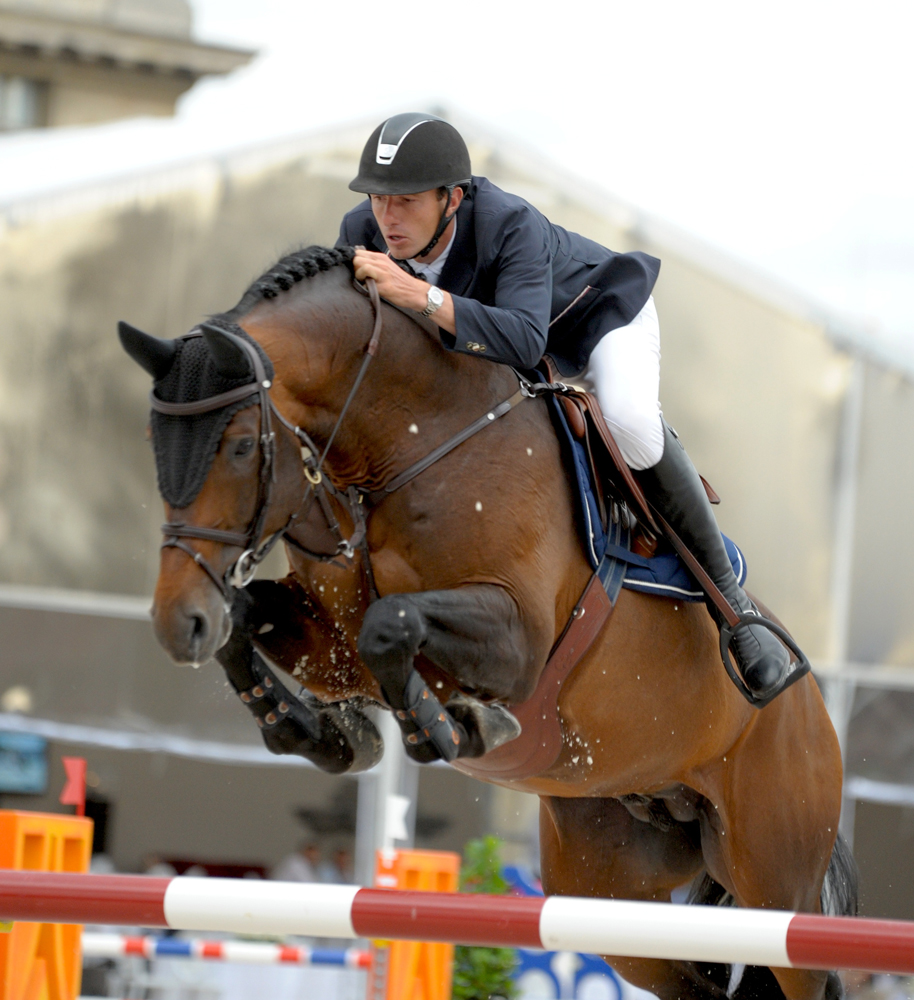 Mid-course, Conrad de Hus' bridle started slipping
over his ears.
Photo by Tiffany van Halle
So from then on, Wathelet made sure Conrad's throatlatch was snugly fastened. "I knew we had to be careful about the bridle's fit because the horse has really small ears," he said.
"[In Paris], I don't know why, but we didn't put it tight enough. I also changed the [fly bonnet] and used a different one than we usually used. We usually use one with elastic on it to keep the bonnet on his head. I had a new groom and I forgot to tell him to use the special bonnet," said Wathelet.
As Conrad took off for the third fence from home, the bridle completed its descent off Conrad's head, dropping to dangle from the bit. Wathelet kept a consistent contact with the bit, holding it in Conrad's mouth, and completed the first round clear. "I was a bit scared that the horse might put his foot inside the bridle when he was jumping; I was hoping that was going to be OK. When I saw the pictures, it was more dangerous than I thought when it was happening," he said.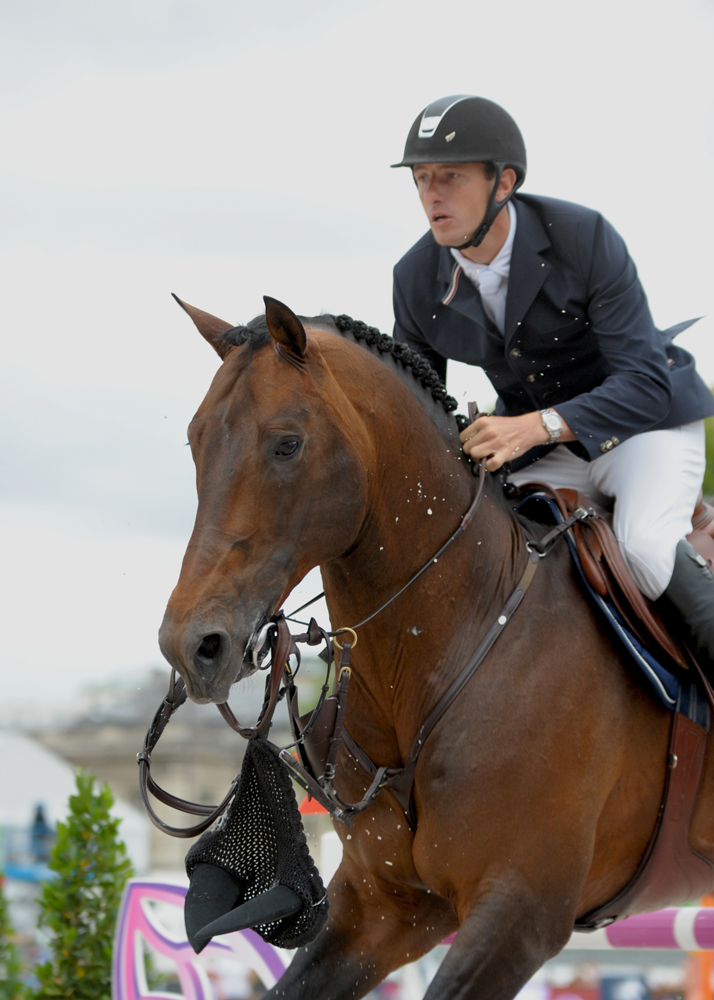 Wathelet kept the contact with the bit to keep it
in Conrad de Hus' mouth.
Photo by Tiffany van Halle
"The horse stayed very quiet. That's what made me happy. If he had gotten upset, it could have been really dangerous. He's a really good horse, his mind is fantastic, but he's quite sensitive, too. When you ride him on the flat, he spooks at things that are moving. I can't carry a whip because he gets stressed. He's sensitive that way, so I was very surprised and happy he stayed calm with the bridle."
Wathelet's groom, Eric Lelavechef, met them after they crossed the finish line and helped stop Conrad. Wathelet in no way blamed Lelavechef for the mishap, however. "He was a little worried that I would be angry, but I wasn't at all; it was my fault,"
Wathelet said. "Then he was embarrassed because all the other grooms were joking with him, telling him he needs to learn how to put a bridle on. But it wasn't his fault; it just happened."
Wathelet and Conrad had a rail in the jump-off of the Prix du Qatar (which they jumped without a fly bonnet!) and placed ninth. They qualified to jump in the Longines GCT Grand Prix of Paris, where they were 10th.
Wathelet has ridden Conrad, a 9-year-old Holsteiner stallion (Con Air—Minne I, Lacato), since the spring of 2013. French rider Michel Robert had developed him to the 1.40-meter level and Wathelet moved him up to the 1.50- and 1.60-meter level. "I think he's a really good horse, a horse for championships," Wathelet said.
Wathelet, 33, represented Belgium in the 2012 London Olympic Games with Citizenguard Cadjanine Z and won the 2013 Belgian national championships with Sea Coast Forlap DC.
Watch the round where Wathelet loses his bridle…