It's not every day that you get a call from a top-level rider making an offer too good to refuse. It happened to Amira Cooney near the end of 2019.
"Hannah Sue [Hollberg] called and asked if we would be interested in having her as a dressage horse for me to learn on," 17-year-old Cooney recalled.
"Her" was RF Demeter, the rangy chestnut Oldenburg mare (Rubin Royal OLD–Patricia, Kanudos XX) owned by Jacqueline Mars who won the 2015 Bromont CCI4*-L (Quebec) and finished second at the 2016 Fair Hill International CCI4*-L (Maryland) with Marilyn Little and later went to Hollberg (then Hannah Sue Burnett). "Demi's" last international competition was with Hollberg at the 2017 Blenheim CCI4*-L (England).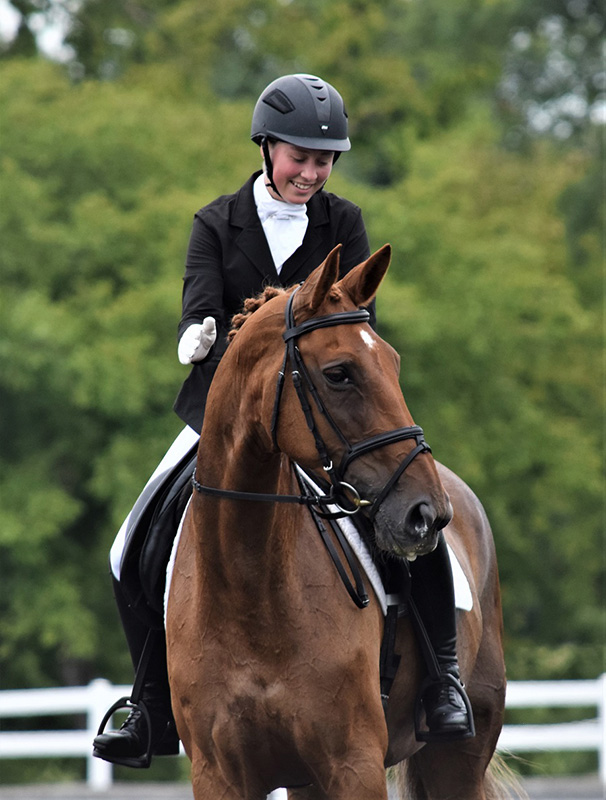 Cooney's mother, Angela Cooney, knew the mare through her work in equine and human sports massage therapy via her business of 24 years, The Right Touch. She'd also built a professional relationship with Hollberg.
While on a trip with the family to Ireland, celebrating her father-in-law's 90th birthday, the Cooneys attended the Land Rover Burghley Horse Trials (England).
"I hopped over to Burghley to work with the U.S. riders there," Angela recalled. "One day, I was chatting with Hannah and asked about 'Demi.' I knew she hadn't shown for a bit."
A month later, Angela said, Hollberg called to ask if the Cooneys would be interested in taking Demi into their program. Demi arrived at the Cooney's home farm in Marshall, Virginia, the next day.
"They wanted her to step down from jumping but knew she still had a lot to give," Amira said. "The timing was perfect."
"I had a full barn, but my old event horse wasn't well, and we had planned with our vet to euthanize the next day," Angela added. "I remember thinking, 'This is so strange—I'm putting my old horse down, and we're getting Demi.' She just walked in and filled a hole. It was serendipitous."
After arriving in late 2019, Demi enjoyed some downtime through the winter.
Amira, a member of the Casanova-Warrenton Pony Club since age 8, was excited to begin more regular dressage lessons on the mare with trainer Allison Spivey, but the COVID-19 pandemic delayed that plan.
Instead, they stayed home and got to know each other.
"Demi was a very big, powerful, high-performance horse coming down off her career, but she was so good to my kid," Angela said. "Demi would be like, 'You don't understand how to ride leg to hand; OK, I will still trot around for you.' And then Amira would get it, and Demi would get round.
"Most high-performance horses have so many buttons," she continued. "Amira would be learning, and Demi would say, 'Not the right the button,' but never reacted negatively. And then Amira would get it, and Demi would say, 'Yes, that's the right button,' and move into the sidepass."
Amira, too, appreciated her new schoolmaster. "She is an incredible teacher, professor, and has the patience of a saint," she said.
"She is a complete sweetheart in the barn, but going down centerline she is all business, and I think she is entertained by my learning curve," she added. "She gives me the most amazing feeling when I get it right."
Amira has long considered eventing her favorite discipline. She recently moved up to the preliminary level with her mother's 12-year-old homebred Irish Sport Horse, Annie.
Demi, she said, has given her a different perspective of dressage.
"Learning from a horse like Demi has made me realize how much fun dressage can be," she said.  "Being an event rider, I was new to the [U.S. Dressage Federation] world, but having a partner like Demi, it's been exciting to learn and gain more experience in dressage."
With Demi, now 21, the young rider earned her USPC C-3 and B ratings and, last summer, earned her USDF bronze medal.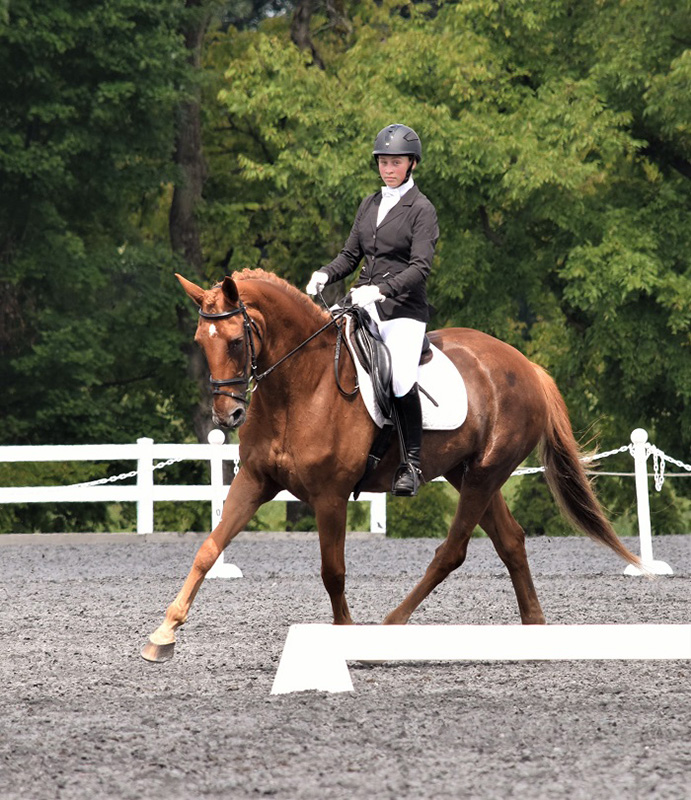 They competed last October in the GAIG/USDF Region 1 Dressage Finals in Lexington, Virginia, and earned the Young Rider second level reserve championship—and with it, a berth to U.S. Dressage Finals at the Kentucky Horse Park, where they finished fourth.
"To say that was more than I ever anticipated for this year is an understatement, being that my original goal was only my bronze medal," Amira said. "But honestly, my favorite moments are those spent the night before shows, cleaning, braiding, prepping and spending quality time together getting into our show mindset."
Angela feels fortunate that her daughter has the opportunity to learn from such a talented schoolmaster.
"I always had young horses; I'd develop them and sell them," she said. "It's really neat to be able to provide for your kid, to be able to provide it in the manner of Demi. She feels incredibly lucky to have this horse."
Demi is currently enjoying a winter vacation while Amira focuses on swimming with the Fauquier High School Swim Team.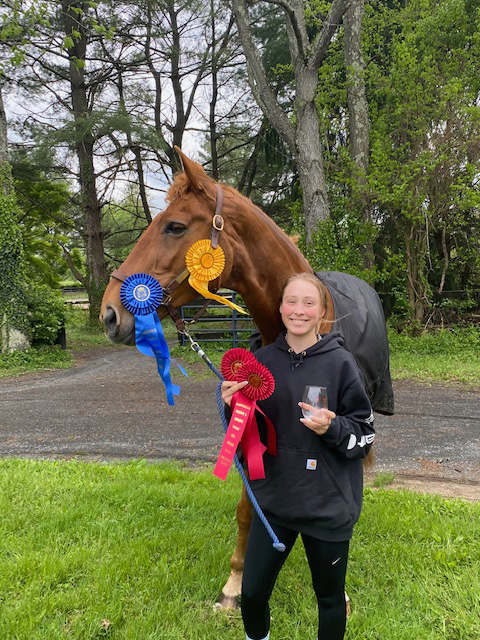 "It will be up to Demi as to how much we do and how far we go," Amira said. "Her happiness is of the utmost importance to everyone involved in her life and career, and I'm just along for the ride.
"There will always be more for her to teach me, and I will always be willing to learn," she added. "I hope I can take what I learn from her and carry it with me onto every horse in the future."