It's been a few years since you've climbed in the saddle, but then something happens. The gates open, and the bells ring. By God, you're going to start riding again.
If you're still living in the same place, you reach out to your connections in the horse world to find opportunities to get back in the saddle. If you've moved or they've moved, you start looking for a decent barn near you with decent horses and a trainer who doesn't make you roll your eyes and snort.
That's where your story forks right and mine veers left.
At 290-ish pounds, I blast way past most advertised weight limits at lesson barns. Not every lesson barn has big, drafty-type lesson horses that can accommodate my girth. At my weight, you kind of need to just buy yourself something suitable. It's less of a "wading back into the horse world" thing and more of a 30-foot-dive.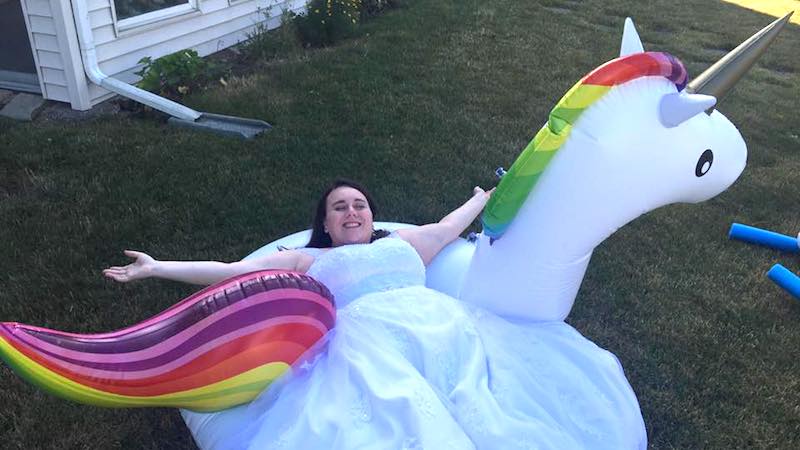 So, knowing that I was most likely going to need to buy myself a horse to actually do this, I started the search for my first horse by trying to find a barn that would be a good fit. Just like a good lesson barn, the barn still had to be decent, and the trainer still had to be decent. But I measured the decent-ness of the horses more by whether they looked like the best version of themselves and were well behaved in the pasture.
What amenities would the barn need to allow me to do the kind of riding I enjoy? And could I afford it?
I made a list. Not an actual list, mind you, just a running commentary in my head. I make lists only when it's real or very, very fantastical. Horse ownership, until recently, seemed somewhere in between.
It would need an indoor. When I lived in northern Virginia, I viewed indoor arenas as a luxury for people who release horse-spooking screams whenever a raindrop dares to fall on their skin. But since my return to northern Michigan, I've had to change my, "I'm too hardy for an indoor, too hardy for an indoor, too hardy it huuurrrts" mantra (yes, sung to the tune of Right Said Fred's famous song). There were patches of ice on the ground just a few weeks ago. Indoor arenas are so advantageous in parts of Michigan that even some of the budget barns have them.
I get ring-sour, so the barn would need good ride-out on real trails, not just a loop around the pasture. 
Good care is a must. And somebody would need to provide blanketing. I knew I wouldn't always be able to get to the barn in bad weather for all the reasons most people struggle to get to the barn in bad weather and also because, as a general assignment reporter, I'm more likely to end up working late when the manure hits the blizzard.
To find this unicorn stable, I searched online and gossiped with the equestrians I occasionally met through work or the gym. 
I ruled out one barn without visiting because there could have been a professional conflict. I visited another barn but had safety concerns. 
Then, in early May, I fell in love with a barn recommended by a local teenager. 
After I knew 1) I could afford board, and 2) The barn was accepting new horses, I started telling people that I was shopping.
I started with the People Who Know People. In my case, that's my trainer from when I lived in Virginia. 
There's no point in giving her the list. Her gut instinct for me is better than my carefully thought-out, nuanced list of must-haves. (Under 18 hands! Built like a tank! Level-headed on trails! Comfy gaits! Don't care about fancy!)
She knows my skills, knows me as a person, knows what I'm like when I haven't ridden in a couple years, knows what I'm like when I'm in regular work. She knows how fat I am when I'm riding regularly (less fat) and how fat I am right now (very fat).
I trust this woman with my life in all the ways you should trust a riding instructor with your life and in some ways that you shouldn't trust anybody with your life.
If she told me to throw my leg over a sad, sweaty dragon that drools knock-off Sriracha sauce instead of real flames, and if everybody with a pair of polished boots for the next 100 miles sniffed, "There's a REASON that dragon is only 50 pots of gold," I would do it.
I'm not saying I wouldn't raise my eyebrows at her and say, "Really?" But I would get my weirdly-shaped butt in that dragon saddle.
I sent her an email: "We are casually horse shopping for me. If the right horse comes across at the right price…" I told her a little about the new barn and its feed, turn-out practices and terrain. Mare or gelding, either one is fine.
Her response came an hour and a half later: "I have a horse in mind. Give me a day."
Next time: OMG, could it be this easy?
---
Karen Hopper Usher is returning to riding after several years away. She's sharing her perspective and experiences as a plus-sized rider with The Chronicle of the Horse. By day, she is a reporter at a small newspaper in northern Michigan. She is horse-shopping like it's her second job.