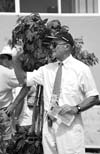 An old tale says that for every good story to be told about horses, there are a hundred sad ones. This is close to the truth. Life is fragile at best. And life, when it comes to our four-legged friends, is even more fragile.
The school year was coming to an enD in 1948, I had turned 10 years old, and my family had finally allowed me to have my very own horse, on a lease, for the summer.
Otto Heuckeroth and Felicia Townsend, the instructors at Ox Ridge (Darien, Conn.), decided Robin was the ideal horse. Robin was a pinto mare about 15 hands who belonged to the Nielsen sisters of New Canaan, Conn. I was to take possession of Robin after an early summer member show at the club.
That particular weekend I was laid up with a cold and couldn't go to the show. Nonetheless, I was counting the hours until that first ride on Monday morning.
Suddenly the telephone rang late in the day. It was one of my club friends calling to say they had very, very bad news. Robin, jumping into the sun over the last fence in the last class, had broken her neck and died instantly.
Needless to say, I was inconsolable, to the point that my family actually allowed me to go to the club the following morning and buy a horse. That's how I started in the horse business. My first horse died the day I got her!
Several years later–1952 to be exact–a great rivalry was coming into play in the junior hunter and equitation divisions. Glenna Lee Maduro (still one of my best friends) and her great-jumping chestnut mare Teacher's Hope versus myself and my machine-like Game Cock. We always seemed to hack-off for junior hunter champion or change horses in the equitation classes.
Suddenly the unbelievable happened. Driving home from an early spring show at Gordon Wright's, the van had a very bad accident and Teacher's Hope was killed. We were all heartbroken.
Glenna leased a nice horse and won the ASPCA Maclay Final at the National Horse Show (N.Y.) several years later. But it was never the same for her.
A year or so later, the greatest working hunter of that era, Sombrero, a bay son of the great Bonne Nuit, died while competing over an outside course on Long Island. He was hit with the blind staggers and iMpaled himself on a show fence.
It was 1960 at the National in Madison Square Garden shortly after the Rome Olympic Games. Frank Chapot was riding his Olympic horse Trail Guide, and I was riding Mrs. A.C. Randolph's palomino High Noon. Trail Guide had the best score in the Nations Cup in Rome and a USET legend.
High Noon was leading in the jump-off when Trail Guide went. It was the second-last fence when apparently the horse suffered heart failure and fell, breaking his neck. He was put down in the ring in front of a hushed and horrified packed house.
These are a few examples of what can happen, living and competing with our beloved horses.
About four years ago, my associate and business partner Chris Kappler called me from Europe and told me that Henk Nooren, the great Dutch trainer, had shown him a 9-year-old stallion by Ramiro. Evi-dently the horse had shown in the Nether-lands with an amateur gentleman.
I flew over immediately to test the horse. My first impression of this breedy, seal-brown stallion was the quality denoted in his head–a big, brown eye, a dished face, ears neither too big nor too small, and a fine-coated horse. And he walked like an athlete.
When I try horses, I test rideability, cleverness, scope and carefulness. Chris had already jumped the horse, so I cut right to the chase with a half-stride line to a pair of wide oxers, along with a spread to a pair of tight verticals.
We jumped quite big that day, and my first recollection is that the horse hand-cantered everything. He possessed immense and easy scope. Nothing was an effort. Then I began to think that the horse did not rub a fence all day.
Yes, Royal Kaliber could twist a bit, hang a little, and lay on his side at times, but that was simply his style. And I never try to drastically change a horse's style.
Kathy and Hal Kamine, who had bought Rhythmical through me for Nona Garson, bought Royal Kaliber. Little did I know that lightning would strike twice!
Yes, he was a pet and would stay a pet.
Right from the beginning, this horse was ever so generous. He went to his fences, jumped everything with ease, and knew exactly where his legs were. He hated to hit fences. Yes, he did have a touch of spook. That's what made him careful.
I don't remember him so well in the lower classes. I do know, though, that he almost always went clean. Chris went carefully with the horse and didn't go all out until he was a confirmed open jumper.
Over the past several years, Royal Kaliber appeared to be in a class by himself, at least in North America. And last year in Aachen (Germany), he confirmed our hopes. This he re-confirmed at this year's Olympic Games. There simply was no better horse in Athens.
Royal Kaliber had to be humanely destroyed in the Netherlands as a result of complications from colic surgery (see Oct. 15, p. 122). My guess is that being a very, very fit horse in Athens, his body shut down when confined to his stall as a result of the bowed tendon he suffered, caused by the Athens turf.
My heart goes out to the whole Kamine family, Jenny and Chris Kappler, and Luí³ Hernandez, his groom. I also want to thank Dr. Tim Ober, who stood by the horse so magnificently all those weeks.
The loss of this most unusual, generous and gifted horse is a loss to the American horse community and to horse people all over the world. But the loss is felt deepest here at Hunterdon, where his front corner stall looks very empty indeed.
This certainly is the hardest article I've ever had to write. But imagine how lucky I've been to have had Royal Kaliber in my own backyard all these years.