Perhaps old dogs can't learn new tricks, but it turns out former Grand Prix dressage stars most certainly can. Since Germany's Jessica von Bredow-Werndl retired Unee BB, who finished third three times in the FEI World Cup Final, she's used his extra free time for fun, new activities.
"He has a very nice retirement, and [I] still try to keep his daily life exciting and not only the same routine every day," said the FEI Dressage World No. 3. "He's fit, and he also needs the people around him to take care of him. I think just putting him out in a field wouldn't make him happy."
Unee BB, 19, can bow and perform the Spanish walk. "We jump together a little but not very high to take care of his legs," said von Bredow-Werndl. "Usually I ride him bareback and just play around or have a halter on, and we go out for a little hack. It's just having fun and spending a nice time together. He doesn't need to do anything—it's just what he wants to do, and sometimes he feels like he wants to go out for a hack and walk, and sometimes he wants to move a little more. He tells me. It's pretty easy to understand him. "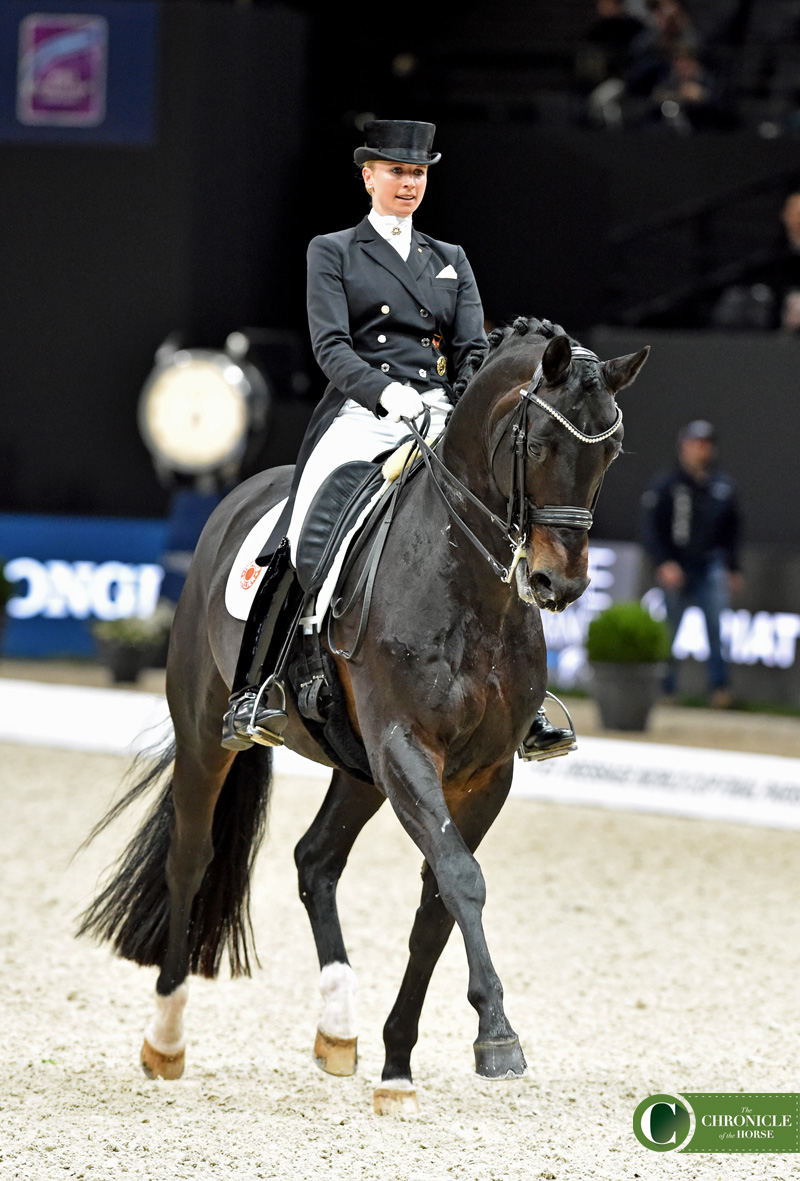 On Dec. 6, that fun included two new experiences, starting with von Bredow-Werndl's 6-year-old niece hopping on the Dutch Warmblood stallion (Gribaldi—Ilarichta, Dageraad) for a little ride. Using a vaulting surcingle, she piaffed, trotted and cantered the former champion.

"I asked her if she wanted to ride Unee, and she said, 'Yes yes yes!' Because she's riding in a little Pony Club regularly, I knew she would be able to stay on him if he's OK. But I knew he would be a good boy," said von Bredow-Werndl. "You can see that he really likes it because his ears were always by her. He really tried to focus on her and take care of her. It's cool to watch."
After the lesson, von Bredow-Werndl looked at the vaulting gear and had an impulse. She hadn't vaulted since she was a little kid—let alone on Unee BB—but she decided to give it a whirl.
"I was not wearing the right shoes or anything; I asked my husband to longe me, and so he did," said von Bredow-Werndl. "I tried to jump on, and it worked. It was very spontaneous, and I didn't think about anything during this. I was just lucky that a friend of ours filmed that."
Von Bredow-Werndl vaulted on at the canter, kicked off her boots, and even spun around to ride backward. In Germany, many children begin their riding education by vaulting, and von Bredow-Werndl enjoyed reliving those early experiences.
"I actually was a little bit surprised, but it was fun to do it and to see that the body still remembers," she said. "I have a friend who is a professional vaulting teacher. The next time she comes over, she [is going to bring] another pad that is not that slippery, and then I'll try it again."
Von Bredow-Werndl said she'd like to work on the mühle or vaulting mill on Unee BB, a move where you make a 360-degree turn on the horse's back. "I would try if I could do it with free hands, but if [it's not possible] it's no problem," she said. "I [will] just try it again [for a] little fun."