There's some stuff to catch you up on. Grab a glass of wine.
OK. So the last time we chatted about my personal horsey life, I had just half drunkenly (sort of) purchased a lovely little 3.5-year-old hunter prospect off the interwebs, sight unseen. To make it happen both money and time-wise, I had also locked in a half lease of my perfect girl Callie. Part of her new job was to give a currently horseless, good riding adult amateur in the barn some more saddle time and a little jumping practice.
As generally happens when you say the word "horse," it only took about three weeks before things went to pot/hell in a handbasket/chestnut mare.
Callie decided one day that one of her pasture mates got too close for her liking. She gave her a good kick, but aim is not her strong suit, and fortunately for said pasture mate, she hit our sturdy pasture fencing instead. The result was my vet, 20 minutes later, kneeling in Callie's stall picking pieces of splint bone out of her hind leg while I turned green with anxiety.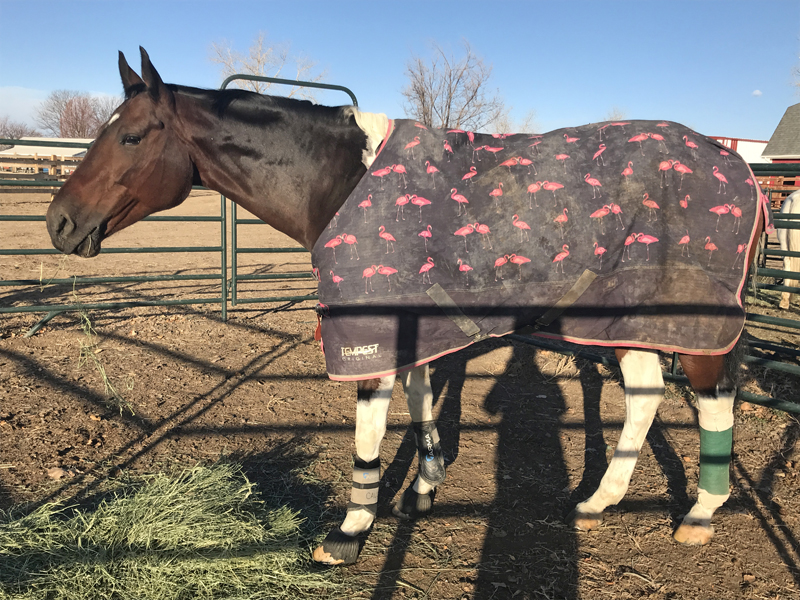 Five weeks post accident, Callie is living her best convalescent life. She's not even lame (she was never lame on it). She enjoys turnout in a small, private stall-sized paddock in the morning and then strolls in at lunch to enjoy hay nets full of food for the rest of her day. Prognosis is still TBD as we wait to see if her shattered bone will heal or need to be removed. But needless to say, her half lease is gone.
This also means that Quill has turned from my backburner to my No. 1 horse. Of course, I still groom and dote on Callie, but my main focus and all of my saddle time goes to this huge (he is so much bigger than I thought he would be), goofy, red baby horse who somehow magically transforms into an elegant, regal creature whenever I get on his back.
Baby Quill practicing his spiral in/spiral out.

I've decided this is the only baby horse I will get because I won the baby horse lottery, and it's impossible to do that twice. He does everything as well and as calmly as you could possibly ask a young horse to do. He has never yet offered to do anything that involves lifting his feet off the ground in a counterproductive way, even when he's anxious. He is attentive and present for groundwork. He is starting to understand contact and steering and where his feet go and moving off the leg and all of the normal baby horse lessons.
All in all, I felt I was coping very well with the circumstances, especially knowing things could have been much worse.
But then over the weekend, I ran late for my lesson and didn't have time to properly prep Quill beforehand with some groundwork. The temperature was Colorado-in-December cold, and though the indoor was heated, he had been outside all day. In addition to myself, there were three other folks riding in our very small indoor ring. He tried his best, but Quill's brain just couldn't focus on the exercises at hand, so Liz and I decided to bag the lesson and let him walk on a loose rein until he relaxed, and we could do a little easy trot work.
Eventually, we did just that. But I've never missed Callie more during the whole process than that moment. My little mare, whom I can always count on to just tack up and go no matter the circumstances. Broken splint bones generally have a good prognosis, but due to the location and terrific job she did shattering it apart, we still don't know how well she'll recover.
My bumpy morning with Quill put into stark relief what I took for granted with Callie. I've yet to really think about what I might do if she can't return to her normal job with me, mostly because I just don't want to. Would I sell her? No, I don't think so. But I might find her an in-barn lease with someone who just wanted to do flatwork or trail ride, both things she would find amenable. If she's not even riding sound (which I doubt would happen, but who knows), I think I would find a nice retirement place. Whatever happens, I'm still very thankful that her injury wasn't bad enough to take her away from me entirely.
I know I'm not the first nor the last to have plans derailed due to a horse's unplanned injury. The fact that participation in our sport depends on another living creature is both the best and the worst part of it. Best because of the great joy a partnership and friendship brings. Worst because no matter how much we try, we can't keep them safe from themselves.
Callie wore boots up front, but would this have happened if she wore them behind, too? Maybe, maybe not. If you start thinking that way, you end up on a slippery slope of bubble wrap and confinement. Sure, we can put them into stalls for the entirety of their day save for a few hours in a small private pen, but I've seen very few horses who thrive on that routine, and even then I've known horses to jump out of paddocks or slip in their stalls. You always hope for the best and prepare for the worst, even though the latter part is always harder than it sounds.
---
Sophie Coffey grew up riding by the seat of her pants in Virginia hunt country, and she took a flying leap into the top levels of the sport through sheer will and luck after a cold call landed her a job at Hunterdon, Inc. She continued freelancing as a jack-of-all-trades through her 20s for some of the top names in the industry, getting the best education possible in horsemanship and larger life lessons. After leaving the sport to pursue a career in marketing, she returned in 2018 as an adult amateur with a little APHA mare named Callie, who has a passionate love of peppermints and jumping with her knees to her eyeballs. She resides with her increasingly horsey husband and three cats in Boulder, Colorado.