You'd be hard pressed to catch Tim Bourke in a moment when he's not demonstrating the infamous Irish good cheer. Whether he's riding multiple horses at novice and training or competing in his first CCI*** aboard the horse he broke as a 3-year-old, this young Irish professional is always smiling.
Bourke, 28, just scored the biggest result of his career, finishing eighth in the Dutta Corp. Fair Hill CCI*** in October aboard Luckaun Quality. It was the first time either horse or rider had galloped around a CCI***. They also won the award for best presentation in addition to the Linda Moore trophy for the highest-placed foreign rider. (See the Nov. 4 issue of The Chronicle of the Horse for a full report from Fair Hill.)
But even though Bourke has plenty of reasons to smile these days, it hasn't ever been an easy road with "Obie."
He first met the Irish Sport Horse gelding (OBOS Quality—Colwyn Bay, Cavalier Royale) as a 3-year-old in Jonathan Reape's stable in Ireland. Bourke had been in the United States for two years working for Bruce Davidson, but he'd returned home for a year and was riding jumpers.
Bourke was assigned the task of starting the young horse with no name—"We just called him the big horse in stall 1 or whatever stall he was in," he recalled. Soon after he gained a different moniker: Tim's horse.
He returned to the United States to work for four-star eventer Sharon White, but he couldn't get that horse off his mind. "Tim talked about him constantly," said his fiancé Marley Stone. "He'd say, 'There's this horse, and I love him. I love him.' All he would talk about was this horse."
Eventually the Reapes agreed to go into partnership with Bourke, and Obie came to White's Last Frontier Farm in Summit Point, W.Va., as a 5-year-old. Kay Greenwood, White's groom at the time, gave him the nickname Obie, although no one remembers exactly why.
Despite Bourke's affection for the horse, riding him turned out to be a challenge. "He's always jumped pretty well, but he's been horrific on the flat," said Bourke. "His first prelim he was horrifically hard to ride. He hauled me around the place. I had no steering. It's been the same ever since."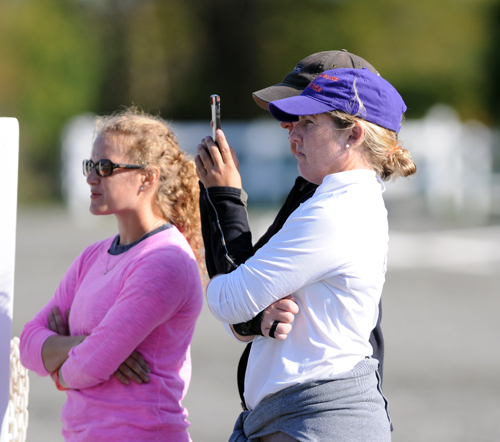 Tim Bourke's fiancé, Marley Stone (left), and his boss, Sharon
White, anxiously watched his dressage test at Fair Hill.
The pair struggled to get qualifying dressage scores, rarely scoring lower than 70 in FEI events.
"He just gets really nervous when he gets away from other horses," said Bourke. "It's like you're going to the startbox on cross-country when you go across to the dressage ring. Except for at the startbox you know you can let him run."
Bourke worked with White and FEI five-star judge Linda Zang to improve Obie's flatwork. Jimmy Wofford would ride Obie when he was at the farm teaching jumping lessons. "He's good when Jimmy gets off," said Bourke. "He's always much better. I can get on and go, 'Oh wow, this is how it's supposed to be.' "
Obie, now 8, has some other undesirable traits as well. "We always say he was hatched from an egg," joked Stone. "He's like a dinosaur. He eats absolutely everything. Whatever you put in front of him, anything. He quacks. When he's in the crossties he'll quack like a duck. He and [stablemate] Alfie are like goats in the field. They're up on top of all the rocks. Everything about him is big and bad and destructive."
But Bourke never gave up on Obie. They ran their first advanced together at Millbrook (N.Y.) in August. One run-out left them pretty far down the leaderboard and unlikely to qualify for Fair Hill, since Bourke needed two qualifying scores in CIC***s to meet Eventing Ireland's qualifications.
They headed off to Michigan for the Richland Park CIC***. A clean cross-country trip there and another in the Plantation Field CIC*** in September were the results they needed in order to enter Fair Hill. "He was magic at Richland and the same thing at Plantation," said Bourke. "He was super. Where everybody was having trouble at the water he was good."
Bourke and Obie were on a roll, and they carried that through to Fair Hill, starting with their best dressage score to date. "I'd spent most of Thursday and most of Friday chilling on him up by the ring," said Bourke. "I went into the ring, and I made three mistakes in my test, but he was super."
They didn't add another penalty for the rest of the weekend, finishing on 58.6. "I couldn't say enough good things about him," said Bourke. "He's so genuine; it doesn't matter what your distances are. Once you get him between the flags he's going to go."
And while Bourke was the highest placed international rider at Fair Hill and still rides in the Co. Mayo colors of green and red, he's made a life and gained a family for himself here in the United States. He's worked for White for the last five years and is now her assistant trainer and right-hand man.
"My riding has changed completely since I started working there," said Bourke. "I've been given huge opportunities."
Those opportunities include riding many of the young horses that come for training or to be sold. It's not unusual for Bourke to compete six to eight horses in a weekend. And White's also passed along the ride on upper-level horses, such as Fernhill Flag, whom he rode through intermediate.
Tim Bourke and Luckaun Quality added no jumping penalties to their dressage
to finish in the top 10 of the Dutta Corp. Fair Hill International CCI***.
"It works for both of us really well, and she's really good to me," said Bourke. "To me, it's more like family with Sharon."
"I'm so very proud of Tim," said White. "He's worked really hard his whole life. He will continue to do so, and he'll continue to get better and better. He's a fabulous horseman, fabulous person, a genuinely good guy. I personally hope for him and Obie that he's on the 2016 Irish team.
"It's a good thing we don't have to compete for the same team," she continued with a laugh.
And then White turned serious. "He's definitely family. I trusted my mom with him. [Her mother, Carol White, passed away from cancer on Oct. 21, the day after Fair Hill.] I never worried when I knew he was there. To me that means more than anything. You just couldn't find a better guy."
Bourke will soon make his U.S. family official when he marries Stone on Nov. 23. They met while he was working for Davidson in Unionville, Pa., and she was riding with Bonnie Mosser and going to college. They worked together for White—Stone was her office manager—but now Stone, 25, works for Broad Run Veterinary Services in Bluemont, Va. However, working together was never a problem.
"We don't bring work home," said Bourke. Instead they talk about what's on television and play with Blue, their Cardigan Welsh corgi. Bourke says he does most of the cooking, but Stone disagrees. No one disputes that laundry is her territory.
"Eventually we want our own farm and our own house and to do our own thing," said Bourke.
But for now he's not going anywhere. "I'll take the opportunities as they come, see how it goes," he said with a smile.