Our columnist takes a humorous look at the rules of naming your equine offspring.
As foaling season descends upon us, I decided to write about the issue currently weighing heavily on my mind: what to name my pending foals.
A breeder's most difficult decision may not be who to breed, but "What should I name this thing?" We usually want something that defines the foal's personality, pedigree or some similar characteristic.
Breeders, like happy parents, try to decide among several possible options before the foal's birth, but once a healthy foal hits the ground, we have to put it in writing so we can register it.
Consult the registry before you name your foal because each registry has its own set of guidelines and naming rules, and sometimes the foal-naming rules will have changed since you bred that foal last season.
I also try to register all our foals with the U.S. Dressage Federation and the U.S. Equestrian Federation before the year is up. This saves on later expenses.
Rules, Rules, Rules
Warmblood registries have traditions and rules about naming foals, based on the pedigree, year of foaling, and/or gender. They often specify how many letters and spaces the name can have, how many words, if it can have Roman numerals (for full siblings it's usually acceptable), and if it can be a duplicate of another registered or famous name. The rule that varies most among registries, however, is the letter with which the foal's first name must begin. (Non-warmblood breeds have rules as well, for example, the names of Lusitanos depend on which hemisphere the foal is born in.)
One choice we have to make this year is a pending Briar (Swedish) foal out of Carlotta II (an imported Trakehner mare). We can register the foal as SWANA (a B name), ATA Part-Trakehner (B or C depending on the gender), or, as we register most of our foals, ISR/Olden-burg (also a B). I can hear the announcer now: "Ken Borden riding … Buck Naked, or Commando or Better Than You."
In Europe, foals are registered with their birth location, not their pedigree. And although there are exceptions to this (a Trakehner is a Trakehner is a Trakehner, no matter where it is born), in general a foal is registered as a Hanoverian if it is born in Hanover, an Oldenburg if it is born in the Oldenburg region, and so on.
As a result, there are often full siblings recorded with different registries. Both in Europe and the United States, the recorded registry of the foal may have little or nothing to do with the pedigree. I personally have many full siblings each recorded in a different registry. Europeans may also register foals, as we may do in the United States, with the registry of their choosing. I have many full KWPN foals that will never be inspected by that registry since I choose other options.
Choosing A Registry
Of course, there are a few other considerations I seriously consider (besides what I can name the foal this year) before deciding the registry with which to record any of my foals. My considerations include:
1.) Registry payments, DNA or blood typing, USDF, USEF, EVA fees, and various Futurities both within and outside of the registry.
2.) Rules for stallion prospects. Although very few colts become approved stallions, this should be a major consideration for a male offspring. If the colt is a stallion prospect, it affects the name you may choose, especially with regard to name duplication and the use of Roman numerals.
If I believe my colt is eligible to be a stallion candidate or can receive full registration papers in one registry, that is better for my breeding program than to have him be Pre-Stud-book, Book A or Part-bred in another registry, which is the reason I eventually decided not to register my foals with one particular breed organization. Although I truly love that breed, too few domestically bred stallions ever get approved in the United States.
Another thing to be aware of is that the registries often change their rules quickly, and it can affect the foal's options the following year, so always check with the registry (and get it in writing) as to whether or not your foal is eligible for what you want, whether the stallion's dues are paid in full, what additional fees will be owed, or if the latest rule changes affect your pending foal(s).
I have bred foals in good faith under an existing set of rules only to find that the rules have been changed over the winter and that a bred-for colt is no longer eligible to be a stallion prospect with that registry. Being an incorrigible letter writer, I wrote to the registry in question and clarified that the new rule change should not affect my in-utero foal that was bred under the old rules.
3.) Have all the fees been paid? Are the stallion's dues paid? Know all "foreign sire" fees. Check with the stallion owner and your desired registry before you sign any contracts or breed to any stallion.
I have had to pay another stallion owner's stallion dues before I was able to register my own foal. One registry continued to advertise a stallion as "approved" for three years, even though the owner had not paid that stallion's dues. I was then told by the registry to sue the stallion owner for my costs. (I had to pay the last three years' dues for that stallion before I could get my foal registered.)
And I repeat, always get it in writing! Most organizations understand breeders' needs, and most of the registries are run by breeders who have a vested interest in the breed. So please check with the stallion owner and the intended breed organization before signing any breeding contracts. But know sometimes even then people misunderstand the rules.
Each Registry Is Different
But back to the issue at hand: You have a foal on the ground, you know which registry you want to use, and even though its barn name will be Precious, you want to have a registered name that will lend him or her some dignity at a show.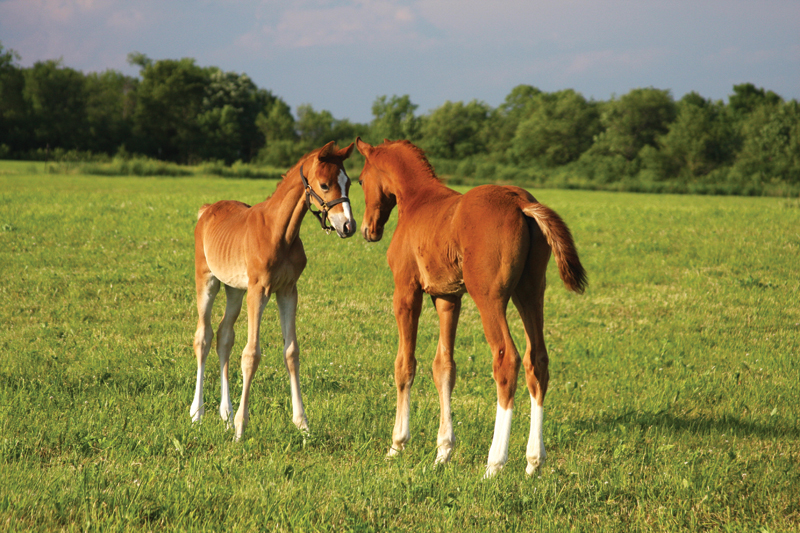 In most warmblood registries, names of male offspring will start with the same first letter as the sire's name. In many, the same is true of female offspring, however, some registries (e.g., the American Holsteiner Horse Association) require the first letter of filly names to coincide with the year of birth according to the naming schedule designed by the registry. In the AHHA, fillies born in 1986 had names that began with the letter A; the female names for 2012 begin with the letter E. AHHA, by the way, allows 18 letters in the name.
The U.S. warmblood organizations sometimes have different rules than their European counterparts. In the United States, there are two different Oldenburg registries. Both recommend that colt names begin with the first letter of the sire's name. Although that applies to both colts and fillies in the ISR/Oldenburg, the GOV (or the Oldenburg Horse Breeder's Society) recommends their fillies be named with the letter of the dam's first name.
To help you wade through all the rules and conventions, here are a few brief examples of various U.S. warmblood registries' requirements.
KWPN allows names of 20 letters. Their naming require-ment is simply that the name must begin with a specific letter. They sequence through the alphabet, except they skip Q, X and Y. (The Belgians, on the other hand, don't use X, Y or Z; the AHHA doesn't use Q, X or Y.)
For 2012, the foal name must start with the letter H. It does help breeders know what year the horse was born, like the racetrack Thoroughbred tattoos that indicate the year of birth. However, the year my KWPN stallion Opus was registered there must have been a dozen Ophelias recorded.
The KWPN allows the duplication of names, but many other warmblood registries do not allow using the name of a still-living horse (or even a dead one for the AHHA). The exception is full male siblings, who may use the same name with the appropriate ordinal (e.g., Rashka I, Rashka II, etc.). Should you develop namer's remorse, this registry allows one change of name as long as it's before Dec. 31 of the horse's third year and there have been no offspring.
The American Hanoverian Society (20 letters) requires the foal name begin with the first letter of the sire's registered name. The exception is that offspring of certain W-line stallions whose pedigrees contain Feiner Kerl and Ferdinand must be named beginning with the letter F.
Are you taking notes? There will be a quiz after class.
Swedish Warmblood Association of North America (25 letters) has naming traditions (such as paying homage to the horse's bloodline by choosing a name that has the same first letter as the sire's name), but those traditions are not required. SWANA also allows multiple horses to have the same name, except for stallions. No two approved Swedish Warmblood stallions can have the same name. If you think your colt has stallion potential, make sure he doesn't share the name of an approved stallion, otherwise his name will need to be changed when he's approved.
Breeders can get around this rule, however, by adding letters to the name. (It has become trendy to add initials or even the whole farm name to offspring these days.) An example would be the Swedish stallion Master, who is the sire of our 2000 Swedish stallion Masterpiece, and the grandsire of the 2004 pony stallion Masterpiece RP. For this registry, a horse's name cannot be changed once it has been registered.
American Trakehner Association requires that full-bred foals, both colts and fillies, out of Trakehner mares and Preliminary Stud Book mares must be named using the same first letter as the dam's name. It is acceptable to put initials in front of a name to make it different as long as it isn't the name of a well-known stallion or mare. It's also acceptable to misspell the name to make it different from an already-used version.
If a foal is not a purebred and not out of a PSB mare, the ATA suggests you use the first letter of the sire's name, although any letter is acceptable. Roman numerals may be used only for imported Stud Book mares and stallions. You may change the name only if your horse has not produced any offspring.
Have A Little Bit Of Fun
At Little Bit Farm, we often try to keep the foal names as close to the stallion and the dam's names as possible, to help remind us who they are and where they come from, because we have more than 80 horses at our farm to track. (Who's your daddy?)
A fellow local breeder, who also produces a number of foals, uses a theme system. One year she named every foal after a rocker: Led Zeppelin, Aretha Franklin, Steven Tyler, etc. Another year she named a foal crop after characters in The Wizard of Oz: Dorothy, The Scarecrow, The Wizard, etc. (Of course, there's always a Wicked Witch in the bunch.)
If you are like me (not as original or creative as I'd like to be), brainstorming helps to discover the perfect name. Keep a list and select the exact name later, once you see the foal. And remember, the first rule of brainstorming is "never say no."
Some of the strategies we've used include taking clues from the pedigree (combine the names of the sire and dam: e.g., Coco Rosso (Coconut Grove/Furioso II dam line); cut out parts of the name; misspell words to "copy" other good names; character clues from the foal (O' So Friendly); and we try for a name the announcer can pronounce: "Ken Borden riding … Me."
In 2012, we're expecting a dozen foals for various registries. As usual, we have a lot of R names to come up with since we often breed to our stallions R Cor Ray, Rashka and our former stallion GP Raymeister. We are considering the following: R Horse, R Judge, Really Easy, R & R, R Money, R E Z Boy, or R Hit (a mare with Sandro Hit in her pedigree), but my favorite so far is, "Ken Borden riding … Rock Hard."
For our Hohenstein and/or His Highness crosses, we might choose His Ho, R Ho or HoHo. Granted this may seem to be our year of suggestive (but hopefully not too smutty) names, but before you opine that we lack imagination, keep in mind we have already used the easy ones.
We also have several S names to consider because of our new stallion, Sir Flemmingh. We are considering She's Easy, She's A Ten and Sure Fling, but I may pull rank and vote for "Ken Borden riding … Simply Wonderfully, or So Perfectly or So Well." Or possibly, as my friends at KYB Dressage once joked, "Ken Borden riding … So So."
And we always seem to need O names since we annually produce foals by our foundation stallion, Opus. We are currently considering the following: Oxytocin (the love hormone), On My Tab, The Other Woman, One Drunken Night, Over Easy, Only One More, Oy Vey and Oh, Woe Is Me.
As you can see, we have fun with it, often with the help of some liquid inspiration.
We also have pending foals by our now-deceased Hanoverian stallion, Tiamo Trocadero. His foals will be out of our Star KWPN mare Zabella (by Olympic Ferro) and Bashka by Butow (a half sibling to Olympic Peron). We've decided to register our pending Zabella/Tiamo foal with the AHS since it's eligible to be a stallion prospect.
We're waiting to discover the sex of Bashka's foal to decide on a registry. Because her grand dam was not Hanoverian, if Bashka produces a colt it could not be inspected with AHS as a possible stallion prospect, so we will register that colt with another registry. If Bashka produces a filly, and she eventually produced a colt by another Elite Hanoverian stallion, that offspring could be eligible as an Elite Hanoverian stallion, so we would register the baby with AHA.
At the request of Tiamo's former owner, the first name of each foal will be Tiamo, which means, "I love you." So how about Tiamo Tiamo, Tiamo's Frozen, Tiamo's Tushes, Tiamo's Ferra, Tiamo's Bella, or Tiamo's Figlia (because it means daughter and almost sounds like filly)?
As you can see we can be name-challenged (years ago we named one of our dogs Dog Dog), so please help us name our pending foals. There is a list on our website of our 2012 pending foals, and if you have any suggestions, please feel free to send them to us via Facebook or email: Kfbjr2@sbcglobal.net.
---
Ken Borden Jr. breeds, trains and sells horses for dressage, hunter/jumper sport and eventing. He is a U.S. Dressage Federation Gold Medal winner, an "L" judge and an in-demand clinician. The Borden family has owned and operated Little Bit Farm in Wilmington, Ill., since 1990, and horses Ken has owned, trained or shown have gone on to international competition. For the last three years, Little Bit Farm has been the Leading Dressage Breeder in U.S. Dressage Federation and U.S. Equestrian Federation year-end rankings. Ken has bred eight approved ISR/Oldenburg stallions and many USDF Horse of the Year winners. www.littlebitfarminc.com.