Pull out your nicest hat and get ready to spend your week eating the famous Devon fudge and mouth-watering fair food—it's time again for the Devon Horse Show. Whether you go to the Devon, Pennsylvania, showgrounds for the equestrian competition or just want to spend a few hours exploring the county fair, there's plenty to keep you busy at one of the country's oldest horse shows. The Chronicle will be there to bring you all the photos and coverage from the place "Where Champions Meet."
When: May 25-June 4. The show kicks off with the under-18 exhibitors on Junior Weekend, which runs May 25-28. This includes pony and junior hunter classes, equitation, and children's and junior jumpers. The arena eventing once again takes place on the first Sunday evening of the show, May 28. Senior Week takes over on Monday, May 29, and runs until June 3, with the open, amateur-owner and local hunters taking center stage along with open, amateur and adult amateur jumpers. The Devon Horse Show closes out with the pony and horse hunter breeding classes June 4.
Check out our gorgeous photo gallery from Day 1 of this year's show.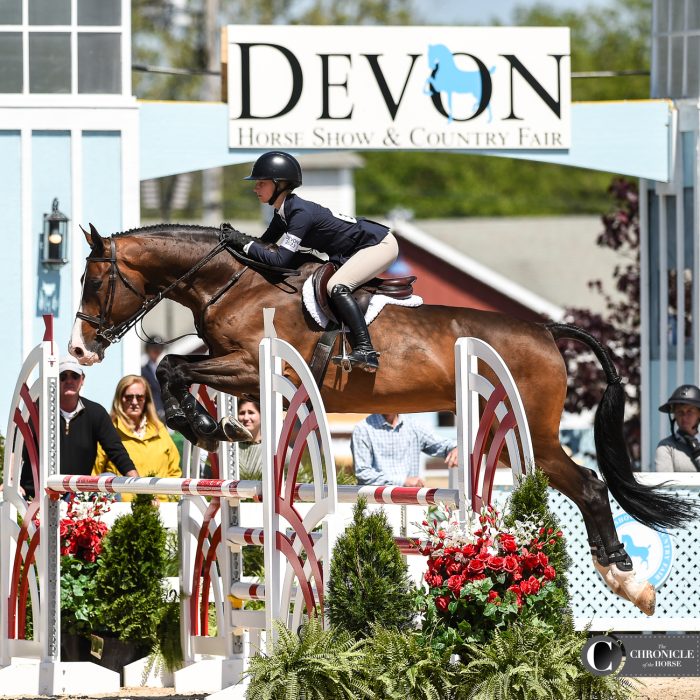 Don't Miss: One of the oldest outdoor horse shows in the United States, Devon never fails to offer entertainment for all. Here are some of the crowd-favorite and bigger classes:
For a taste of local flavor, watch the horse hunt teams, the parent and child class, and the family class on Saturday evening, May 27, after the junior jumper classes. Pony hunt teams, which feature costumes, will take place earlier the same day, following the conclusion of the pony hunter divisions. The side-saddle division starts at noon May 31.
Devon Arena Eventing is back, starting at 7 p.m. May 28.
Watch the $25,000 USHJA International Hunter Derby at 10 a.m. June 1.
The best jumpers will turn and burn in the Jet Run Devon Welcome Stakes, starting at 7 p.m. May 30, and then in the Sapphire Grand Prix of Devon at 7:30 p.m. June 1.
How To Follow Along: The Chronicle will have photo galleries, stories about each day's competition and so much more on www.coth.com. Be sure to follow us on Facebook, Instagram and Twitter to make sure you don't miss a thing.
Don't forget to pick up copies of The Chronicle of the Horse magazine. Junior Weekend coverage will be found in the June 12 & 19 issue, and coverage of Senior Week will be in the June 26 issue.
How To Watch: The Devon Horse Show will be livestreaming on USEF Network powered by ClipMyHorse.TV, which requires a U.S. Equestrian Federation login.
Important Links: Devon Horse Show website / Order of go and results / The complete schedule of classes and exhibitions / Livestreaming / All of the Chronicle's coverage