It's that time of the year when the best of show jumping, driving, dressage, eventing and vaulting all descend upon one singular location: Sport Park Soers in Aachen, Germany, for the annual CHIO Aachen. The famed German horse show—nicknamed the Wimbledon of the equine sport world—runs from June 24-July 3.
After several stand-out performances at Aachen in 2021, U.S. athletes return to the venue with two titles to defend: The NetJets U.S. Show Jumping Team will look to repeat its 2021 victory in the Mercedes-Benz Nations Cup CSIO5*, the team's first in that competition since 2005; while Land Rover U.S. Eventing Team members Will Coleman and Off The Record, who became the first Americans ever to win the CHIO4*-S in 2021, will return to defend their crown. And for all U.S. athletes, Aachen will hold special significance as one of the last observation events before U.S. teams are named for the 2022 ECCO FEI World Championships.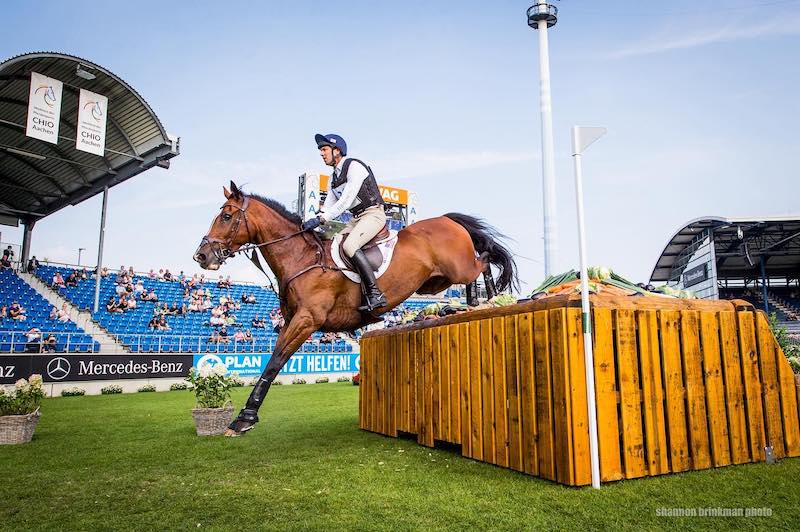 With five sports and side events like a retirement ceremony for Isabella Werth's outstanding Olympic and World Equestrian Game gold-medal partner Bella Rose 2 and the unique CHIO-Cup, in which multinational teams consisting of one driver, one eventer and one show jumper complete a timed course in a relay format (the eventer jumps cross-country type fences in the arena first, then the show jumper does a brief course, and the driver goes last, with the dismounted eventing riders on their carriage), Aachen offers a lot of variety and a lot of top competition.  We're breaking down the highlights so that instead of just dreaming of those Aachen grass fields, you can check in on the action yourself via livestream.
Time listed below are approximate and in local German time, which is six hours ahead of Eastern Daylight Time, so an event beginning at 7:30 p.m. local time will begin at 1:30 p.m. EDT.
Who's Competing: The U.S. will be putting some of its best riders up against the best of the rest of the world.
In show jumping, Lillie Keenan, Chloe Reid, Spencer Smith, Adrienne Sternlicht and McLain Ward will rep the pinque coat for the NetJets U.S. Jumping Team.
Meanwhile, Mimi Gochman will represent the U.S. in the FEI Youth Equestrian Games Aachen, a special event being held to replace the Dakar 2022 Youth Olympic Games, which were postponed until 2026. The athletes, all ages 14-18, drew horses last week from a pool provided by host country Germany and will compete individually and as six continental teams. U.S. Equestrian Federation Young Rider Chef d'Equipe DiAnn Langer will manage Team North America, whose five-member side includes Gochman for the U.S. as well as riders from Costa Rica, Guatemala, Honduras and Mexico.
The Dutta Corp. U.S. Dressage Team competing in the dressage Nations Cup will consist of Katie Duerrhammer on Quartett, Ben Ebeling on Indeed, Charlotte Jorst on Kastel's Nintendo, and Steffen Peters on Suppenkasper. Adrienne Lyle with Salvino and Sarah Tubman with First Apple will compete as individuals in the CDI4*.
The Land Rover U.S. Eventing Team for the CHIO Aachen CCIO4*-S, the SAP-Cup, is Will Coleman on Off The Record, Buck Davidson on Carlevo, Sydney Elliott on QC Diamantaire and Meghan O'Donoghue on Palm Crescent.
Show Jumping Highlights:
Wednesday, June 29:
First round of the team competition for FEI Youth Equestrian Games Aachen, 11:30 a.m.
Thursday, June 30
FEI Youth Equestrian Games Aachen team competition final, 4:15 p.m.
Mercedes Benz Nations Cup CSIO5*, 7:30 p.m.
Saturday July, 2
FEI Youth Equestrian Games Aachen individual final, 1:15 p.m.
Allianz-Prize, 3:30 p.m.
CHIO-Cup, mixed eventing, jumping and driving competition, 9:30 p.m.
Sunday, July 3
The Rolex Grand Prix of Aachen, 2:30 p.m.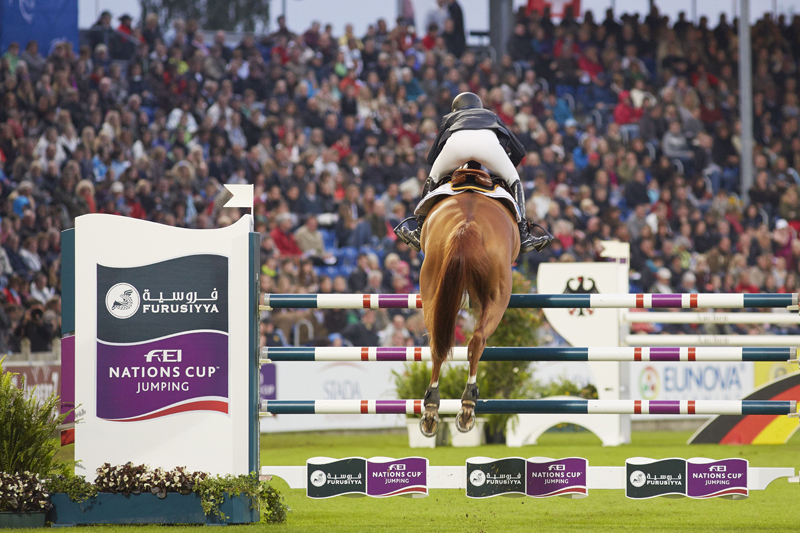 Dressage Highlights:
Wednesday, June 29
Havens Horsefeed-Prize Grand Prix CDI4*, 4:30 p.m.
Thursday, June 30
Grand Prix CDIO5*, first round of Lambertz Nations Cup,  9:30 a.m.
Friday, July 1
Lindt-prize Grand Prix Special CDI4*, 5:45 p.m.
Farewell to Bella Rose 2 ceremony, 8 p.m.
Saturday July 2
Grand Prix Special CDIO5* and second round of Lambertz Nations Cup, 8:30 a.m.
Sunday, July 3
The Dressage Grand Prix of Aachen freestyle to music Deutsche Bank Prize, 10 a.m.
Important Eventing Highlights
Friday, July 1
Dressage phase of the CCIO4*-S, known as the SAP-Cup,  8:30 a.m.
Stadium jumping phase of SAP-Cup, 5:45 p.m.
Saturday, July 2
Cross country phase of SAP-Cup, 9:30 a.m.
You can find the schedule in entirety for all disciplines here.
Where To Watch: ClipMyHorse.tv will be live-streaming all of the competitions.
Orders Of Go/Results: Unable to watch or wanting to get a feel for what's ahead? CHIO Aachen has all the orders of go and results posted here, and you can check back on www.coth.com for updates on the competition.