After taking a year off due to the COVID-19 pandemic, the 18th annual Jersey Fresh International is back, May 5-9, at the Horse Park of New Jersey in Allentown, New Jersey, and it's literally bigger than ever, with a record number of entries.
Four divisions will be held: CCI3*-S, CCI3*-L, CCI4*-S and CCI4*-L.
The U.S. Equestrian Federation recently lifted its spectator ban, so fans are welcome to come watch at limited capacity. Organizers will cap spectators at 400 per day, and temperatures will be taken on arrival. Tickets can be purchased online in advance or at the gate.
We'll be on site this weekend to bring you coverage.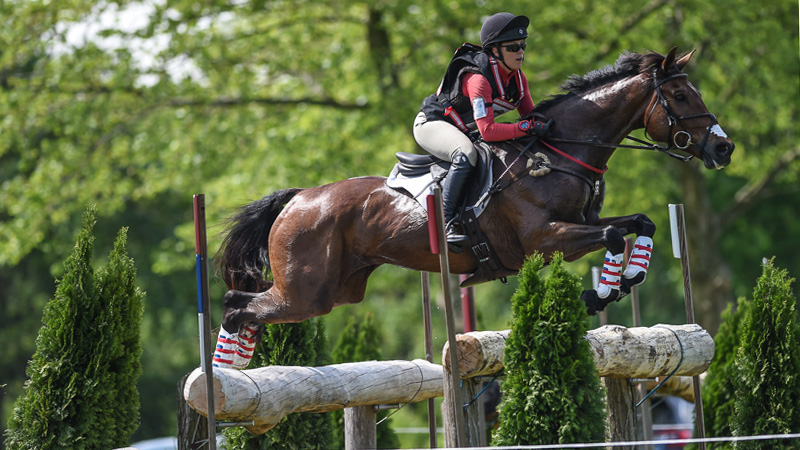 When: The first horse inspection is at 2:30 p.m. Wednesday for CCI3*-L and CCI4*-L horses.
Dressage for the long-format divisions will run all day Thursday and until about 10:30 a.m. Friday, and the short format will run all day Friday.
On Saturday, cross-country starts at 8 a.m. with the CCI3*-L. The CCI4*-L is scheduled to run from 11:15 a.m. to 2:55 p.m., the CCI4*-S from 3:15 to 4:10 p.m. and finally the CCI3*-S from 4:30-5:30.
Short format competitors will do their show jumping before their cross-country on Saturday.
Sunday finishes with the final horse inspection for the long format divisions at 8 a.m., then the CCI3*-L show jumping at 11 a.m. and the CCI4*-L show jumping at 1 p.m.
How To Follow Along: There will be no live stream, but the Chronicle will be on site to bring you all the latest news. Check back at coth.com all weekend.
Lives scores will be posted here.
Who's Here: There are more than 50 entries in both the CCI3*-L and CCI4*-L. Check out the draw order here.
This year's event is a selection trial for the U.S. Eventing Team for the rescheduled Tokyo Olympic Games.
The CCI4*-L division offers a rematch for recent Kentucky CCI4*-S winners Alyssa Phillips and Oskar, who will be contesting their first CCI4*-L, and for Californian Tamie Smith with EnVogue, who finished a close second in Kentucky. Smith also will have Danito and No App For That in the CCI4*-L.
Other notable CCI4*-L entries include Ireland's Tim Bourke with Quality Time, who has won her last two advanced starts.
A few pairs who ran into trouble at the Land Rover Kentucky CCI5*-L have re-routed to New Jersey, including Clayton Fredericks and FE Stormtrooper, Lillian Heard and LCC Barnaby, Valerie Vizcarrondo Pride and Favian, Daniela Moguel and Cecelia, and Hawley Bennett-Awad and Jollybo.
Phillip Dutton has off-the-track Thoroughbred Sea Of Clouds in the four-star long, as well as Quasi Cool, who won this year's Cloud 11-Gavilan North LLC Carolina International CCI3*-S (North Carolina) in the three-star long.
Buck Davidson's former five-star partner Copper Beech is entered in the CCI3*-L with new rider Cosby Green.
The Chronicle of the Horse will be on-site all weekend for the Jersey Fresh International bringing you reports from each round of competition, beautiful photos and stories from the competitors. Follow along with all of our coverage here, and be sure to read our June 7 issue for more in-depth coverage and analysis of the event.