Let's admit it, most of us have had a horse or two we've been glad to see go. And maybe we've had a horse we wouldn't let go. But most horses fall somewhere in the middle. There will come a time for them to leave our barns, but when is it and how do you know?
At this point in my life, it's hard for me to imagine a horse I wouldn't sell, but that's because I have bills that were unfathomable to me when I was younger: a mortgage, a child, that many years closer to the age where most people retire but I'll probably still be greeting shoppers at Walmart.
But 15 years ago, I was more romantic. I had a horse I'd bought cheaply for whom I received several good offers once he started to compete. He was talented, and I knew I was riding a better horse than I'd ever had. I had all kinds of illusions about what we might accomplish and no idea what I might do with the money other than buy a horse just like this one.
When a friend said, "Yes, you've been offered a lot of money, but really it's not enough to change your life," that's all I needed to hear. Did I ask the advice of my parents ("You were offered WHAT for an ANIMAL? Take it and run!!"). I did not. I heard what I wanted to hear. After all, that money might have allowed me to drive something besides a well-used Japanese car for a few years, but no, it wasn't enough to retire on an island at the age of 25. I kept the horse.
(I was also once asked by someone at a horse show if he might buy [to resell] my Corgi. "Horse show people love the long-hairs, and I'm always being asked for them," he said. Really? Is flipping dogs a thing?)
I didn't sell the dog, and I didn't sell the horse, who never reached the heights of competition that I'd imagined in my heady youth. But I still have him, and as Mick Jagger would say, "You can't always get what you want, but if you try sometimes you just might find you get what you need."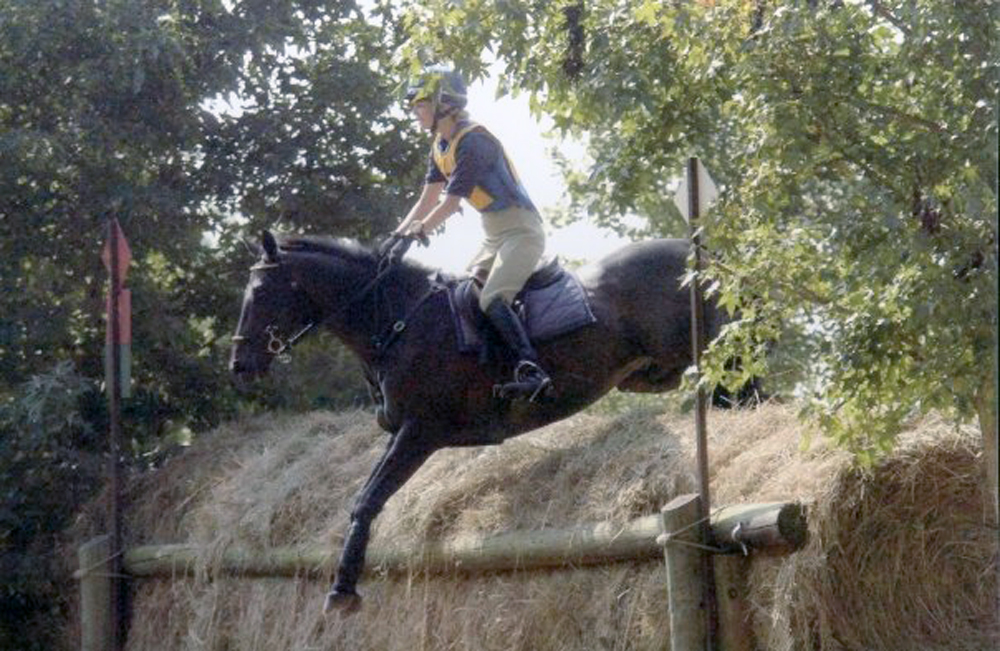 Jerome has been my partner through the times of
going fast over big fences and the times of
slowing down for other things.
Although he was really maybe too small for me, I felt at home on him. Although I never really got the half-halt or proper brakes on him, I enjoyed the speed. Although he never completely settled, I trusted him, and I think he always took care of me in a way I would never have admitted back then.
Years after his feet and joints failed him as a race horse turned upper level event horse, I became pregnant. He was the only horse I trusted for rides as I grew bigger and less balanced. I wondered if he was confused by my change in shape and size, but as animals often do, he just seemed to understand. Finally, in those months of my pregnancy, he slowed down, walked flatfooted, quit pulling. He never put a foot wrong the whole time and helped me keep my sanity through hormonal surges and the uncertainty of impending motherhood.
I don't have a lot of time for him now. I no longer ride him as the sun comes up, do his stall before work, crosstie him in the afternoon for more grooming, return to the barn at 10:00 so he doesn't overindulge on grass in the summer, spend hours soaking his feet or legs and handgrazing him at shows. We don't travel together anymore, and I'm no longer sure where he's stiff or sore or whether he's had a good or bad day, although I still know where to scratch him so that he'll stretch out his neck and lift his lip in pleasure or turn around and gently nip at me.
When you've had a horse for well more than a decade, they're like markers of your life: He's seen me through several boyfriends, good and bad, kept silent on my choice of which to marry, been there when I've lost grandparents and dogs and when my baby was born. In every sense, he is a family member.
His small hoof still fits just right in my hand, and his coat still dapples beautifully in the late spring. His deep brown eyes are wise, beautiful and rare. Sometimes, he's still impatient with me, but in an endearing way.
At the risk of being considered a nut job, I'll admit that an animal communicator once told me he was my first dog reincarnated (that dog was buried just a few miles from where this horse was born, if that counts in reincarnation likeliness). And how could the communicator have known the things he told me about that first dog, about my father, my childhood? I know, I know…but it seemed like more than coincidence when I looked up his pedigree, after buying him, and realized he'd been born on a Thoroughbred farm where I'd worked after high school, that same summer, in a different state from where I purchased him eight years later.
Now he's 23, almost the same age I was when I found him and fell in love at first sight with a skinny little tucked-up horse on crossties in a sales barn. His nose is soft where the hair fades from black to brown, just as the unlimited promise of the future quickly turns to memories of dreams that did or didn't come to pass, that changed direction along the way. There's still no horse I'd rather ride for walks alone in the woods, enjoying each other's quiet company. We both have too many gray hairs, but he's still too enthusiastic, too quick with his feet. If you try to jump him after all this time he goes sideways with excitement to the fence, and I can barely remember just how to get him to the base by letting go.
It's hard to say why we ever prefer one horse to another. I don't love this horse for the events that we won or the things I learned about riding from him. When he goes, which I realize can't be in the too distant future, I will feel older myself, as if a last connection to the fearlessness and confidence of my past is gone.
I'm not sure who I'll be without him, the horse who was the reason I got out of bed for so many years. But one thing is sure: money couldn't have bought me anything else so meaningful.
Editor's note: Sadly, Jerome passed away in May 2015, leaving a void but a lot of memories.