When it's time to buy a horse, where do you turn? Does your trainer hobnob with horse professionals on your behalf? Do you go to the track in search of a ready-to-retire race horse to retrain? Pop on a plane to horse hunt in Holland? Pore through posters pinned to porta-potties at the horse show?  Or maybe you muse over the multitudes of online listings.
Whatever your approach, the decision to try a horse is often based on information in a horse-for-sale-ad.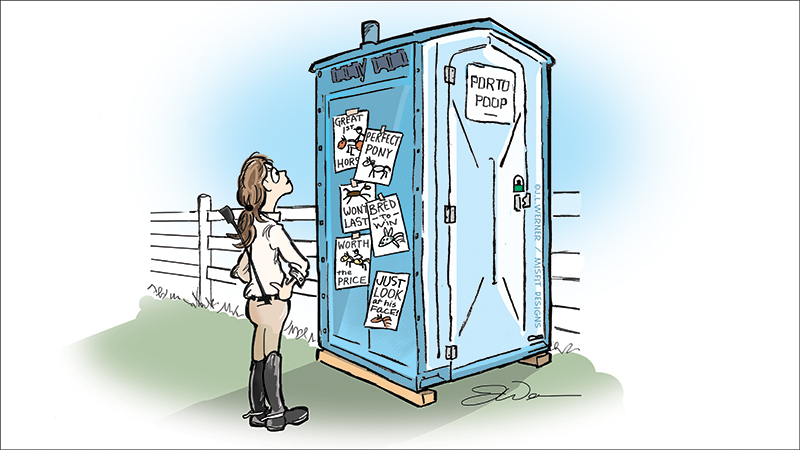 I believe most sellers do their best to represent their horses honestly, but since "full disclosure" is not a requirement of horse-trading, you can't always be 100 percent certain you're getting the whole story. Return policies rarely exist for quadrupeds, which makes the decision to buy even more daunting.
Buyers have personal laundry lists of the qualities they seek in a horse. Sellers utilize carefully curated terms and phrases to appeal to potential buyers. With a little imagination, it's possible to make any horse sound awesome.
Now, you may very well be able to take any given ad narrative at face value.
But it will always behoove the buyer to beware of alternate meanings,  such as those detailed below.
Great mind: continually inventing new ways to get out of work. Smart enough to limp when he hears the word "horse show" and stop when the vet's truck pulls up.
Three ring horse: used to belong to the circus.
Great kid's horse: assuming you'd like them to quit riding.
Recently imported: frankly, we were surprised when he showed up. That's the last time we ride horses in Germany without an interpreter.
Eligible green: so far, we can't get him to jump anything.
Fleabitten gray: haha, we're actually being literal here. Has hives 90 percent of the time.
Responsive to aids: whatever you do, don't touch him with your leg.
Comes out the same every day: resistant to all forms of training.
Adapts well to new environments: has been sold 17 times.
Great halt: although you never know where or when it will occur.
Impressive movement: can spook out from under you with lightning speed.
Walks the lines: maybe you can get him to trot or canter the lines; we couldn't.
Equally useful in any ring: bad at everything.
Clips, ties, loads, stands: just don't try to ride him.
Lots of horse show miles: needs five warm-up classes. Daily.
Careful: becomes a potted plant any time the ground changes texture, color, smell, look, feel or temperature.
Good ground manners: rarely runs away after he dumps you.
Same at horse shows as he is at home: you'll hate him no matter where you are.
Vets and farriers love him: they should; his bills are putting their kids through college.
Always gets a piece of the hack: will bite any horse that comes near him.
Vet check welcome: we're tired of writing the vet checks; we'd like you to do it from now on.
Never has time faults: usually eliminated before clock runs out.
Beautiful markings: the scars are actually sort of pretty.
Free jumps 5 feet: hope your pasture fence is higher than that.
Champion in first outing: did we mention his first outing was as a rodeo bronc?
Straightforward: he goes straight. He goes forward. Not at the same time.
No show prep needed: you won't be showing him. Trust us.
You can ride him everywhere: we can't get him in to the trailer.
Has lots of chrome: ate the grill off our dually. Twice.
Motivated seller: my husband said it was either him or my horses. Please buy this one so I can pay for the divorce.
Plenty of scope: you should see how high he can buck.
Point and shoot horse: looks great in photos.
Excellent lateral movement: spooks sideways.
Well-rounded education: failed at all disciplines.
Can go in any direction: literally. And without warning.
Clean X-rays: you will never get this horse to work hard enough to hurt himself.
Sweet personality: zero talent.
Ideal for first-time owners: If you had a clue, you'd run.
Moves off your leg: good luck getting him off your foot, though.
Flashy: mare constantly in heat.
Safe for anybody: lame at the walk.
Can be ridden bareback: you'll never get near him with that girth.
Natural horsemanship training: nobody's been able to shoe him or get a bit into his mouth, so we just went with it.
Doesn't need shoes: all his farriers have given up.
Branded: we accidentally backed him into the grill at the barn barbeque.
Gets along well with other horses: it's people he can't stand.
Only lightly ridden: nobody can catch him.
Needs experienced rider: experienced in first aid and CPR, specifically.
Sometimes needs trainer rides: like, when you're in the hospital.
Good amateur horse: will probably never be a serious horse.
Great front end: two of his feet point the same approximate direction.
Very agile: you'll never get a halter on him.
Excellent pedigree: you would think he would have been good at something.
Great work ethic: needs to be ridden three hours every day.
Very athletic: can actually stop in the middle of a triple combination.
Seasoned show horse: he should be, seeing as he's 35.
Schoolmaster: knows how to do everything. Won't do any of it.
Fast out of the gate: better jump out of the way after you open one.
Uses his hind end well: has kicked through three trailers.
Always turns heads: because you just have to look at a train wreck.
Good reflexes at the jumps: can stop from anywhere.
Needs professional program: including a chiropractor, massage therapist, acupuncturist, horse communicator, and a variety of veterinary specialists, for starters.
Excellent conformation: well, at least he's good looking.
---
After years of trying to fit in with corporate America, Jody Lynne Werner decided to pursue her true passion as a career rather than a hobby. So now she's an artist, graphic designer, illustrator, cartoonist, web designer, writer and humorist. You can find her work on her Misfit Designs Cafepress site. Jody is one of the winners of the Chronicle's first writing competition. Her work also appears in print editions of The Chronicle of the Horse. Read all of Jody's humor columns for coth.com here.