Catherine Tyree rode BEC Lorenzo to victory in the $100,000 Prevost Richard M. Feldman Grand Prix at the Lake Placid Horse Shows (New York) on June 30.
Just four of 27 entries reached the jump-off by riding without penalty over the 16-effort first-round course designed by Eric Hasbrouck. Laura Chapot, who had won at least one class in the Grand Prix ring each day at this year's Lake Placid Horse Show, was first to try the eight-jump tiebreaker course on Thornhill Kate, the horse on which she won last year's $100,000 Great American Insurance Group Grand Prix during Lake Placid's second week. She finished with two knockdowns for 8 faults.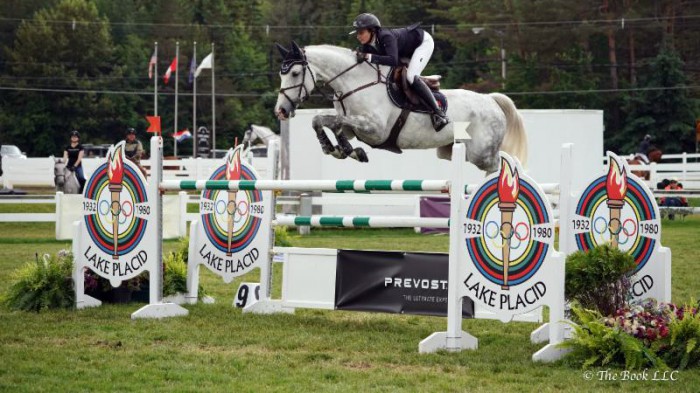 Irish Olympic veteran Kevin Babington, the event's defending champion with Mark Q, was next to go on Shorapur, the 14-year-old Hanoverian mare on which he won the class in 2016. He blazed over the course and finished clean in 42.77 seconds to take the lead.
Tyree followed next on her 9-year-old Irish Sport Horse gelding, and she moved into the lead with a clean ride in 41.51 seconds. The final entry was Brianne Goutal-Marteau, who won the class in 2008 with Ralvesther. She rode Viva Colombia to a clean ride and a time of 43.15 to finish third.
"I rode in my first Grand Prix here in 2013, and I think I've won every ribbon except the blue, so I'm really happy to win," said an elated Tyree, a 25-year-old Northwestern University graduate. "I didn't get to see Kevin go, but I knew he had a fast time. I went in and took advantage of my horse's big stride and let him do his thing. He's so smart, and he was great at all the turns. The wet conditions didn't seem to bother him at all. He felt very comfortable all the way around. I really couldn't be any happier."
The I Love New York Horse Show begins at Lake Placid on Tuesday and runs through July 7. See results, live streaming and more information at www.lakeplacidhorseshows.com.