Medals pile up for mountain state competitors in the junior and young rider divisions.
Young riders from the Western United States collected most of the medals in the dressage competition at this year's CN North American Junior and Young Rider Championships, held July 29-Aug. 3 at the Colorado Horse Park in Parker. Junior riders from the mountain states of Region 5 took the gold medal in junior team competition, while an all-freshman team from California's Region 7 won the young rider team gold.
Region 7 team members Katie Johnson, Brianna Dutton, Christine Stephenson and Thomas Walker all
competed in their first NAJYRC. Under the guidance of Chef d'Equipe Elizabeth Hendrix, they took the gold with a score of 441.7 points, an average of 65.43 percent.

Leading the team to victory was Johnson, El Cajon, Calif., with a 66.35 percent. Later in the week, she followed up her team gold with the individual honors, riding Millenium, a 14-year-old, Dutch Warmblood gelding owned by Pam Schachter, to a 69.05 percent in the individual test. Johnson, 19, earned her double gold medals on a borrowed horse.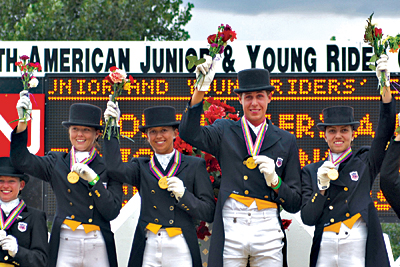 "I didn't have a horse, and I really wanted to do this. I had one more year. I called [Pam] and asked if she'd do a short-term lease, and she agreed," Johnson said.
And throughout the course of the competition, Millenium never let her down. "He loves to work, and he loves to please you, and he went out there today and tried his best darn hardest. I couldn't be happier with him today. He's a very special horse," said Johnson.
Johnson, who trains with her mother and with Debbie McDonald, was clearly shocked to have done so well at her first NAJYRC. In fact, she could hardly stop crying during the press conference that followed the individual awards ceremony as she tried to let her win sink in.
"I can't believe it," she said holding back the tears that later streamed down her face. "I came here hoping to make the top 10, so this is unbelievable."
Helping Region 7 to victory in the team competition was Dutton, of Tracy, Calif. Riding Tibet, she scored a 65.77 percent in the team test.
Dutton, 19, followed up her team gold with a silver medal in the individuals. Dutton was thrilled with her performances. "You come here for the first time with a green horse, and I was just hoping to make it through to the end to the freestyle. I just wanted to have fun. So to be medaling is really surreal. It's just awesome," she said.
Also helping Region 7 to the gold were Stephenson, of Mission Viejo, Calif., and Walker, of Nipomo, Calif. Stephenson, riding Charly 285, scored a 64.17 percent in the team test. Walker, aboard Grundsteins Legacy, scored 60.93 percent.
So Close
Region 8 earned the silver in the young rider team competition, while the bronze went to the Canadian team from Ontario. The members of the runner-up team, Laura Noyes, Julie McKean, Meagan Davis and Alexa Rice, were thrilled with their silver medal, the first taken back to the Northeastern Region 8 in many years.
Chef d'Equipe Jane Hannigan was clearly proud, saying the team consisted of a wonderful group of riders. "They've worked hard, and they deserve this," she added.
McKean, who trains with Cesar Parra, said she was proud to be part of the Region 8 team, calling the team's silver "awesome." Rice said team members were especially pleased that they were so close to winning gold, with an average score of 65.11 percent, just .32 points behind Region 7.
"We were so close," Rice said. "It was so rewarding to be here and to be part of this team. It was nice to have the comfort that no matter how you do, your team will support you."
Davis echoed her thoughts. "We had an entire region backing us this year. And we also had the support of a great coaching staff, and our chef has been really helpful. It's been awesome for me," she noted.
All of the team members had on-the-ground support from their coaches. Parra was there for McKean, George Williams was on hand to help Noyes, Bill Warren was on site helping Rice, and Davis was getting
telephone coaching from Lendon Gray, who was on the road helping Courtney King-Dye prepare for the Olympic Games.
Noyes credited all of the team members for having consistent rides throughout the competition, which was the key to their silver-medal win. "I'm thrilled for us, and it's great for New England. We haven't had a medal in a while, and I'm proud to be part of this team," she said.

The Youngest Ever
In junior rider competition, the Region 5 team clearly dominated. Team members Brandi Roenick, Morgan Heinrichs, Cassy Fitch and Brittney Klasic earned their gold with an average score of 66.46 percent. Region 4 earned the silver medal with a combined average of 65.56 percent, and bronze went to Region 7 with 64.76 percent.
Roenick, fresh off her victory at the Junior National Dressage Championship at the Collecting Gaits Farm/USEF Dressage Festival of Champions (Calif.) in June, led the way for the Region 7 team, scoring 67.90 percent in the team competition with Pretty Lady, a 10-year-old, Dutch Warmblood-Oldenburg mare.
Roenick admitted to a small mistake in her team ride and vowed that she'd be more ready and confident later in the week for the individual competition. She lived up to her words when she took the individual gold medal, setting a record as the youngest winner ever in NAJYRC competition. The 13-year-old from Scottsdale, Ariz., has an October birthday, so under Fédération Equestre Internationale rules, she rides as a 14-year-old.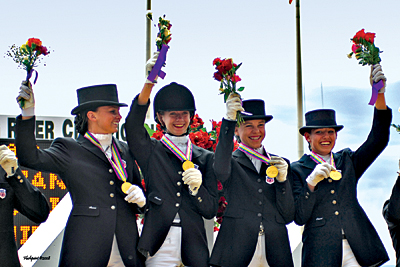 "I'm very, very excited," said Roenick, who took her individual win with a score of 69.90 percent. "This is the biggest accomplishment I've ever had. And I'm happy to be the youngest rider to ever win this. I'm very shocked, and yet I'm not that surprised. I've been working really hard at this, and the mare has always been good for me. So I came into this with really big hopes and thought that with a little bit of prayer, we'd succeed."
Her mother, dressage rider and trainer Tracy Roenick, was clearly proud.
"She deserves this. She's worked hard, even though she's only 13," she said. "It's kind of unbelievable to think that a 13-year-old can come up against this pressure and repetitively and consistently score in the high 60s and the 70 mark."
Brandi is clearly following in the footsteps of her mother, who also competed successfully at the national level, including the NAJYRC.
"I actually did this in the dinosaur age. I rode for Region 8 in 1988," said Tracy, who grew up in Massachusetts and trained with Dottie Morkis. She left the Northeast after marrying Jeremy Roenick, a professional hockey player who now plays for the San Jose Sharks.
Also helping Region 5 to victory was Heinrichs, of Longmont, Colo. She and Orlando scored 65.95 percent in their team test. Like her teammate Roenick, Heinrichs added a second gold medal to her team gold when she won the junior freestyle competition. It was the 16-year-old's first year competing at NAJYRC, and Heinrichs was rather surprised at her freestyle victory.
"I was hopeful, but I didn't really imagine this happening," she said.
Heinrichs has only been riding Orlando, a 12-year-old, Dutch Warmblood gelding sired by Rohdiamant, since February.
"We really started bonding through the whole qualifying process. Our first couple of shows weren't that good. So, I'm really happy with how much we've improved together," said Heinrichs, who trains with Jennie Baldwin. "We're still getting to know each other, and I didn't really imagine that they could get here. So, I'm really proud of him. Overall, today he felt really good. He was really energetic and excited."
Also contributing to the Region 5 gold medal were Fitch and Klasic. Fitch rode Kilroy, a 10-year-old Hanoverian, to a team score of 65.55 percent, while Klasic piloted Wadi Draa, a 10-year-old, Hanoverian gelding, to a 60.55 percent.
The Pursuit Of Excellence
Noyes was the only obstacle to a clean sweep of gold by Western riders. Noyes, a Region 8 team rider, took the gold medal in the young rider freestyle championships and also earned the Fiona Baan "Pursuit of
Excellence" trophy for having the highest average score in the young rider dressage division. Were there an award for sheer determination, she'd have earned that as well.
Elimination Doesn't Dim Michaels' Enthusiasm
This was 20-year-old Hannah Michaels' first trip to the CN North American Junior and Young Rider Championships, but it didn't turn out as the Palm City, Fla., rider had hoped.
During Thursday's young rider team test, Michaels' horse, SavoirFaire, balked
during the halt at X and the ride went downhill from there. The pair was eventually eliminated.
"I had my 20 seconds, and that was it," Michaels said. "I never even got in my salute, although I learned later that you can salute on the go."
That elimination gave Michaels a chance to learn what makes the NAJYRC so unique—camaraderie and support. Thinking that the problem with SavoirFaire, a 9-year-old Dutch Warmblood by Contango, was simply a fear of something in the show ring, Michaels was given the chance to ride him in the arena the following day after the junior individual championships. Dozens of fellow competitors and coaches gathered along the sidelines to help her out and simulate a crowd, and judges even volunteered their time to sit in the judges' booths.
"It was rather awesome what people did," said Michaels, who trains with Susan Roberto. "Everyone got together. It was really nice support."
That ride, however, didn't go much better than the day before. "He kept getting tenser and tenser and tighter and tighter, and my trainer felt that something was just wrong. I went in to ride my test and came across doing my tempis, and he just lost it and ran away with me, which he never, ever does. And right there, I thought, 'This isn't my horse. What's wrong?' "
Michaels said her horse had never behaved that way before. It was later learned that SavoirFaire had a sore back, probably, Michaels said, from a slip while loading to come to the championships.
Having now experienced the friendship and support network that is part of the NAJYRC, Michaels said she hopes to return next year. It'll be her last chance, as she'll be 21.
"I can say of this year, that it's still been a good experience," she said.
The mile-high altitude of the Denver area, and the hot, dry weather took its toll on many riders, Noyes among them. The conditions caught up with her on the final day of competition.
"As Laura was warming up, we were all having a group meeting about whether or not we were going to let her show," said Chef d'Equipe Hannigan. "She was feeling so poorly, she was actually in tears before she went in. It was questionable up to the last second whether or not she would ride."
Emergency medical personnel waited in the wings in case Noyes, who is originally from Maine but now attends college in Ohio, tumbled from her horse. But she stayed on to earn the gold medal with her partner Syncro and with a high score of 74.75 percent.
Hannigan said it was amazing that Noyes "was able to regain her composure and ride as spectacularly as she did."
Noyes, 21, credited Syncro, a 13-year-old, Trakehner gelding, for getting her through her ride saying, "He was super today. He was just really there for me."
Chelsea Pederson, the bronze medal winner in this year's young rider individual championships, was especially pleased with her placing, as she did it on a horse she's trained from the start. Pederson earned the bronze with H.S. With Honors, whom she's had since he was 4.
"It's an amazing feeling to know that we can make it here and hold our own. We worked a lot on basics, so he has really learned to listen to me. And we've got a great bond going because we've been together for so long," said Pederson, 20, of Gig Harbor, Wash.
Pederson, who trains with Erin Jorgensen, did have some errors in her test, including not performing the
reinback. She also had an error in her team test, where she forgot some changes. "I'm just so focused on what is next in my preparation for the next movement, that I just forgot that small movement," she said.
For Pederson, earning the bronze medal allowed her to fulfill the one real goal she had for her trip to the championships–a lap of honor. "I was so excited to do the victory gallop. I came here, and that's what I wanted to do, and I was so excited about that. It was great."
Californian Ari Lopez, 17, and Corlander placed second in the junior individual championships. "I'm incredibly excited," Lopez said. "Out of the 35 riders here from all over the nation and Canada, it's incredible even to have placed out of everyone, especially second. I'm just super proud of my horse—he couldn't have been better."
The bronze medal in the junior individual competition went to 15-year-old McKenzie Jenkins, riding Tsarina Bint RII, with a score of 66.80 percent.
Lynndee Kemmet