H. Brooks Durkee guides his horse through confusion to a 44-length victory.
Chaos ensued early on in the $20,000 Willowdale amateur steeplechase, May 11 in Kennett Square, Pa., and when the dust had settled it was Crestview Farm's Western Fling (H. Brooks Durkee) all alone at the wire, some 44 lengths ahead of what was left of the field.
Run over a combination of natural hurdles, timber fences and stuffed brush fences with large ditches, the 3 1⁄2-mile race scratched down to six horses after two jockeys were injured in the first race of the day and a cross-entered horse was placed in a later race.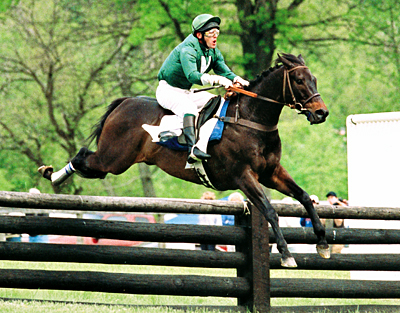 As expected, the Virginia Gold Cup steeplethon winner, Alfred Griffin's Hidden Key (Colvin Ryan), went to the lead heading into the first of 18 fences. But Hidden Key suddenly veered and was unable to adjust fast enough on the take off, cartwheeling over the fence.
At the same fence Lucy Goelet's Twill Do lost his momentum, got hung up on the timber and pitched jockey William Santoro into the turf. Both horse and rider were fine.
After successfully negotiating around the fallen, the two oldest horses in the field, 13-year-old Hound's Cry Farm's Te Akau Five (James Slater) and 14-year-old Mary Fleming Finlay's Dr. Ramsey (Diana Gillam) took a hard look at one of the brush fences and put on the brakes, causing Western Fling to narrowly avoid a collision there.
Jumping free, Durkee soon found himself some 50 lengths ahead of the field. With much lively coaxing Gillam and Slater convinced their two veterans to jump and tried to catch up, but they made up little ground. Dr. Ramsey and Te Akau Five placed second and third, respectively.
Kathy McKenna, Western Fling's trainer, was a little worried when she saw just her horse coming around the first turn alone.
"There was definitely a lot of chaos," McKenna said. "I knew Brooks knew where he was going. He has ridden this race tons of times. I just hoped my horse was not going to get too looky, but he did a great job."
Durkee said once they cleared the mess in the beginning he just had to keep Western Fling interested.
"I was looking for a lead, not looking to be the lead," Durkee said. "Coming in to the first, I could tell early on that Hidden Key was a little over-keyed. These fences are a lot different than the steeplethon. They are straight up and down solid; you cannot make a mistake with these fences. Then all of a sudden I am playing frontrunner. I was just trying to save ground and jump cleanly. You never know if they are going to come back to you."
Gillam said it was not the prettiest round of jumping.
"Gregg headed for the wrong fence and then changed his mind and just plain got in wrong," Gillam said. "For me, the next fence was a complete disaster. My horse and James' just flat out refused. After our horses had stopped, James and I circled back and we were whipping and driving. They were still acting like they were going to refuse again so we started shrieking at them like goats. We finally got over it."
Doug Fout, Hidden Key's trainer, was not amused.
"I'm so mad I could just scream," Fout said a few days after the race. "I can't believe Gregg headed for the wrong fence. There's no excuse for not knowing where you are going. That horse has never taken a bad fence in his life. He's an excellent jumper. Now my horse has a concussion, and he's not eating well. What a mess."
Staying Out Of Trouble
The maiden timber took its toll on several riders too. In a field of 11, the first victim was Shane Burke and The Other Me. When his horse fell, Burke was stepped on and broke his arm.
Next, Caves Farm's Broom lost rider Blake Curry, leaving his face bloody with a large slash across his cheek that needed several stitches. Next, Jeff Murphy and Blythe Miller Davies' horse Fort Henry parted ways.
Frontrunner Bulawayo (Jody Petty) and eventual winner Nannette Robertson's Male Supremacy (Paddy Young) fought it out over the last. The pair drew away, winning by more than 10 lengths over a driving Meet At Eleven (Durkee).
This was the first time Young had sat on the horse, who is trained by his owner.
"She just told me to keep him out of trouble," Young said. "He's a good jumper, but he was not gaining any ground over his jumps. The way he jumped made it easier for me not to panic with him. I knew he wasn't going to jump his way to the front, but I let him gallop on in between fences. The turf was about perfect so that helped."
With a combined age of 124 years, the two oldest trainers on the National Steeplechase Association circuit, Tom Voss and Jonathan Sheppard, had to wait for several minutes to find out which of their horses had won the photo finish in the $20,000 conditioned claiming hurdle.
In the end it was Dapple Stable's Gryffindor (Xavier Aizpuru) for Voss a nose over Cortwright Wetherill's Mattssutterrun (Danielle Hodsdon).
"They are going to give us old folks a heart attack," Voss said chuckling in the winner's circle. "We can't take this sort of excitement for long."
Aizpuru got a nice last fence, and it set him up for the stretch duel.

"It was a good bunch of horses, but my horse was more than capable of beating them," Aizpuru said. "There was only one I was worried about, and he showed up in the finish."
New Charges
Trainer Sanna Hendriks has herself a new hurdler with Pennsylvania breeder Gene Weymouth's Fieldview. The 5-year-old son of the 1999 Kentucky Derby and Preakness Stakes winner Charismatic had not really flashed on the flat track, making only a little over $2,400 for Weymouth so they decided to try him over hurdles.
Jockey Jody Petty bided his time in the 10-horse field, making a sprint for it at the wire to win the maiden claiming hurdle.
"He really jumped well," Petty said. "I think he really likes it."
Hendriks agreed, "He has taken to it pretty darn well. He's kind of big and backwards but actually a very good jumper. Everybody needs a little pick me up, and Gene has not had a jumper in a long time, so this is great for him. I thought he would like the distance."
Kinross Farm has a new three-mile hurdle horse with Thegooddieyoung. Jockey Chris Read staved off a drive by Run Up The Flag (Santoro) in the stretch to win by more than a length in the amateur highweight hurdle. And Thegooddieyoung carried the lion's share of the weight with 176.
Trainer Neil Morris bought the horse from trainer Bruce Miller just for these types of races.
"It's nice to have a horse for Chris to ride in these amateur hurdle races," Morris said. "He was second in the Alfred Hunt Steeplethon race at Middleburg [Va.], but Chris cut a flag and was off course, so I knew he could do the fences and the distance. I think he's good enough to win the amateur race they have at Iroquois [Tenn.], and we will probably shoot for that next year."
Slater scored a win on Augustin Stables' South Monarch in the amateur highweight timber. Carrying 180 pounds, South Monarch stayed upright when Wits End Stable's Native Mark (James Stierhoff) and Donald Cochran's Quaremba (owner) lost their riders.
Quaremba sustained the most serious injury of the day, with a wicked slash to his right knee after hitting a post. Outriders and veterinarians helped hold the large flap of skin together while medics from the human ambulance helped wrap the leg for transport to the University of Pennsylvania's New Bolton Center. On May 13, Cochran said that Quaremba had dozens of stitches, is splinted to limit his movement and is being spoiled rotten at the large animal hospital.
"He's loving all the attention," Cochran said. "He's getting tons of visitors and lots of treats, and I will probably pick him up before the weekend. Everyone did a fantastic job working on him, and luckily we have New Bolton in our backyard. He did not do any major damage so I will give him the fall off and bring him back in the spring."
Sarah Libbey Greenhalgh