When I entered Cairo in our first event since 2018, it was with a mix of joy and trepidation. And maybe a little bit of humility. A couple of years ago, I was hoping to go to one-star (now a two-star) event; for this, our first event back, I entered us in the novice division.
It was the right choice, for several reasons, but it was both intimidating—I had no idea how she'd feel back out on course—and reassuring, as the novice level height of 2'11" took the pressure off.
Cairo and I always have had fun at Equestrians Institute Horse Trials at the Washington State Horse Park. Our first real horse trials (if you count the starter division as "real," which I do!) was there in 2014, and our first prelim was there in 2017. And, now, it was to be our first show back since we were eliminated at an event in 2018 and later discovered she had been developing a hind proximal suspensory injury. Between the long rehab for that and COVID-19, it's been a long road back.
After being away from events for so long, it felt like a reunion. I kept seeing old friends and doing the COVID-19 hug-or-not hug dance. I swear I forgot how to braid for dressage and tie my stock tie but somehow managed to get Cairo and I into a semblance of respectability.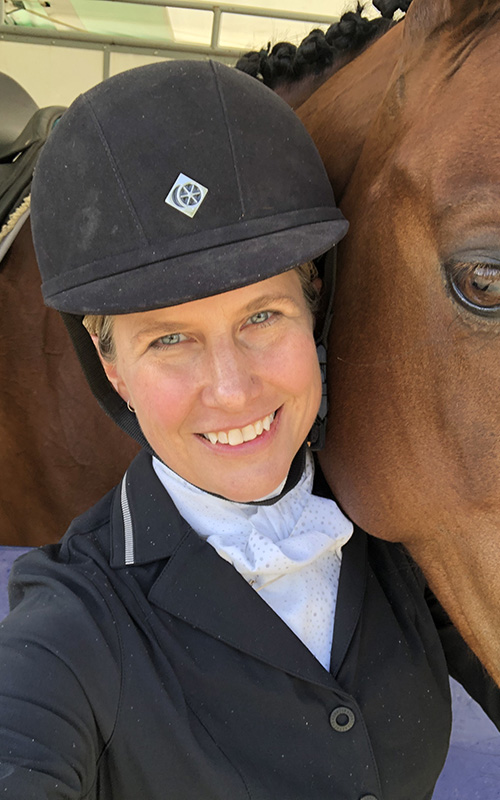 The good news—or bad news, depending on your perspective—is that Cairo and I are just as capable of throwing down a terrible novice dressage test now as back when she was green.
I have worked really hard on our dressage; honestly, I always have. And I think a lot of my friends were hoping for a silver lining to the long rehab. You know, all that rehab time for flatwork must have helped a lot.
Nope.
I mean, yes, on some level it did, I am sure. In my last dressage lesson before the show, Cairo was fantastic, and she now has a great topline. But there's dressage-lesson-Cairo, and there's horse-trials-Cairo. The show atmosphere unleashes her inner Kraken.
For some reason, dressage judges are not big on sea monsters in the sandbox.
She warmed up … OK. She had some nice moments. We even got a compliment from someone driving by in a golf cart. She also threw in some bucks, gnashed her teeth and made me wonder if I should ask for a canter in the warm up or just wait till we got to the test and let it be a surprise.
I asked, and we had a lovely canter, so I was fairly hopeful when we started trotting around the white rails.
The judge rang what I am pretty sure was a cowbell, and Cairo swaggered down the centerline. The rest is mostly a blur. I remember some moments of relaxation, a fairly decent walk and some canterwork that was really more bouncing up and down than canter.
There was no actual kung fu, but it all culminated with us halting, me lifting my hand to salute and Cairo proceeding to tap dance, wiggle her butt, drop her head and squeal.
Judges, as it turns out, are no more fond of "squeal at X" than they are of Krakens. The judge raised a hand and basically was like, "OK rider, peace out."
We quietly fled the scene and sailed confidently into last place in open novice. Yet again, I resolved to figure out a way to bring some of the nice dressage we do at home into the show ring: a little less, "Charge!" and a little more, "Let's dance, shall we?"
Since our dressage was at 8:30 a.m., I had plenty of time for course walking. Twelve miles and three course walks later, I was pretty sure I had the novice cross-country down. My trainer, Meika Decher, was riding four horses at the show, so I tagged along on the novice course walk with her assistant trainer Allyson Green. Ally was Amy Tryon's groom back in the day and went to the Olympics with her, and she also has a marvelous sense of humor, so I was down.
Equestrians Institute has nice, sandy footing and lots of trees and fun hills, and despite being in the woods, the courses really flow nicely. I noted Ally's advice—including specifics on how to negotiate the turn to the little trakehner and a reminder not to try to fit two strides into the three strides between the gate and the ditch in the half-coffin. I really thought I would be a bundle of nerves—the first show back, the worries over our previous problems, the pressure of only being able to afford a couple shows thanks to some pandemic-induced hits to my income—but, really, I was feeling like, just maybe, all the work and lessons were going to pay off.
And they did.
The big thing that freaked me out back when Cairo's injury led her to start refusing in 2018 was that my little horse, who usually was so game-on, was suddenly so frazzled and unhappy. Her charge-ahead attitude that doesn't work in the dressage ring got us around prelim courses that still get me bug-eyed. The big question in my mind at this event was: What kind of horse will be coming out of that start box?
And, oh boy, did she come out of that start box! We had a nice warm up with minimal attitude, as Meika coached us on her own king-of-the-comeback, Cochlear. (He ups Cairo's suspensory with a tendon injury on the track, a broken hip and an injured check ligament.)
As we drew near the start box, Cairo saw a horse fly by on the course, and she knew what was up. She jigged, she danced, and she tossed in a couple twerks. I think she's responsible for educating a legion of eventing newbies about what a red ribbon in the tail means. She's honestly never kicked anyone, but who wants to be collateral damage?
We approached the start box proper, and Cairo was feeling her fine self. The starters kept their distance and made sure I knew I could trot around. I was torn between wondering if I could even get Cairo in the box or, if once I got her in, could I hold her back?
Fifteen seconds: Cairo leapt and bucked, and I lost a stirrup.
Ten seconds: We were just outside the box.
Five: I nudged her in and got my stirrup back. I faced Cairo away from the first fence for the end of the coundtown. When told to "have a nice ride," I said a quiet thank you and turned her around. 
Cairo was on it. She drew a bead on the first fence and dug in. There was a road crossing between fences 3 and 4, and that was about the time I began to think maybe Cairo was already ready for bigger fences. I asked Cairo to come back a little to cross the road, and she tossed her head and tried to tell me she was in charge. Given Ally said horses can trip due to the footing change, I settled her a little. Cairo then took the bit after the road crossing and launched gleefully over the table at fence 4.
Fence 5 had cut-outs in the face and was around a corner, so if Cairo was going to be suspicious, that was where it would happen. Nope, she was game on. From the small trakehner to the "toothbrush" (yup, it was carved to look like a toothbrush and sponsored by a dentist) before the water, Cairo didn't question the goal: Jump all the things.
I thought Ally was joking about the "don't put two strides in the three-stride" at the half-coffin, but as it turns out, my little Kraken with a big step came darn close to doing just that. I spent half the ride going, "Whoa, dammit," and the other half reveling in the fun of being on a horse that was loving her job again. In the end, my whoas were successful: The speed fault time was 4:40, and we cruised in comfortably at 4:54.
I was elated. And we moved from dead last to 13th place.
There have been a couple times recently, when Meika has been schooling me, that she's said, "You guys are back," and I felt it, too. But to come back to a show after so long away and ask my horse, "Are you game?" and have her answer a resounding, "yes" was amazing.
Sunday was stadium, and again Meika, who'd had a fabulous cross-country ride on "Lear" and had just won the open preliminary division on her horse Archie McPhee, did double duty schooling me while riding Lear.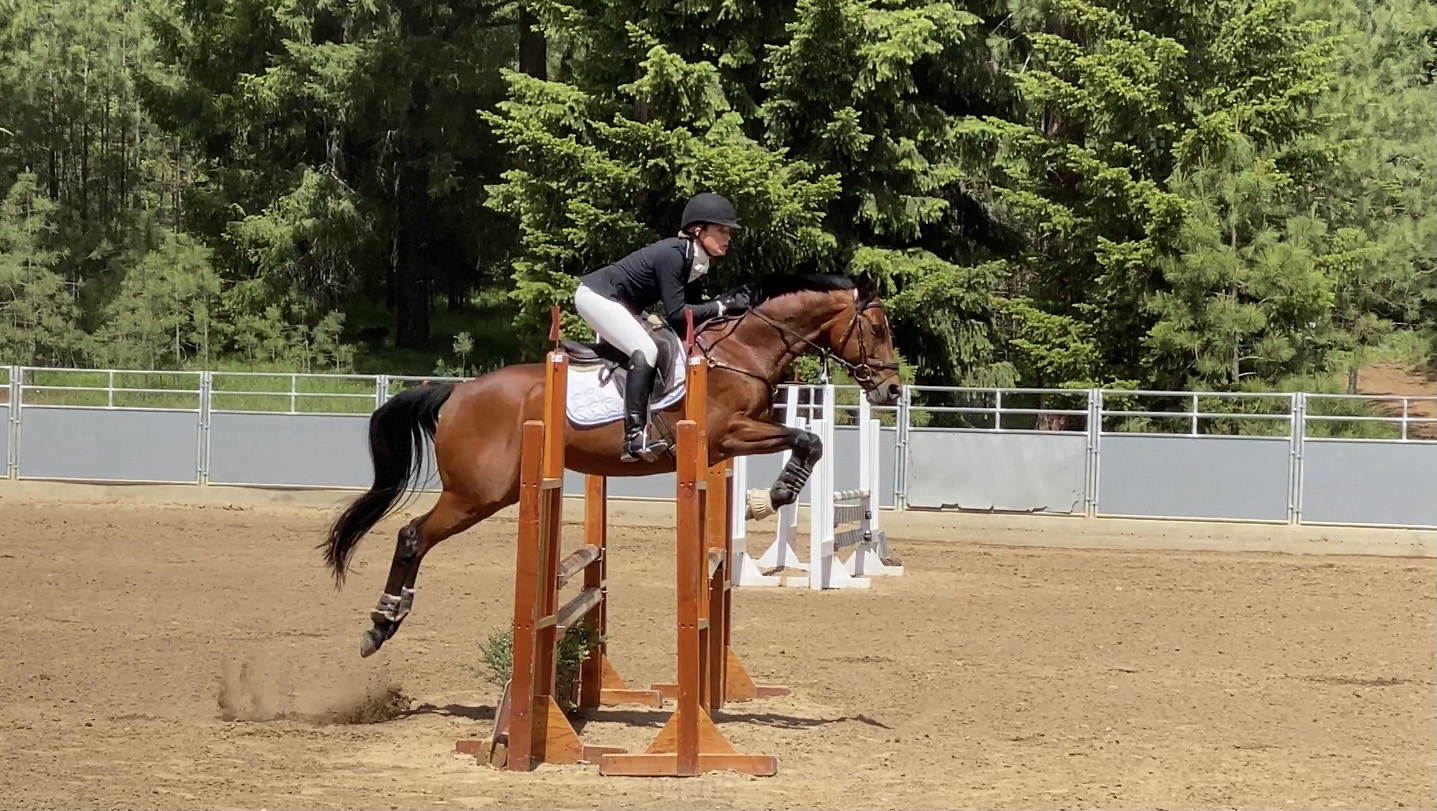 I've been taking Cairo to local hunter/jumper schooling shows and doing jumper courses, and that work was paying off. I warmed Cairo up, per Meika's suggestion, in a quiet arena, popped her over the schooling fences and was ready. 
Cairo danced her way into the arena and was game on again when the judge blew the whistle. I know, to someone who doesn't know her, she probably looks wild with her head tossing and tail whipping behind her, but riding her felt amazing. She listened to everything I told her; she waited for the short spot to come into a two-stride (I wasn't going to re-create our little coffin issue in stadium) and came forward to a powerful long spot in a six-stride line when I asked. Meika, who does know us, deemed the round smooth and one of our best.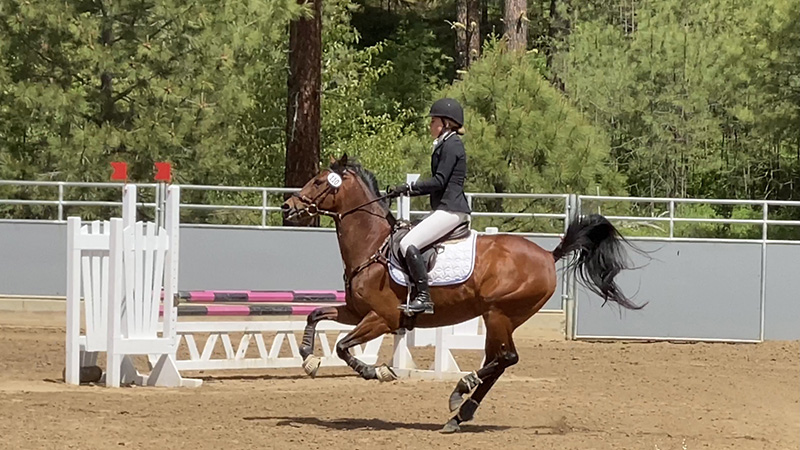 Double clear cross-country, double clear stadium. We finished on our dressage score. Mind you, that score was a 42.6, so we moved to 11th place, but if I needed a ribbon to be happy with my horse, I'd be in the wrong sport. 
Are we ready to move to training? The novice fences felt so small that I would have thought they were set wrong, except that I watched them get measured.
Training it is. Then, we're game.