What happens when you put U.S. Equestrian Federation President Murray Kessler, USEF CEO Bill Moroney and U.S. Hunter Jumper Association President Mary Babick in a tent at the Upperville showgrounds in Virginia on June, 5, the first day of competition; offer refreshments; and invite competitors and other USEF members to come speak their minds?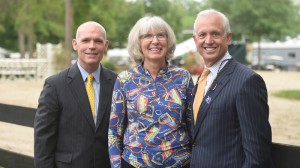 They do!
For two hours top horsemen let loose in a mostly civil but sometimes heated discourse over USEF policies and plans for the sport at the Upperville Town Hall meeting.
Last up for discussion but foremost on most people's minds was the concern that the USEF might add medroxyprogesterone or Depo-Provera to the banned list of illegal medications for showing.
Panic in the horse show world started to swirl regarding Depo after the USEF Annual Meeting in Lexington, Ky., in January, where veterinarians discussed research showing that rather than preventing a mare from coming into season—something that altrenogest, aka Regu-Mate, does—Depo seems to have some other action. In a study done on rats, it appeared that the drug was binding to the GABA receptors in the brain in a way that was closer to the effect of taking a Valium rather than affecting the animal's hormones. Combine that with frequency of administration, geldings and stallions regularly receiving it, and the fact that horsemen give a compounded version of Depo, and it sounded like the USEF was building a case to ban it. Some veterinarians even went home and told their clients this change was a done deal, leading to mass uproar.
On March 13, the USEF hosted a public workshop in Orlando, Fla., to discuss and educate members about where USEF stood with regards to the drug. This town hall gave people another chance to voice their opinions and find out where USEF was in their process of considering whether or not to ban Depo.
The most commonly voiced opinion was that no matter what the magic was behind how Depo works in the brain, it's effective at controlling hormonal behaviors.
"I'm not a scientist, but I am a horse person who's done this for a very, very long time," said local Upperville trainer Ginny Edwards. "I've had a lot of mares, maybe you guys are saying they're not cycling, but I can tell pretty well when they are cycling. On Depo, your scientists may say it doesn't work, but I can tell you over and over and over again, I have had mares that do not visually show any signs of cycling when they are on it. And I have stallions in the same barn, and those stallions do not recognize those horses are silently cycling. Depo, according to me as a layperson, is definitely appearing to change their cycle."
She continued to say that the behavior of horses on Depo was not that of a tranquilized horse. "I'm 56 years old. I still ride young horses," she said. "I'm not afraid to stick one on a cold, windy day so I don't die. I'd rather do that than longe the crap out of them on crappy footing. (At my own house I have good footing.) But I know what it feels like if they're tranquilized. I know what it feels like it if they're heavily prepared. All I'm saying as a layperson is I do not believe Depo is tranquilizing them."
When asked why she would administer it to geldings, Edwards responded: "The only geldings that get it are the ones who are a little sulky and pissy. The other thing it does do is it makes them a little bit bulked up and beautiful. It gives them cresty necks, big muscled hind ends, and they look really good."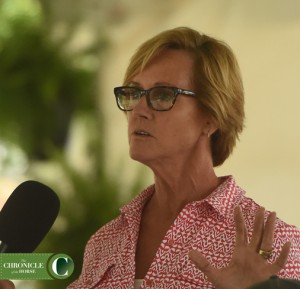 USEF "R" judge and lifelong horsewoman Sissy Wickes pointed out that the study done by the University of Colorado to determine if Depo did prevent mares from cycling didn't study heat behaviors, only the biological component.
"There's a difference for a horseman between estrus and estrus behavior," she said. "The bitchy mare or bitchy pony that will light up a horse van full of geldings, that's not the same animal that they're palpating every day to see if they're in full cycle. That's estrus behavior, which MPA anecdotally has an effect on."
She also pointed out that there aren't studies saying that Depo is harmful to horses, particularly if given at recommended doses—although because the product isn't licensed for horses, little research of any kind exists on how it affects them. But in general, there haven't been reported ill effects from the drug beyond the normal worries over any compounded substance.
Over and over Kessler repeated that the USEF was simply looking into how Depo works rather than preparing to ban it immediately. Moroney also said USEF was investigating an alternative drug, a vaccine made by Pfizer for estrus control that is licensed for equine use in Australia.
"We're trying to investigate something that's banned everywhere else around the rest of the world," said Kessler. "We're looking at alternatives. We have a rational group of people, and we will go forward very methodically, but horse welfare will be [first]. Do I believe that some people are using it for doping? You're damn right I believe that. Do I think everybody is doing that? No."
And what seemed to upset people the most, even more than the idea of banning Depo, was the perceived sentiment from USEF that trainers who use Depo are cheaters who don't care about hurting their horses.
"Your own veterinarians and consultants have come out and said it's not damaging our horses," said Charles Town, W.Va., trainer Tom Brennan. "We don't want to hurt our horses. Horse welfare is up there. They've already released statements that it's not. So it's hard for us to go down that road with you."
He also asked for recommended dosages of Depo, like those that exist for dexamethasone and phenylbutazone.
"There are all sorts of things banned all over the world," said Brennan. "I don't really care what FEI does. They run a different event than we do."
Moroney was quick to say that USEF is not trying to go the no tolerance route of the Fédération Equestre Internationale. "The USEF believes there are therapeutic medications that you should be allowed to use with your horse," he said. "We've fought diligently at the FEI level to ensure as a [national governing body] and a [national federation] that we are permitted to have those carve outs to be able to use those therapeutic medications in the U.S."
But Brennan came back to the feeling from the membership that the USEF has already decided on Depo. "When you say you don't have an opinion as an organization, and you're waiting for results of a panel or study, and then you say, 'You're damn right I believe they're doping their horses with it,' that's a hard thing to believe," he said.
"The optics of it are that you have come to a conclusion already," he continued. "We're having a hard time with that. That's how I'm perceiving it as one USEF member sitting here. We want to know: Does it hurt our horses? Your vets have said it doesn't. We want to know: Can we quantify levels just like a lot of NSAIDs we use or other substances?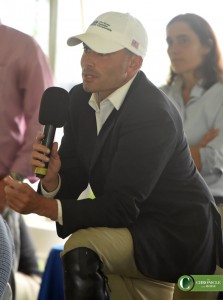 "I just really want to be careful that when you guys say you're waiting for the information, that part of what you take in in your decision-making process are really valid opinions of people who are not here trying to pull one over on you," he added. "When Carolina Gold was happening, that turned losers into winners. I have not seen or experienced Depo turning losers into winners. Depo does create safe scenarios for school horses, safe scenarios for ponies and children."
"Can you tell us that before you ban it you will have us something that will replace it for our medium ponies, for our small ponies, for our horses that we use that would be somewhat comparable and safe, so that we could continue to have five horses on a van, that we can continue to turn horses out together," asked Virginia Beach trainer and judge Chris Wynne.
Moroney, Kessler and Babick assured members that there was no plan to vote on Depo at the upcoming mid-year USEF board meeting, only to keep discussing the medication and studying it.
"No decisions have been made," said Kessler. "The recommendation might be research. Are we allowed to have a committee look at this and recommend research?"
"The mare acts like she doesn't [come into heat]," added Moroney. "The behavior is the same as if they aren't. Shouldn't we know more about what causes that behavior if it's not caused by hormonal effect?"
"All we are trying to do is take the best care of the horses that we can and our students," said Bealeton, Va., trainer Pam Baker. "I've never heard anyone say, 'Give your horse Depo, and it will be quiet' in my whole life. If a pony responds and is happier and doesn't want to buck the kid off when it kicks it, that's a good thing. They get a few ccs of Depo once or twice a month. We never do more than what a veterinarian has told us to do.
"When it's put as if we're trying to do something wrong or negative, that's offensive," she concluded to a round of applause.
Save
Save
Save