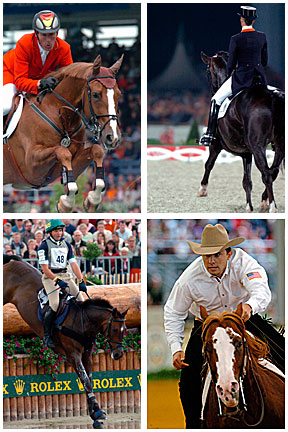 It was a star-studded two-week equestrian extravaganza packed with thrilling victories, heartbreaking defeats and unexpected drama. The 2006 World Equestrian Games in Aachen Germany were An Incredible Production, wrote Anne Gribbons.
From Steffen Peters' perfectly timed performance of a lifetime aboard Floriano to Zara Phillips' bitter sweet eventing World Championship; from Beezie Madden's sliver-close second-place finish behind Belgium's Jos Lansink to Megan Benjamin's historic vaulting victory—We have the stories, results and every trial and tribulation of the 2006 WEG right here.
Plus, read about Anne Kursinski's redemption at this year's Hampton Classic, discover what George Morris is saying about the past, present and future of our Selction Trials, find out who won the USEF Zone 3 Medal Finals, and keep current with all of today's news and results from the equestrian world.
WEG Results – September 8 (Dressage, Eventing, Endurance)
WEG Results – September 15 (Show Jumping, Driving, Reining, Vaulting)