A course designer has to be a bit of a visionary in order to look at a bare patch of ground and imagine the best drivers and teams in the world thundering across the landscape just two short years in the future. Fortunately Richard Nicoll has a good imagination.
Originally hailing from Great Britain, Nicoll now calls New Salem, Massachusetts, home, and he currently serves as the chairman of the U.S. Equestrian Federation Driving Sport Committee. He's been designing courses for driving since the 1970s for early events held in Gladstone, New Jersey, "long before there was even any official licensing for designers," Nicoll said with a laugh.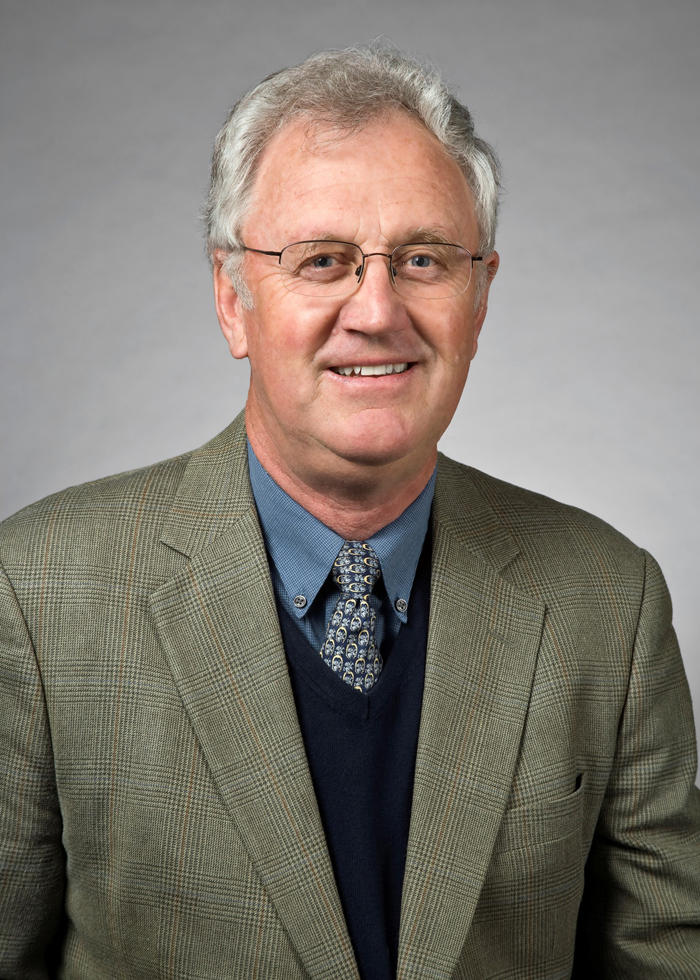 Now he's one of the most sought-after designers in the world, having created tracks for a multitude of world championships for pairs, singles and teams, including the last two Alltech FEI World Equestrian Games (Lexington, Kentucky, in 2010 and Normandy, France, in 2014) and the upcoming WEG in Tryon, North Carolina.
As he looks forward to September, Nicoll is quick to point out that every world championship course has its unique design challenges, and Tryon is no exception. "One 'big' problem is that there literally is a mountain between the main equestrian facility and the area where the eventing cross-country and driving marathon courses are being held," Nicoll explained. "So of course it has to go, and during the recent WEG test events you could see all the work that is still going on in that regard.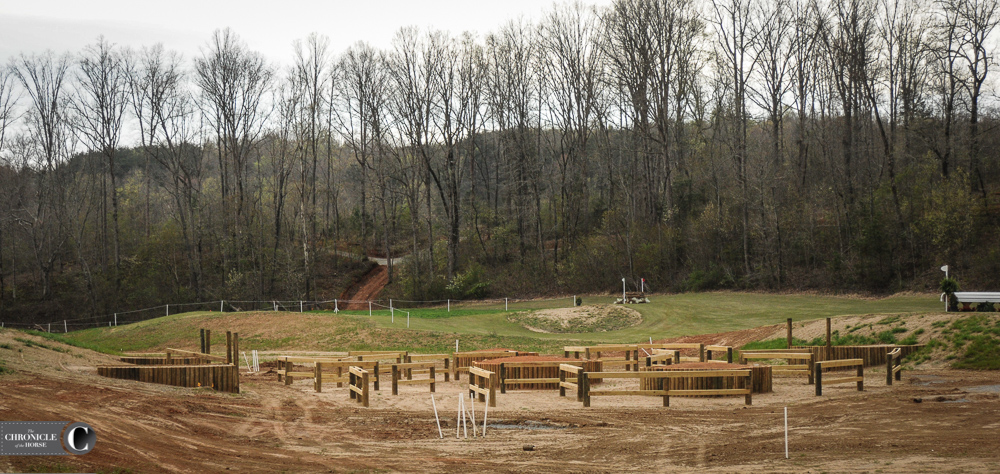 "It's always a challenge when building a site from scratch," he continued. "It's much simpler to go into a site when the basic track is already established. Here in Tryon we had brand new ground with an enormous amount of track work to be done. As a designer, I had to imagine what it would look like when finished and build accordingly. Luckily over the years I've done it several times, so by now it's not so overwhelming. You have to be able to take in a lot of information to set it up, and it's not just considering the obstacles or the athletes; you have to think about big-picture items like where the public will come in to watch, how access roads will be placed, etc. You have to have a sense in your mind of what you will need and be able to look at the country and assess pretty fast how to make that happen."
Nicoll and cross-country course designer Mark Phillips are utilizing a former Arnold Palmer golf course and sculpting it to suit combined driving and eventing not only for the WEG, but also for years to come. For the last two years, the site has also hosted The Fork CIC***.
"Both water obstacles will be used for both eventing and driving, sharing some elements between the two," Nicoll noted. "There is a lot of coordination here, and a key part for me was making sure the course builder was the same for both disciplines. So we're lucky to have Eric Bull, who is primarily an eventing course builder but who I've also known for many years. He's very experienced with a terrific crew, and I felt it was absolutely necessary that he be on our team as well so that he would know what each designer was doing."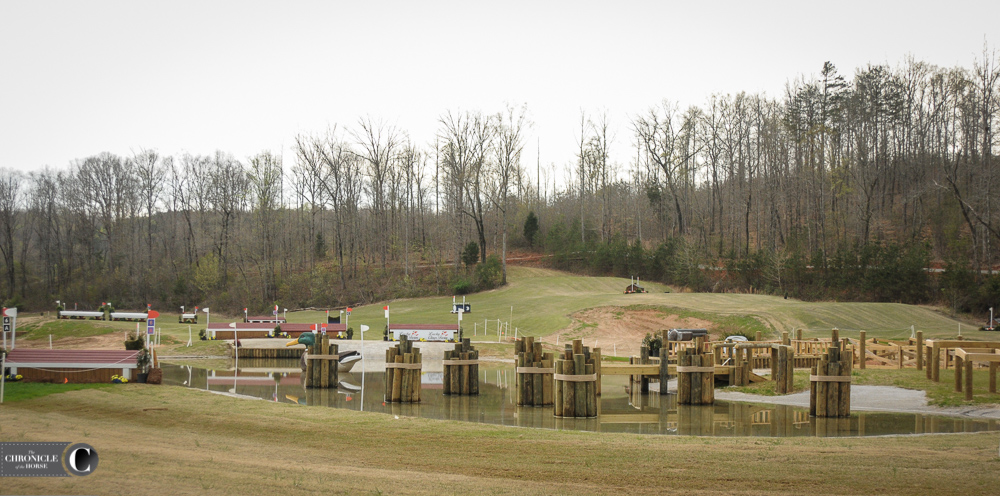 As seen during the driving test event held April 20-22, Nicoll is incorporating the scenery and character of the region into the marathon course's eight obstacles. Tryon is quite hilly, but the golf course is much flatter and more gently rolling. So for Nicoll, part of the theme of the course needed to be the golf course itself, which is reflected in the fifth obstacle, complete with bunkers.
"Other obstacles will be about the state of North Carolina," he said. "One of the water obstacles will have a lighthouse and be meant to look like the coast; the one next to it, which is still under construction, will have the Wright brothers as a theme. The obstacle in the hollow will be a predominantly patriotic USA theme, while the remaining obstacle themes are basically equestrian-oriented and can be decorated dependent upon having a sponsor."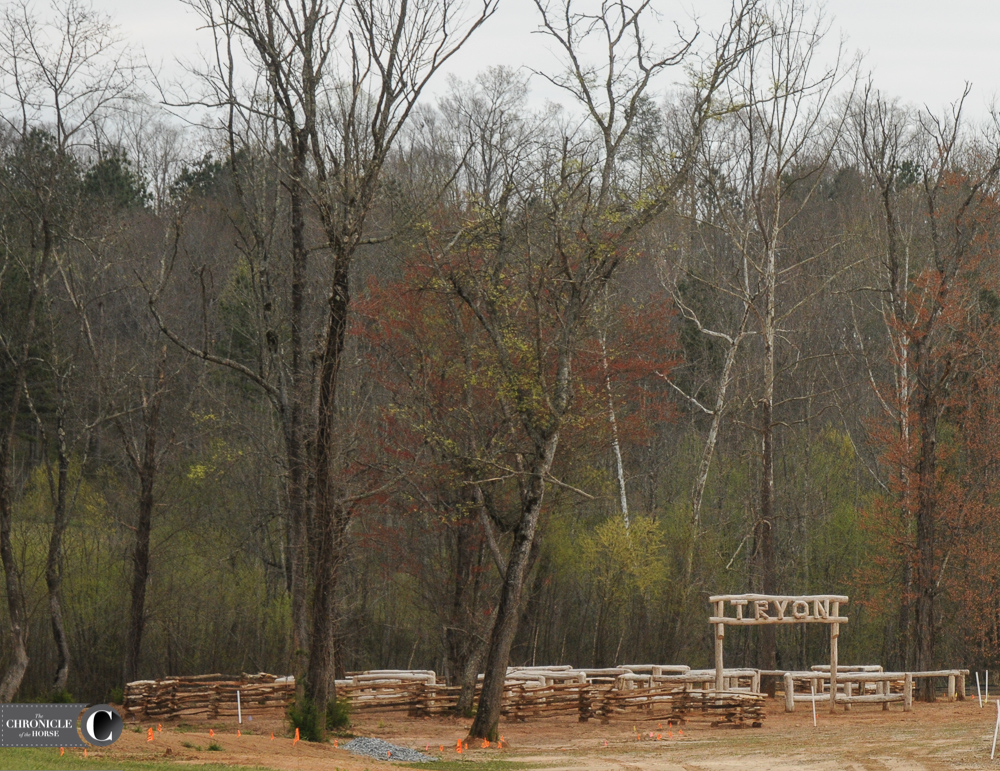 First and foremost, Nicoll's goal is to design a safe yet challenging course for drivers. But he also wants to present an unforgettable experience for the viewing public.
"For other world championships such as for single horses, most of the people there are already quite savvy about driving, and they're there to watch that specific sport," said Nicoll. "But at a WEG, you often have a brand new audience who may know all about dressage or jumping, for instance, but have never seen driving before. You also get people who aren't that familiar with horses at all and are simply curious as to what all of this is about. So I'm trying to present a challenge for the drivers since it is a world championship, but also create excitement so that the public goes home saying, 'Wow, that was really something else.' "
Nicoll has also adopted a different point of view when designing the 2018 WEG course, literally. "You may have noticed at the test event that most of the obstacles are placed so that it's easy to stand and watch them, in that the public is actually placed on banks and hills around the perimeter," he said. "I've learned over the years that by utilizing the landscape so the public can look down on the obstacle, it provides a completely different perspective and is the best way to watch, making all of it so much more interesting. If spectators are at 'ground level,' the horses just go zipping by, and it's harder to understand routes and what's going on, especially if the crowd is 10-deep and everyone's trying to look over other people's heads.
"With events using more and more livestreaming and Jumbotrons on course, what I've seen is that if the spectators are on flat ground, they end up watching the big screens even if they're standing right next to the obstacle," Nicoll continued. "Why? Because the cameras are raised up over the obstacle, providing that improved view. So that's what I keep in mind and have tried to replicate here in Tryon."
Nicoll had the opportunity to try out the course during the WEG test event. "The previous Sunday we had four inches of rain, so we did not have a chance to get sod down in two of the obstacles," he said. "But it still worked. I was pleased to see that in areas where we had the grass down last fall, it held up incredibly well. We did have to back off a bit because the ground was still soft, and we had to be quick with final arrangements for the event, but it came out well with no problems. The only adjustment we made was that we decided not to utilize the land bridge over one of the water obstacles, as I didn't feel like the sod was as settled yet as I'd like. So that will be ready for WEG, and I was very pleased with the footing in the actual water."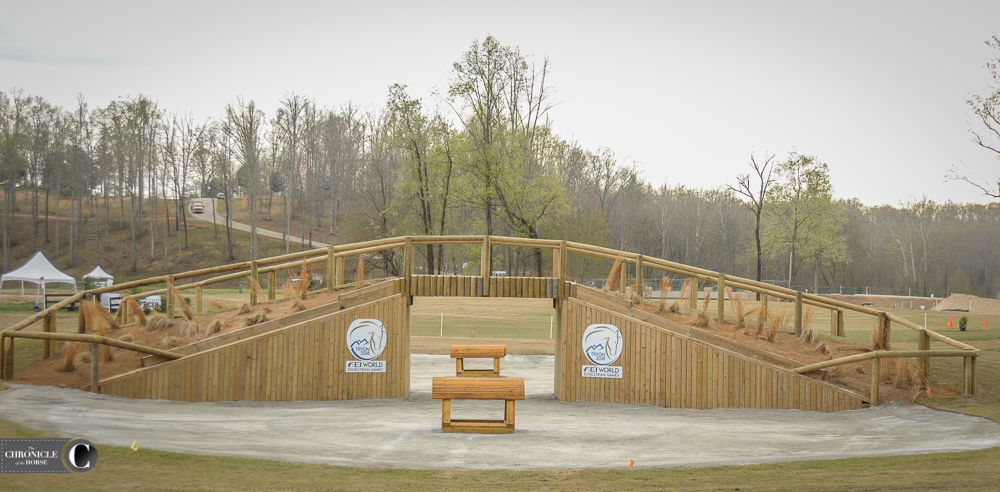 Nicoll and his team now look forward to making final preparations for this fall's WEG. "We obviously still have a lot of work to do," he admitted. "Section A will be in a different location from the test event, and it's still under construction. I'm so lucky to have Wolfgang Assendorf of Germany as the technical delegate for both the test event and the WEG, as he happens to be one of the top course designers in the world as well, and we have worked together since 1994. Also, I have to say the folks at Tryon have been really terrific. They have an enormous task ahead of them, but Mark Bellissimo has been enthusiastic about all of it, and his staff have gone out of their way. I can't say enough about what they're doing, taking on such an enormous project in a short amount of time. When it's finished, it will be without a doubt one of the top equestrian facilities in the world.
"Overall, we have a terrific team in place all working towards producing the best event possible," Nicoll added. "Right from the start I wanted this course to create a legacy, so that after the WEG is over we will have a fabulous course for future events. It has so much potential for the driving world."