Mill Spring, N.C.—Sept. 21
It's not easy following the No. 1-ranked driver in the world in the order of go, but it's the position in which Chester Weber found himself on dressage day for the driving event at the World Equestrian Games. Boyd Exell of Australia went just before Weber trotted his four horses into the ring as the anchor leg of Team USA.
"That's sort of motivating for me, to be honest," Weber said. "I sort of shook my head like a prize fighter and said, 'Bring it on.' "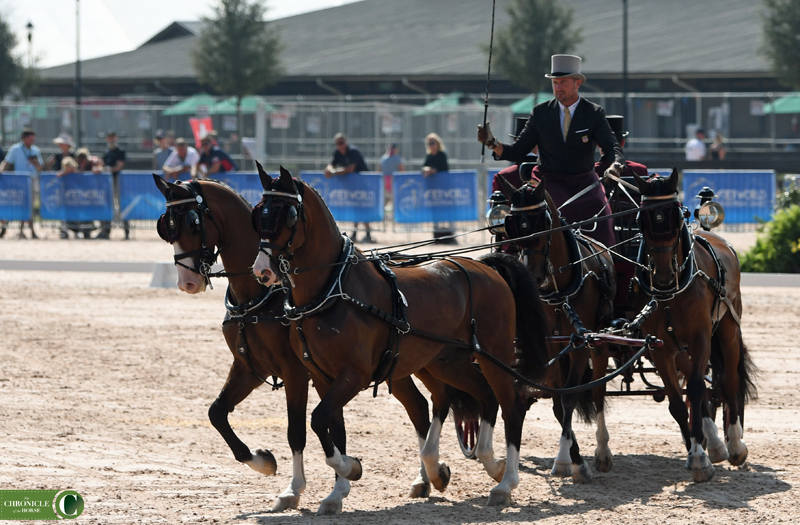 Weber wasn't able to best Exell's score of 31.68, but Exell is competing as an individual, while Weber is here for Team USA, and his test earned the second-highest score of the day on a 35.1. The U.S. team sits first by a margin of more than 10 points going into the marathon phase.
"I was really pleased with the horses," said Weber. "We've been building toward this result all season. We've been sort of hovering around a 40 mark, and I couldn't be more pleased with them pulling out a 35 at the World Equestrian Games. The horses felt really good, and I couldn't be more pleased with them."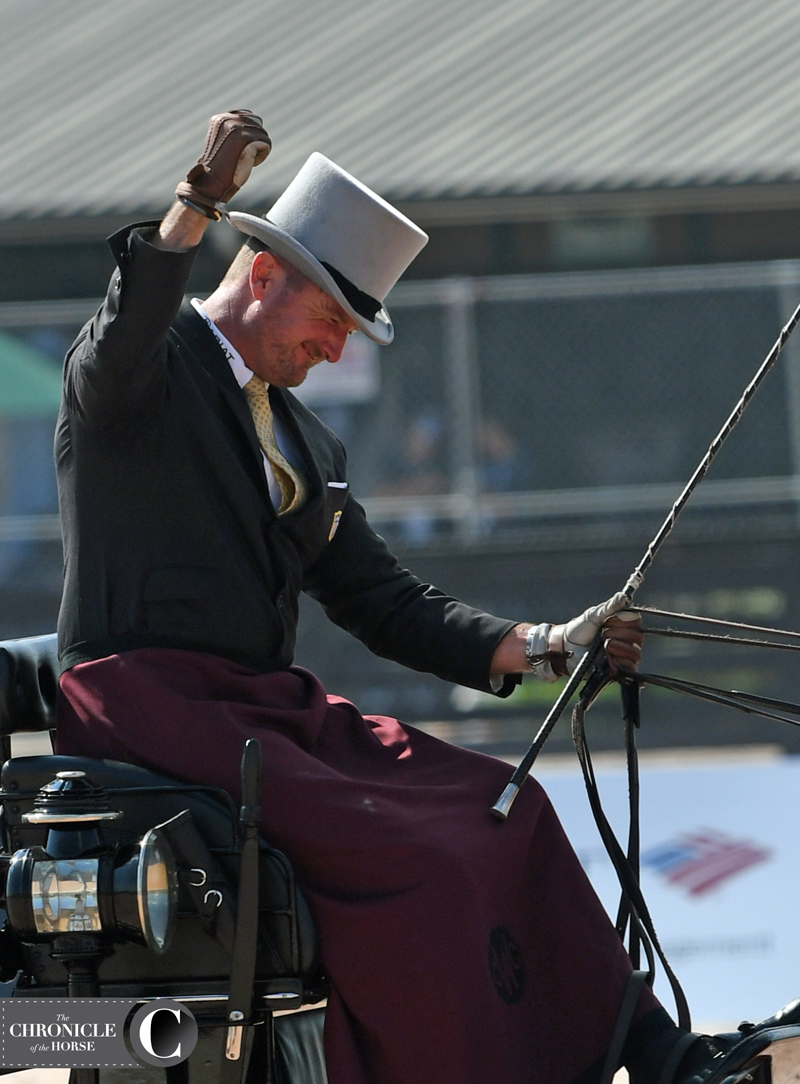 Also for the U.S. team, Misdee Wrigley-Miller drove to a 42.0 for a fourth-placed finish.
"I had one figure that I was not pleased with, but it wasn't the horse's fault, just the driver dealing with it, but I'm pleased with my horses," she said. "I love my horses. They were great."
The home crowd at the Tryon International Equestrian Center really got roaring when Wrigley-Miller went down centerline.
"Everyone's been telling me it's just another competition; don't worry about it, but when I've come in and trotted down that centerline—I've never had that happen to me before," Wrigley-Miller said. "It's such an honor to be here representing the United States."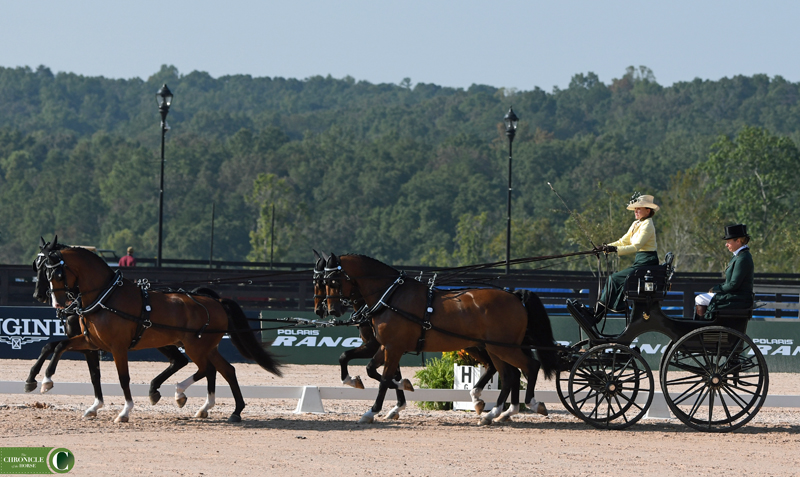 James Fairclough rounded out the American effort with a 53.15. The lowest score from the three-driver team is dropped to determine the team result.
Australia's Exell is at the head of the individual standings going into Saturday's marathon phase. His flashy and expressive team had the crowd gasping throughout his test, and the high score of the day came as no surprise.
"These are sort of like the Valegro and Totilas type horses in driving; they're the best team I've ever had," Exell said. "That doesn't come very often. It takes 20 years to build a team like that."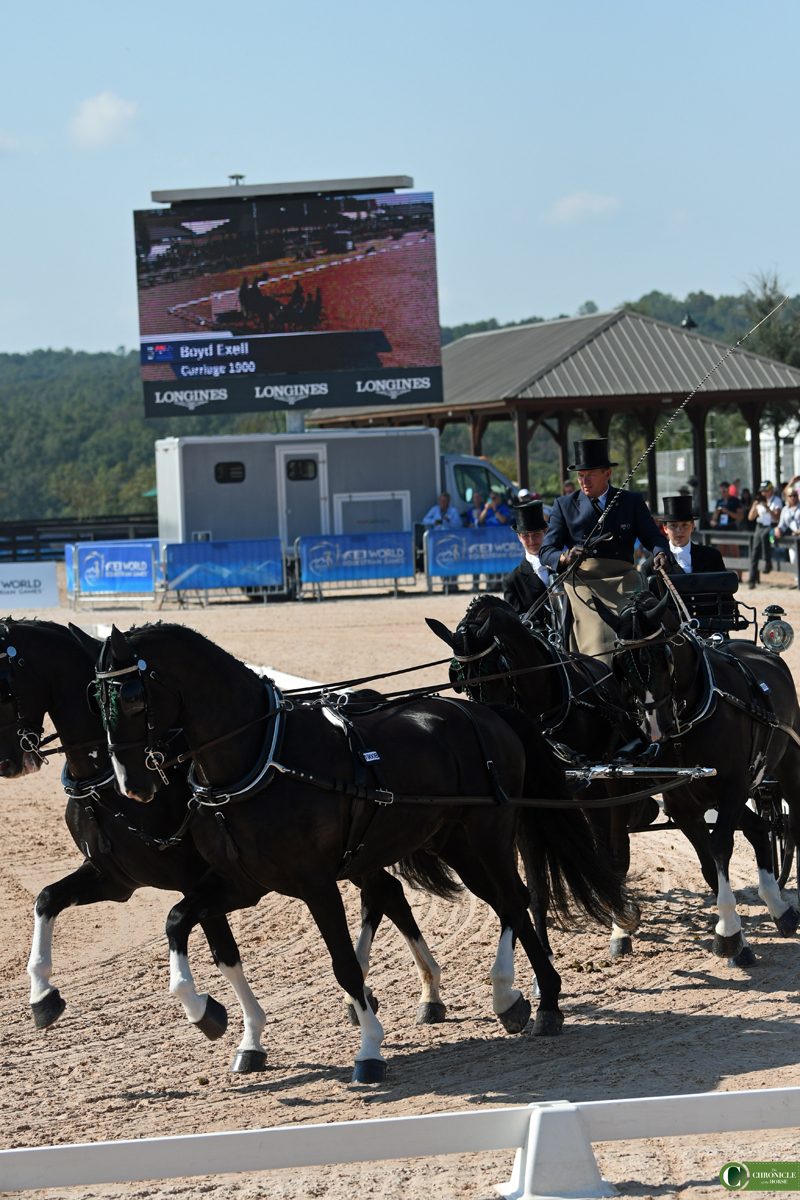 A few teams seemed spooked by the crowd noise, but not Exell's.
"Even when the crowd cheered on the way in, some horses don't like that, and I could just feel my team power up," Exell said. "It's like turning a V8 engine into a V10."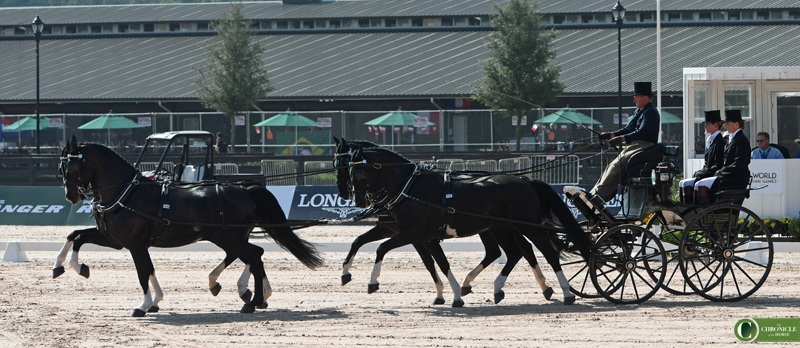 The hot topic of discussion following dressage is what the organizers  plan to do with the marathon course. Marathon driving courses have an A and B section—the A section is similar to a roads and tracks test for eventers and is meant to test stamina, while the B section contains the hazards drivers navigates around and between.
"The chefs d'equipes all complained about section A," Exell said. "We go up sort of 1 1/2 kilometers in the woods, which is OK, because it's all in trees, but then they have us walk up this steep hill where they're meant to relax before section B, but it's up a hill."
With temperatures predicted to climb into the high 80s, Exell and several other drivers said organizers are considering removing the course's A section.
"They're not going to relax, and walking is even harder than trotting up that hill," Excel said. "And it's in the blazing sun, so that's just ludicrous. It's going to be interesting, but the chefs have made their points, and the organizers are taking it into consideration."
For full results from the FEI World Equestrian Games, click here.
For everything you need to know, including broadcast schedules, click here.
For all WEG coverage, click here.
We'll be onsite for the full two weeks of WEG to bring you all the news you need to know plus gorgeous photos and insight into the competition. Be sure to check out the Oct. 8 issue of the Chronicle for detailed analysis.