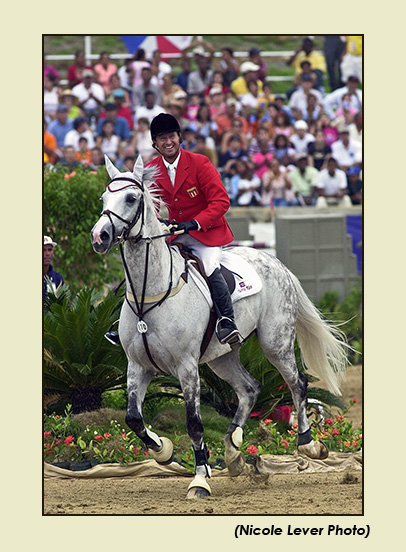 Show jumper Mark Watring is heading to the 2007 Pan American Games in Rio de Janeiro, Brazil, with the same goal that he had in mind when he traveled to the 2003 Pan Am Games.
"I went in 2003, just—in my mind—to qualify for the Olympics. I was trying to place in the top four—high enough to make it as an individual for the Olympics," Watring said, Mission accomplished, and then some. Watring—who rides for Puerto Rico—became the individual gold medalist aboard the dynamic Sapphire.
"I was in fourth after the first day, and then he jumped a double-clear in the team rounds. We ended up on top. Winning was definitely icing on the cake," he said.
And while Watring certainly hopes that this year's Pan Am cake has that same sweet taste, he's primarily focused on achieving an individual placing that will earn him a spot at the 2008 Beijing Olympics.
In the years between Pan Am Games, Watring and Sapphire competed at the 2004 Athens Olympics, and they won individual gold again at the 2006 Central American Games in Bogotá, Colombia. It was a repeat of their 2002 Central American Games result.
Watring was a bit of a dark horse as individual gold medalist in 2003, defeating the team gold medalists Chris Kappler on Royal Kaliber and Margie Engle on Hidden Creek's Perin into silver and bronze, respectively. But he's no stranger to the U.S. show jumping scene, since he's based in California and has ridden there for decades.
"Mark brings an optimistic attitude to the sport and a healthy dose of perspective," said Richard Spooner, who competes against Watring on a regular basis and considers him a friend. "He really enjoys showing his horse, but he's also a real competitor and a tenacious athlete."
Watring doesn't follow a typical career path toward his medals and international fame. He started his professional riding career representing the United States, and he did so in the sport of eventing. He was
12th individually in eventing at the 1987 Pan Am Games in Indianapolis, Ind., with the Stars and Stripes on his saddlepad.
But in 1984, he changed citizenship and began competing for Puerto Rico. He then competed at the 1984 Los Angeles Olympics in eventing for his new country, but in 1989 he left eventing behind and focused on horse shows.
Along the way, he's found international fame, personal satisfaction, and business success. He now runs a training and sales business out of Blakistone Ranch in Thou-sand Oaks, Calif. His wife, Jenny, teaches
at the famed Foxfield Riding School, and they have two sons—Sterling, 7, and Stone, 4.
This Is The Sport
Watring didn't find it difficult to make his way in horse shows after spending a decade eventing. In fact, he was returning to his roots. Watring's father was stationed in the Midwest when Watring was 10, and his mother and sister got into riding.
"I pretty much just rode around bareback all the time. When my sister would go to a show, they would put my pony on the trailer, and I would pretty much just ride around and cause havoc in the warm-up rings of the shows, on my 10-hand black-and-white pinto pony. I think I got more people spooked off—I'm surprised they never asked me to leave," Watring recalled laughing.
Once his sister, Joanie, lost interest in riding, Watring inherited her horses and started showing in the hunters and equitation, training with Susie Baginski.
"I'd go to the barn every single day. I think I wore the horses out—I pretty much rode them all day long. I'd ride them western and go do a little barrel racing, and then I'd switch tack and jump a little bit. In the
summers, I would probably ride eight hours a day. I'm sure those horses were relieved when school started and they got a break," said Watring.
But then, a friend suggested that Watring try eventing. "I did one event with my hunter. I took a couple of dressage lessons and then went," he said.
"I didn't know the rules completely. On the way to the ring, my mother yelled at me, 'You can't have a standing martingale!' So, I stopped and took my martingale off. It was very entertaining.
"The horse I rode was a very good mover, so somehow we ended up in the lead after dressage," he continued. "And then, I kicked him around cross-country. I think the horse had no idea what to expect, but he had a good time. In the stadium, I went around and I had one late flying change, and I thought, 'Oh boy, that blew it for me.'
"But everyone around the ring was clapping and cheering. I came out of the ring, and they told me that all that mattered was that I kept the rails up. So, I won my first event, and I thought, 'Yep, this is the sport I want to be doing.' "
Watring's father was transferred to England in 1979, and Watring found himself in the Mecca of eventing. He began training with Lars Sederholm and advanced up to the highest levels, completing the 1982 Burghley CCI (England) with a clean cross-country round aboard Fair Besa.
Two years later, Watring returned to the United States with Fair Besa to try out for the Olympic team. "When I was competing in England, the plan was always to go back to the States and finish college. When I came out for the '84 Olympics, I booked a one-way ticket," he said.

A Change In Plans
Watring's Olympic hopes looked in jeopardy when Fair Besa incurred a minor injury and missed the first few of the mandatory team selection trials.
"I notified the president of the Puerto Rican Federation, told him my dilemma, and told him I'd been born there. They checked all the records and said if I competed at the Rolex Kentucky CCI and put in a good performance, they would let me represent them. So, that's how it got started," Watring said.
Watring and Fair Besa finished 17th in the CCI division at the 1984 Rolex Kentucky CCI and traveled to Los Angeles for the 1984 Olympics with the Puerto Rican flag on Watring's jacket. There, they retired on cross-country.
Watring remained in California, since his parents were now living there, and continued to ride and compete. He took a new event horse, Time After Time, to the 1987 Pan Am Games and finished 12th individually. But, eventually, it became obvious that California wasn't the place to be if you were an international eventer.
In 1989, Watring chose the weather over the sport and switched to jumpers. "Eventing was perfect for me at that time in my life, because it was fun to run and gallop and jump crazy things. I got that out of my system," he said.
He hasn't looked back. "Because I started out in the hunters and equitation, it stuck with me, and it was easy to get back into it. I'd kept all those skills," he said.
Watring spent 10 years bringing along young horses and teaching before he competed in his first grand prix in 2000, with Fleet Street, a horse he'd developed from a green 4-year-old.
Over the years, he's turned into a formidable force in the grand prix ring. "I like that he's a fast rider," Spooner said. "He's not a person you want behind you in a jump-off—he'll just flat-out beat you. He's got a take-no-prisoners attitude, but he's also got the really good dressage background, so he does a great job of making sure that his horses are prepared to do their best. It's a good mix."
In 1999, just as he was cutting his teeth in the grand prix ring, Watring found Sapphire, now 15. "I got him as a 7-year-old from Edgar Pagan, who is another Puerto Rican living in California," Watring said.
"He said, 'I have some nice young horses for sale.' So I went to look. I rode a bunch of them, and I saw a gray horse in the crossties waiting to get shoes put on, and I asked about him. Edgar said he'd just come in and hadn't been ridden for a month. But I rode him for a little bit, jumped a few jumps, and thought, 'This is one for me.' I took him home that day.
"He's got such a beautiful eye, and I liked his type," Watring continued. "I don't like big horses, since I'm only 5'6″, so we fit well—he's barely 16 hands. I thought it would be a great match."
The Rest Is History
Watring brought Sapphire along carefully, and in 2001, the gray, Holsteiner gelding (Liostro—Manolita, Roman) scored six top-three finishes in grand prix classes in California and Arizona. They made their international debut at the Central American Games in El Salvador, earning individual gold.
In 2003, they conquered the Pan Am Games, with another individual gold. And Watring achieved his goal of qualifying for the 2004 Olympics.
Watring's debut in Olympic show jumping—20 years after his eventing Olympic Games—didn't go as planned. "Unfortunately, [Sapphire] didn't travel too well. He arrived a little bit stiff through his neck and in his back. It took three travel days to get there, and he didn't recover quite quickly enough before the start of the competition. So, we had quite a few rails in the first few rounds, and I decided it was enough. He just wasn't himself."
They competed in California and at Spruce Meadows (Canada) in 2005, and then traveled to Bogotá, Colombia, in 2006 to repeat his Central American Games individual gold.
"Bogotá was great—I loved it. I went on every tour and every excursion and really enjoyed myself. It's a beautiful country," he said.
Watring isn't sure if Sapphire will be his partner for the 2008 Olympics, should he qualify.
"He'll be 16, but I know there have been a lot of horses who have done it at that age, so I'll just have to see how he is next year," he said.
But he's confident that—Olympics or not—Sapphire has been a remarkable partner. "He has done so much for me—if he never does another thing, that would be fine. He's been fabulous, and he doesn't owe me a thing. He'll stay in the family forever," he said.
Spooner has observed Watring's partnership with Sapphire for many years. "His relationship with Sapphire is very reminiscent of my [long and win-filled] relationship with Robinson," said Spooner. "It's always nice to see that bond between a rider and their horse. And that relationship is going to make him the one to beat at the Pan Am Games."
Like Spooner's Robinson, Sapphire is a crowd favorite because he's so pretty and jumps in a dramatic style. Although the years of competition have tempered Sapphire's fire, he's developed more maturity.
"He feels great. He's got a little bit of age on him now, but I think it just makes him wiser," Watring said.
"He loves to jump. I think if it were up to him, he would jump every day. The hardest part is flatting him in between horse shows," he added. "He doesn't want to flat. He hates it, and he can be tough. He'll spook at a jump going around it, but not if he's pointed at it. We try not to jump as much, but because he is so small, he's easy on himself."
And Watring is planning for the future. "I have a young grand prix horse, Brilliant. He's in Belgium right now. I was hoping to do some shows in Europe with him to get some more international experience. I just haven't had a chance to spend time there yet, but I'm hoping to by the end of the year," he said.
He May Not Live There
Mark Watring may have only spent five years of his life in Puerto Rico, but the country has embraced him.
"Pretty much every competition I've done, between 60 and 80 people come to cheer me on from Puerto Rico. They bring noisemakers and flags and they yell and scream; it's what show jumping should be," he said. "When I went to Colombia last year, more than 100 fans from Puerto Rico came and cheered me on."
And—with multiple gold medals to his name—he's become a bit of a celebrity. "It was weird—when my wife and I went to Puerto Rico right after the 2003 Pan Am Games, we were getting our luggage from the carousel and there were all these photographers taking pictures. I looked behind me to see who they were shooting, and I realized it was us! It was quite fun, and then the newspaper the next day had a big picture of us," Watring recalled.
Watring doesn't just ride for Puerto Rico—he gives back to the show jumping community there. He travels to Puerto Rico at least once a year and gives clinics. He's also taken some of his U.S. students there for invitational competitions on borrowed horses.
He's hoping to help give young Puerto Rican show jumpers a leg up. Last year, he invited the two top junior riders from the Puerto Rican year-end competition to join him in California for two weeks.
"They spent one week with us at home and one week at a horse show. I try to do that every year, to give kids an opportunity to show in the States. It gives them a good taste of competition," he said.
Showing in Puerto Rico may be on a smaller scale, but it's no less competitive. "It's a little more formal. They have all FEI competitions. The highest classes are 1.40-meter, and the shows are smaller, with fewer participants. They have some nice horses, and there are two big equestrian clubs close to each other, and they both host horse shows," Watring said.
And while just two individuals will represent Puerto Rico this year at the Pan Am Games, Watring is optimistic that in 2010 they'll be able to field a team. "There are a lot of talented up-and-coming young riders," he said.

Molly Sorge