Belgium's Gregory Wathelet and the gallant grey Coree set a jaw-dropping pace early in a 12-rider jump-off, seizing victory in the Longines Global Champions Tour Grand Prix of Shanghai. The pair nailed the feature class with a Formula-1-fast round that simply couldn't be beaten, finishing 1.69 seconds ahead of their closest rival in the field.
"I knew I had to take all the risks and she jumped amazing," said Wathelet, before receiving a rapturous welcome as he stepped up on to the podium alongside runner-up Ben Maher and Daniel Deusser in third.
"I did one more stride to the double but took them out everywhere else. I had a really good turn to fence three but it was later on that I think I got the [winning margin] of one second," added Wathelet.
"Even if I could try a couple of times more I'm not sure if I would beat Gregory," said Deusser.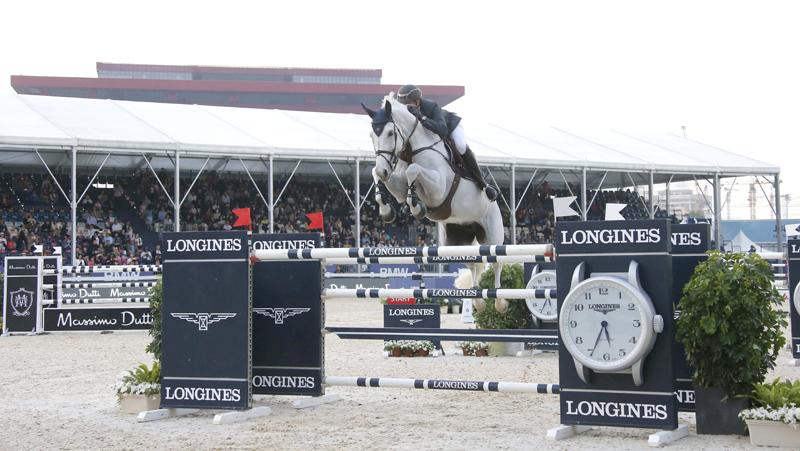 This victory in China handed Wathelet the third golden ticket to the Longines Global Champions Super Grand Prix at the new GC Prague Play Offs in December, where he will line up against Miami Beach winner Edwina Tops-Alexander and hero of the curtain raiser in Mexico City, Scott Brash.
Wathelet also soars up the overall rankings to fourth where the 2018 Championship race is still headed by Brash, fifth here in Shanghai and bidding for his third overall title on the Tour.
He sits just in front of another two-time championship victor Edwina Tops-Alexander, who just missed out on a place in the jump-off when Inca Boy toppled a rail in round 1. Daniel Deusser now sits third, with Ben Maher fifth and all are no doubt hungry to grab more points as the Tour heads to Europe and the Spanish capital of Madrid in a fortnight.
Course designer Uliano Vezzani turned up the heat considerably for the LGCT Grand Prix, as expected for a class of the highest level. The Longines vertical-vertical-oxer combination came early on the track, slightly offset from the natural line, causing a few upsets. The track snaked round this generously spacious arena and, with many of the verticals reaching a maximum height of 1.60m and a monster Liverpool oxer stretching 1.55m high and 1.70m wide to finish, this was to be a stamina test, too. However, the time was generous enough to allow these world class athletes to perform at their own pace.
"It's a big enough test, but with the best horses and riders here so the designer has no choice," said Sameh El Dahan of Egypt  as he walked the course. He later suffered heartbreak as the final fence fell in an otherwise immaculate round.
But such was the strength and depth of the field competing for a 610,000 euro prize fund that an impressive tally of 12 combinations landed a place in the jump-off.
Shooting out of the starting gate came Brash on the exciting nine-year-old Hello Shelby and there was no hanging about as he pivoted round the bends, producing a smashing clear in 39.60 seconds.
"I'm absolutely delighted with my horse Hello Shelby today; he's a young horse, so I wasn't expecting too much today, so to finish double clear and fifth in Shanghai, I'm delighted," said Brash. "It's still early days though [in the championship battle], so I'm not getting too ahead of myself."
Gregory Wathelet and the lovely 12-year-old grey Corree followed in hot pursuit and taking out a daring stride to go full stretch over the final vertical, the pair slashed nearly 2 seconds off Brash's time, flashing over the finish line in 37.91 seconds.
"Everything is beatable," said Wathelet. "For sure I knew I was as fast as I could without risk, and my mare worked very well with me, so it was a very good jump-off for me. I had to take some risks as I knew there were very fast riders behind me. It was my plan down that final line to do seven strides, I had a really good distance before."
Two of Wathelet's fellow countrymen then followed. Jos Verloy and Igor lost their chance for a podium place when the first fell fence before Niels Bruynseels and Cas De Liberte took just one chance too many and it was elimination when the mare ducked out for the second time.
Maikel van der Vleuten finished second here last year and posted a respectable enough time of 41.38 seconds on Idi Utopia to finish eventual seventh.
Harrie Smolders, the 2017 series champion and previous winner of the LGCT Grand Prix of Shanghai in 2015 with Regina Z, partnered the consistent stallion Don VHP Z this time around and looked bang on form once again, finishing just off the pace, clear in 40.52 seconds. However, the race for a second championship is on in earnest for the Dutchman.
Next up, Sheikh Ali Al Thani of Qatar riding Carolina made a game challenge over these mammoth fences in 39.46 second, which placed him eventual fourth.
Frenchman Simon Delestre is never to be underestimated but lost his chance for a medal when hitting the second fence with Gain Line.
It was time for the final four. Ben Maher and Explosion W, who were fresh from sealing victory for the London Knights in the GCL earlier in the afternoon drew gasps as an early fence rattled. But they put that nerve-jangling moment behind them and rocketed round the final bend to dash home just a fraction behind Wathelet in 38.55 seconds.
"Like Daniel's horse, Explosion W is only a nine-year-old," said Maher. "We've had him in the stable since he was seven and this weekend is the first show I've had on him. I've ridden him once or twice when he was younger, so I'm very happy with today. Our stable rider has done an amazing job with him, and he's been consistent all week. Yesterday and today I went as fast as I could but just no chance to beat Gregory today. I hope I can keep the horse for a couple more shows!"
The British rider was followed by Danielle Goldstein of Israel. She nailed some daring turns before a couple of rails fell for Caspar.
Wathelet was now guaranteed a podium place but faced an anxious wait for the final two combinations, both huge threats to the top of the leader board.
Last year's winner Lorenzo de Luca came in with full focus but ultimately paid the price when Halifax hit the penultimate fence.
Last to go, Deusser, no stranger to the podium already this season and winner of the Grand Prix qualifying class, teamed up with the powerful Tobago Z, who relished the challenge. They took a gamble to every fence to rocket over the final fence in 39.11s, just fractions behind for third.
"I'm very very happy with today's performance from my horse," said Deusser. "He won the qualification this morning and was third in the grand prix, so for me today the best I could do after Gregory set the pace in the jump-off it was nearly unbeatable round, so even if I could try a couple of times more I'm not sure if I would beat him, but I did my best so I'm happy."
Thus sealed a classic jump-off on a brilliant day's jumping and the celebrations could begin for Gregory Wathelet and Coree. As the season gallops full pelt into Europe, the championship race is really hotting up, with the next leg on the thrilling Championship race kicking off in Spain's capital city of Madrid.