When you head to Devon, Pennsylvania, for the USEF Junior Hunter National Championship—East, you better put your best forward from the moment you step into the ring. With cumulative scores in each class, a mistake can put you out of the running for the championship.
Meet the young riders who kept their cool to take home top call from the event held July 8-9.
Overall Grand Champion:Ellie Ferrigno and Cleopatra's Smile
"I actually only rode [Cleopatra's Smile] for the first time last Thursday. She has been amazing," said Ferrigno, who trains with Val Renihan, Emmy Ferrigno, and received help from Don Stewart during the week. "I went in to the ring and picked up a gallop and everything came up perfect out of stride."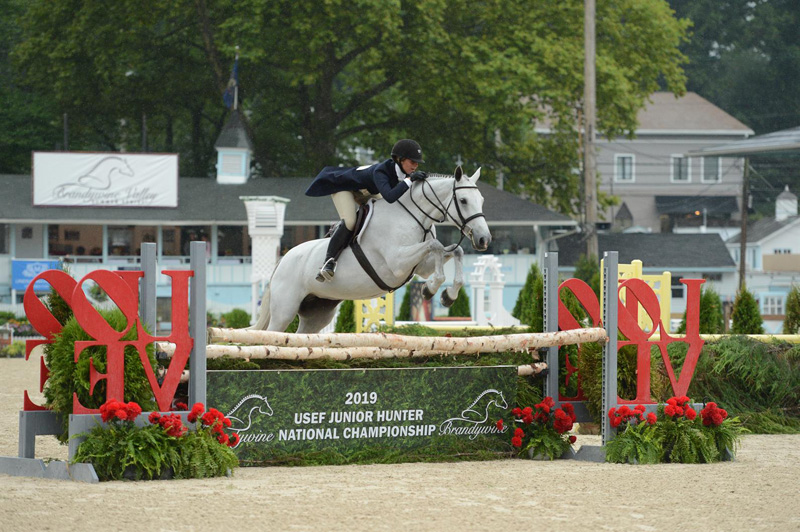 Accumulating scores of 106.40 in the classic round, 46.80 in the under saddle, and 104.80 in the handy round, the pair won the coveted title by just over two points. Their scores would also earn them the small junior hunter 16-17 section championship. Additionally, Cleopatra's Smile was presented with the War Dress Memorial Trophy for winning the Best Mare Award.
"It's a really big deal to me," said Ferrigno, 17, Newtown, Connecticut.. "It's really special to me to now have [won] something that is so important and so many amazing people have won the award in the past."
Watch their winning handy round, courtesy of USEF Network:
Capturing the overall reserve grand champion honor in the 3'6″ section was Hallie Grimes of Huston and Custom Made, Can We Keep It? LLC's 14-year-old Mecklenburg gelding. Grimes and Custom Made earned the title with a total score of 255.60 points after their performances over two days of competition, with the help of trainers Berry Porter and the team at North Run. Grimes was also awarded the champion owner/rider award.
Overall 3'3″Grand Champion: Caroline Passarelli and Lalique
"This is my first time coming to Brandywine for Junior Hunter Finals, and it's a great venue here [at Devon]," Passarelli said. "They make it very special and I really like it. The horses really perform well here. I think they know that it's a big deal, and they know they're coming somewhere special, and they rise to the occasion."
Passarelli, who hails from High Falls, New York, trains with the team at Heritage Farm, as well as David Laks and Alex Hamer, and she credits her success to the support of her trainers. Passarelli and Lalique are a fairly new partnership. The pair first competed together just two months ago in May at the Old Salem Spring Horse Show series (New York) where they earned the championship tricolor during both weeks of competition.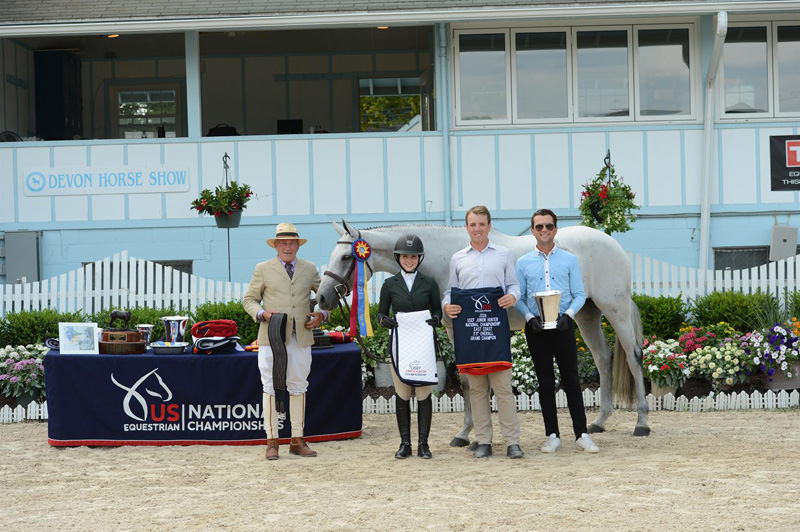 Lalique and Passarelli also won the 3'3″ small junior hunter, 16-17, section with wins in all three phases.
Of Lalique, Passarelli said, "She tries hard for you and she wants to win. It was kind of an instant partnership. We recently took time off, and we went to different shows, but we reconnected the other night here. She really tries hard, and it's really special being able to ride her."
Watch their winning handy round, courtesy of USEF Network:
The overall grand reserve champion in the 3'3″ section was awarded to Ella Bostwick aboard Bode Well, Melissa Burns's 9-year-old Zweibrücker gelding out of Aprio. Bostwick trains with Christine Bostwick in Wellington, Florida, and the pair also earned the in the 3'3″large junior hunter 16-17 section championship, riding to an overall score of 251.70.
Section Champions
The small junior hunter, 15 and under, champion title was awarded to Jenna Drago (Aurora, Ohio) and Sandriano, Peter Pletcher's 12-year-old Zangersheide gelding. The pair earned a total of 249.30 points to win.
In the large junior hunter, 15 & under, champion honors were awarded to Brooke Brombach (Wimberly, Texas) and Classico, Erica Moe's 12-year-old Dutch Warmblood gelding, with a total score of 247.70 points.
Maggie Hill (Jackson, Wyoming) and Cassanto, Stella Styslinger's 12-year-old Holsteiner gelding, trained by Jack Towell and Liza Boyd, captured the large junior hunter, 16-17, section champion tricolor with their score of 255.16.
The champion in the 3'3″ small junior hunter, 15 and under, was awarded to Morgan Kazerman (Reisterstown, Maryland) riding Skorekeeper, her 15-year-old warmblood gelding, to a score score of 245.90.
Diana Beinstock (New York City) was awarded the championship tricolor in the 3'3″ large junior hunter, 15 and under, section riding Casa Loma, Streett Moore's 13-year-old Holsteiner gelding, to a total score of 246.10.
USHJA Hunterdon Cup Equitation Classic—East: Madeline Schaefer
Equitation riders also get to show off their skills during the national championship, and on July 8, Madeline Schaefer became the 15thrider to take the title, riding Correndo to top honors on a score of 266.5.
Second went to Ava Sterns on Colando, and Addison Piper rode Charisma to third.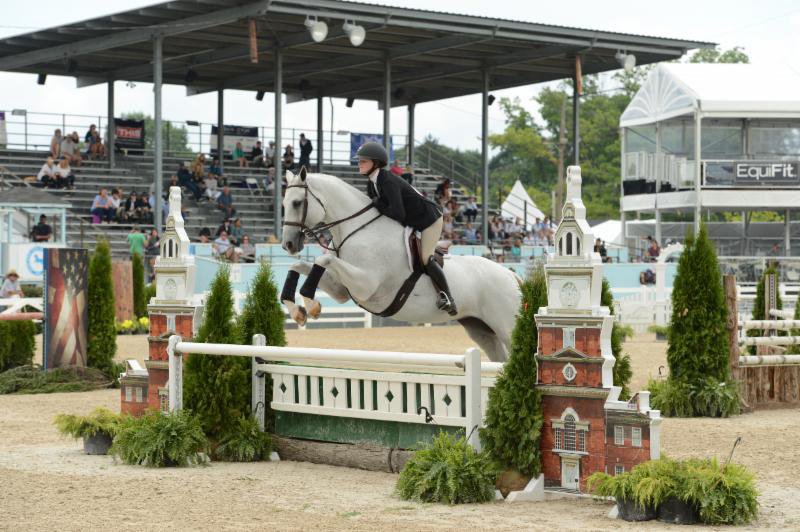 "I was pretty confident in the first round," Schaefer said. "Second round went OK, and I got to switch onto Hannah Hoch's horse [Carlson 83] in the final round, which was a lot of fun. We were talking in the warm-up ring, telling each other about the horses, and she was like, 'Honestly, he's really easy and straight forward.' That was really helpful to know and gave me confidence. It's a great honor [to win].
"As I got to go towards the end of the handy round, I noticed [the judges] were really rewarding the [right lead] hand gallop, so I compromised other inside turns for the hand gallop to make sure that was ideal. My horse doesn't exactly love his right lead, he's very left leaded, but he worked for me today–he was perfect," she continued.
Watch her work-off ride, courtesy of USEF Network: