Skylar Wireman launched her professional career by winning three big jumper classes at Desert Circuit I in Thermal, California, including two with Coolio 23 and one with De Laloma.
With her mother Shayne Wireman's 16-year-old Oldenburg gelding (Contendro I—Saphhira), she scoring her first professional win in the Grand Prix Arena on Jan. 4 in the $10,000 Whittier Trust Welcome Speed, followed by a victory Saturday in the $50,000 Valencia Saddlery Grand Prix. On Sunday, she followed those with a win in the $30,000 Marshall & Sterling 1.40-meter Open Classic with De Laloma, a 15-year-old Dutch Warmblood mare also owned by her mother.
"I honestly can't even explain the feeling," Wireman, 18, of Bonsall, California, said of winning the Valencia Saddlery Grand Prix with Coolio 23. "It is incredible. I couldn't have asked for a better partner to do it with. I've only had this horse for a little under a year."
The grand prix was set up in Wireman's favor, especially considering her confidence at higher speeds. Over Ken Krome's course, five pairs jumped clear and advanced to the jump-off. Of those five, Wireman and Coolio 23 had the pole position of jumping last. Only one pair, Cameron Trimino and Firewall, had jumped double clear when Wireman stepped into the ring, so she knew just what she had to do.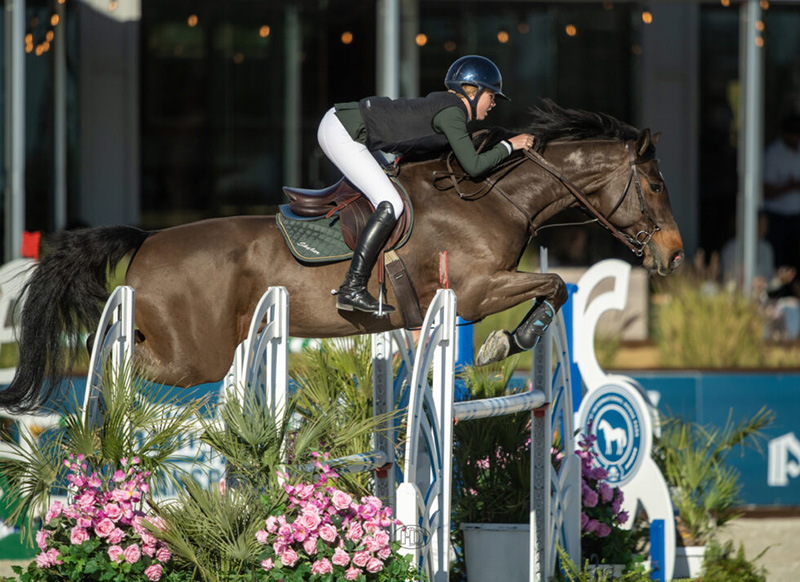 "In the jump-off there was a clear [round] before me, so I knew I was going to have to be fast and leave all the jumps up," she said. "The ride before was 5 seconds faster than the 4-faulters. So, I thought I had to shave time off of [Trimino]'s time."
She did just that, stopping the clocks at 40.83 seconds compared to Trimino's 42.06. Trimino, 16, took second while 19-year-old Kyara Semrau and Carola Z took third, making the entire podium a display of teenage excellence.
Wireman has been preparing for her professional career for years, earning extensive experience as a junior with challenging horses and getting to know all sorts of rides.
"With this horse, he gets a little bit excited in the jump-off," she said of Coolio 23. "If you think about going fast, he gets a little excited. But he turns really well. I was just planning to shave time off in the turns and do fewer strides from back to jumps."
Notably, the gelding goes without a noseband.
"I used to use [a noseband] on him," Wireman said. "He likes to go with his mouth open and move his lower jaw a little bit. [No noseband] seems to work well for him. He loves it. He looks a little like a western horse sometimes."
Watch Wireman and Coolio 23's winning jump-off round in the $50,000 Valencia Saddlery Grand Prix, courtesy of ShowGroundsLive.com: