In the press conference following the Grand Prix Special at the FEI World Equestrian Games (North Carolina) last September, Laura Graves promised she had a surprise in store for the freestyle. But when inclement weather forced the cancellation of the freestyle, crowds were left wondering what exactly she had planned.
And on Jan. 11, during the Grand Prix freestyle on the first week of the Adequan Global Dressage Festival in Wellington, Florida, spectactors were dazzled as Graves and her 17-year-old Dutch Warmblood gelding Verdades, came out on top with an 83.22 percent.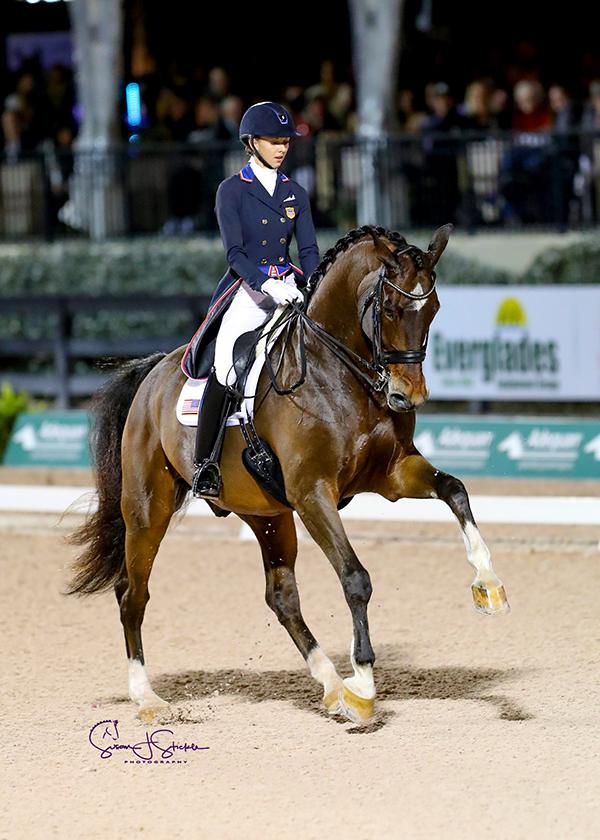 "I wasn't what sure which music I was going to do tonight," said Graves. "In the end, I'm very, very glad I chose to do my new music. I don't know what else I would have been saving it for. I'm just glad that the timing worked out; I haven't ridden to it yet. It's supposed to be about the same as my last one, so I just crossed my fingers and hoped that it worked out and it did. I'm so lucky that Terri Gallo just takes whatever idea that I have."
Speaking of her test, Graves explained, "[I had] a big mistake in my final pirouette. I came at him a bit strong in the spur. And then in the piaffe fan, which we haven't touched since Aachen [Germany] last year, I was a bit greedy and selfish in the warm-up. He let me know that he knows his job. He gives such a good feeling when he does go well that any little bump in my hand or my leg is shocking to me."
Graves also topped the Grand Prix on Jan. 10 with an 80.06 percent.
Graves said her ride was "a good way to put the first show into perspective after we haven't been out since the [World Equestrian Games] was called off before the freestyle, so it's been quite a bit since we've been in the arena. It always feels like, 'OK, we still know what we're doing,' " she remarked. "He obviously still has a ton of gas in the tank. I'm really, really excited with how today went."
Watch their freestyle, courtesy of Richard's Equine Video: