Top young jumping riders from around the country gathered over the weekend at the historic USET Foundation headquarters in Gladstone, New Jersey, to compete in the Platinum Performance/USEF Show Jumping Talent Search Finals—East, a four-phase competition held over three days, Oct. 7-9.
Alexander Alston, Gahanna, Ohio, led the field of 53 competitors through the first three phases of competition—flatwork, gymnastics and jumping—but when the top four riders were brought back for a clean-slate ride-off on each other's horses, it was Augusta Iwasaki, Calabasas, California, who rode to the top and earned the championship.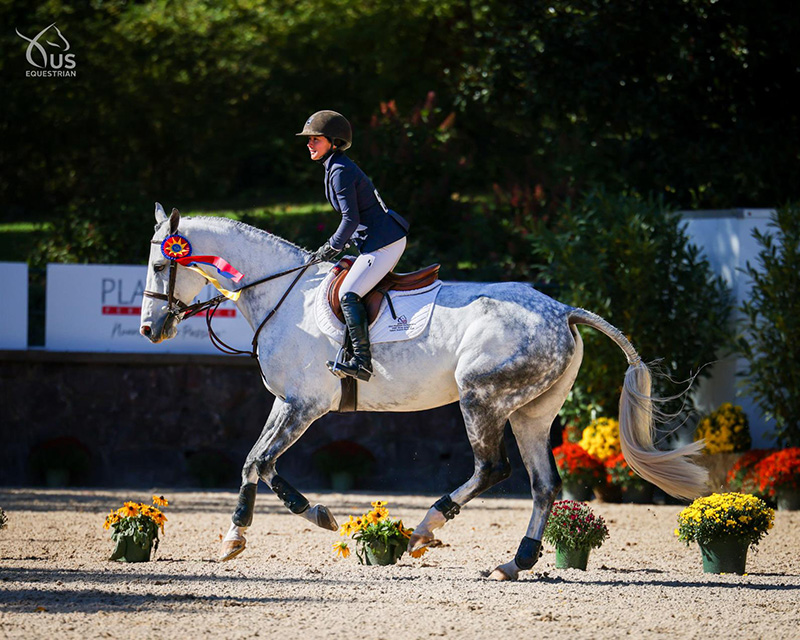 The flatwork phase of the competition was unlike its West Coast counterpart and unusual in that, rather than being judged in a group setting like a typical flat classes, riders entered a dressage arena individually to perform their tests. Written by judge Alex Jayne, the test included trot and canter lengthenings, sitting trot, counter-canter and lateral work ranging from leg-yield to shoulder-in and haunches-in to a turn on the haunches.
"We felt with a group this strong—and I think this is a very strong group—it was a more fair test to see each on an individual basis," Jayne said. "The test itself is designed to show how well you ride your horse. It's a set of questions strung together, and we're judging the questions themselves. It's not so much a dressage test; it's some advanced flat movements that should be preparing your horse to tackle the gymnastics and jumping phases in the next few days."
Alston excelled in the test, taking an early lead on Friday's first day competition with a score of 92.5 on Ferry Van Den Hoogeweg, a 12-year-old Dutch Warmblood gelding owned by Plain Bay Sales.
Watch his leading flatwork test with Ferry Van Den Hoogeweg. Videos courtesy of USEF Network:
Eventual winner Iwasaki struggled the most in the flatwork phase, ending up 16th on a score of 80.5 with Freedom, a 12-year-old Dutch Warmblood jumper owned by Ali Nilforushan who Iwasaki said had never done equitation before the Talent Search Final.
"I knew [the flat phase] was probably going to be the hardest thing of the week," she said. "I've always struggled with lateral work with this horse. He's very hot. He's very bouncy. But I can say he's definitely gotten better after this week."
On the second day, riders returned to compete over a course of gymnastics. Again, Alston and "Ferry" led the field, scoring a 96 to maintain their lead. Meanwhile, Iwasaki and Freedom posted the third-highest score of the day—94—to move them to up to third place overall behind Alston and Luke Jensen, Denton, Texas, whose scores on the flat (87) and in gymnastics (95) on his longtime equitation partner, Jamaica, put him in second place overall going into the final day.
Watch the gymnastics round that kept Alston in the lead with Ferry Van Den Hoogeweg:
On Sunday, Oct. 9, riders returned for the jumping phase, which Jensen topped with a score of 96, followed by Alston (93) and Iwasaki (91). From there, the top four riders were determined: Alston, Jensen, Iwasaki and Taylor Madden, Wellington, Florida, who had finished second (90) on the flat with her own Mac One III and stayed close enough through the gymnastics (86.5) and jumping  (89) phases to go into the final work-off in fourth place. Madden's horse is currently leased out, but she reunited with him specifically for this competition.
From there, the scoreboard was wiped clean, and each rider completed four rounds, one on their own horse and one on each of the other finalists' horses, to determine the champion. With everything up for grabs, Iwasaki—who currently attends Southern Methodist University in Texas and rides on the equestrian team there—turned in four exemplary rounds to earn her a final Phase IV cumulative score of 377 points. Jensen finished second on 364, Madden was third on 358, while Alston faced some "tricky rides" and dropped to fourth on a score of 337.
Watch champion Augusta Iwasaki's ride-off round on Taylor Madden's Mac One III, who was recognized by the judges with the Best Horse award:
After the competition, Iwasaki was full of praise for her horse.
"I've been riding [Freedom] for a year and a half. He's the first jumper I ever called mine," she said. "I've shown him from the lows to my first grand prix, and he's honestly one of my favorite horses of all time, and it was super special to be able to do this with him."
See full results here.