The first "Saturday Night Lights" event of the 2023 season took place Dec. 3 at Wellington International (Florida) with 41 contenders competing in the $216,000 Holiday & Horses Grand Prix CSI4*. Galloping to the top of the leaderboard was two-time U.S. world championship show jumping team member Adrienne Sternlicht riding Bennys Legacy.  
"I've had 'Benny' now for over three years, and he has exceeded all of my expectations, as well as everyone else's," Sternlicht said of the 14-year-old Oldenburg gelding (Lupicor—Acordia, Voltaire) owned by Starlight Farms 1 LLC. "He's so reliable, and we know each other so well. I'm really grateful to have him in my life; he's such a character, and everyone on my team completely adores him. Moving forward, I'll pick and choose and be very selective with him, so you won't see him out for at least two months."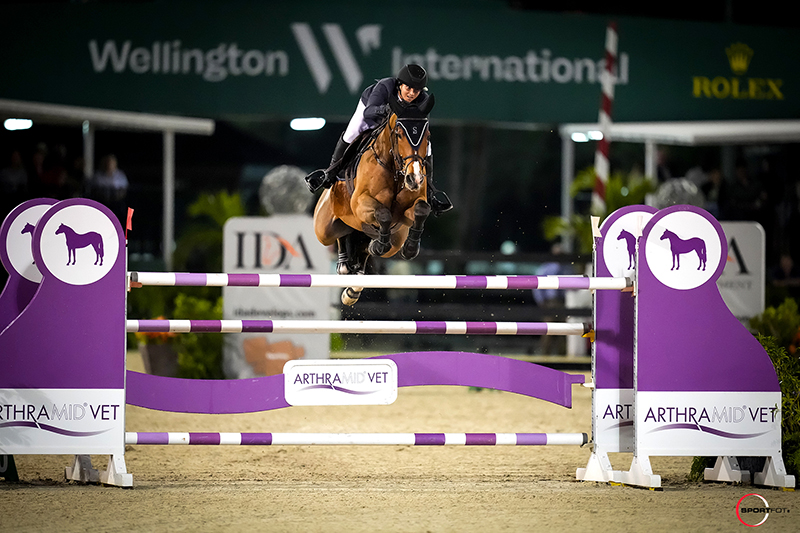 The class showcased an international field of riders representing 13 nations: Mexico, the United States, the Dominican Republic, Ireland, Chile, Germany, Brazil, Great Britain, Australia, Colombia, Venezuela, Israel and Lebanon. Course designer Anthony D'Ambrosio (USA)'s 13-fence first round track saw seven pairs qualify for the jump-off.  
 "I think with the time allowed you had to be on it as a rider, which I'm always working on with this horse," Sternlicht said. "I thought it was a good course with the right amount clear for this caliber of jumping." 
D'Ambrosio's shortened course posed several challenges for riders, and the first three pairs had rails down. Fourth to go in the jump-off, Brazil's Santiago Lambre was the first rider to navigate through the jump-off clear. The lead changed hands again following Irishman Andrew Bourns' speedy performance with Sea Topblue, but his lead was short lived as Sternlicht and Benny shaved three-tenths of a second off his time, stopping the clock at 42.63 seconds. Ireland's David Blake was the final rider to test the short track but had four fences down, guaranteeing Sternlicht the win.
Click here for full results.
Watch Sternlicht's winning jump-off round, courtesy of ShowGroundsLive: