Kent Farrington's cross-country trip to California from Florida paid off Sunday afternoon as he and Orafina took top call in the $226,000 Adequan CSI4* Grand Prix.
With the 11-year-old Dutch Warmblood mare (For Fashion—Corofino, Canturo) owned by Kent Farrington LLC, the two-time Olympian dominated a field of six jump-off contenders over Alan Wade's course at Desert International Horse Park, capitalizing on Orafina's unmatched speed to win by a margin of nearly 5 seconds.
"Orafina is a very fast horse," he said. "She's extremely careful and she really doesn't have a middle speed. There were a few in the jump-off—not a huge amount—but that doesn't change my strategy. I just tried to do her best round. I thought she jumped incredibly today, both rounds."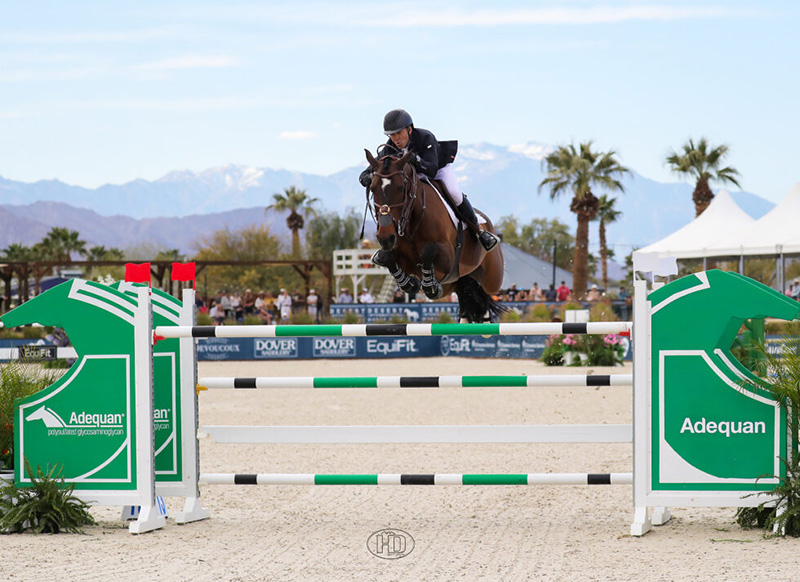 His jump-off time of 33.91 put him well ahead of second-place finisher Alison Robitaille, who stopped the clocks at 38.78 with Oakingham's Lira, a horse Farrington found for her, and third-place Katie Laurie of Australia (40.70) who said she was going for a steady double-clear with her homebred Django II.
Farrington, who also won a CSI5* in Thermal with Orafina in December, said the mare is coming into herself as a top-level competitor.
"[She is] a hyper careful, very sensitive horse," Farrington said. "That is my favorite type of horse to work with. I think this is the ultimate modern sport horse. There's a lot of power there, it's just getting the horse to work with you. To control their power takes time. I've been putting in a lot of time and it's starting to pay off with great results."
Watch their winning jump-off round, courtesy of ShowGroundsLive.com: