In an unusual event that kicks off "Saturday Night Lights" at the Winter Equestrian Festival (Florida), the women yet again proved unbeatable in the $75,000 Battle of the Sexes, a three-round jumper competition that includes a speed round, a relay race and match race where riders from each team competed simultaneously over mirror-image courses. It was the 11th time the women have won in the event's 13-year history.
The women's team consisted of team captain Kelly Soleau-Millar, Hayley Iannotti, Taylor Land, Caelinn Leahy, Samantha Mackenzie, Mia Mannis, Abigail McArdle, Jacqueline Steffens, Anna Wilks and Heather Caristo-Williams.
The men's team, led by captain Charlie Jayne, also included David Blake, Christian Coyle, Daniel Coyle, Jordan Coyle, Luis Larrazabal, Simon McCarthy, Samuel Parot Jr., Michael Tokaruk, and Hardin Towell.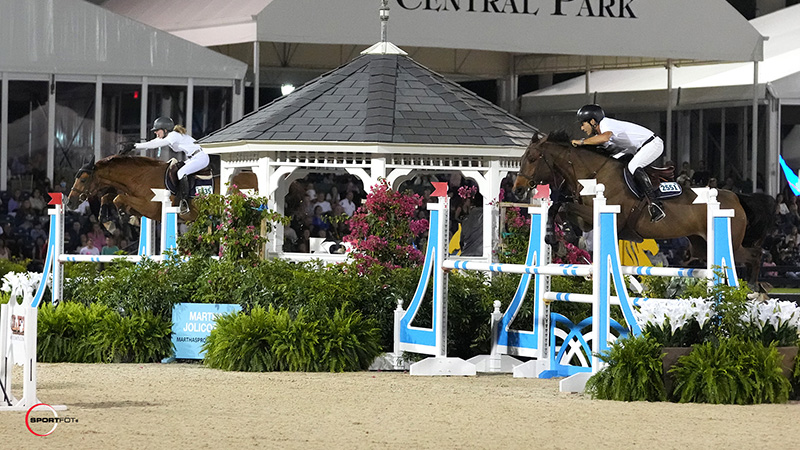 The standout rider of the night was Leahy, who had a scorching fast round for the  women's team in the first phase, a Table C faults-converted speed course where the riders go to head-to-head over the same course, and the one with the fastest time gains a point for their team.
In the second phase, each team had three relay groups, where the three riders in the relay each did a section of the course. While the teams were tied after the first phase, the women gained 10 more points in the relay, with two wins out of the three groups, to. lead 15 to 10.
The final phase was a match race where two riders—one from each team—competed simultaneously over a course that mirrored itself in the ring. When the women won five of the first six rounds at 3 points each, they secured their victory, and the last 4 match races did not have to finish. Leahy sealed the deal for her team by taking a decisive victory over Michael Tokaruk, and the women won by a score of 30 to 13.
Watch the match race between. Leahy and Tokaruk that sealed the women's victory: