California professional Katie Taylor-Davidson and L'Con Reyes topped a field of 27 on Friday, Feb. 11, to win the $50,000 Butet USHJA International Hunter Derby, the first hunter event to be held on the grass field at Desert International Horse Park in Thermal, California.
It was the fourth derby win for Taylor-Davidson and "Theo," a 12-year-old Oldenburg gelding (Lord Pezi—Manjola) owned by Bravado LLC she's ridden since 2018.
"I actually don't work at the barn where he is now, so I don't get to ride him as much anymore … [b]ut they've kept him going fantastically," Taylor-Davidson said. "I think we just know each other really well because we've had a lot of rides together. He's funny; he makes you work for it, but he'll give you his all, all the time. He really wants you to dig in and ride and get it done. That's why he's so good at the derbies because you can ride like that a bit, and he's always trying his heart out for me."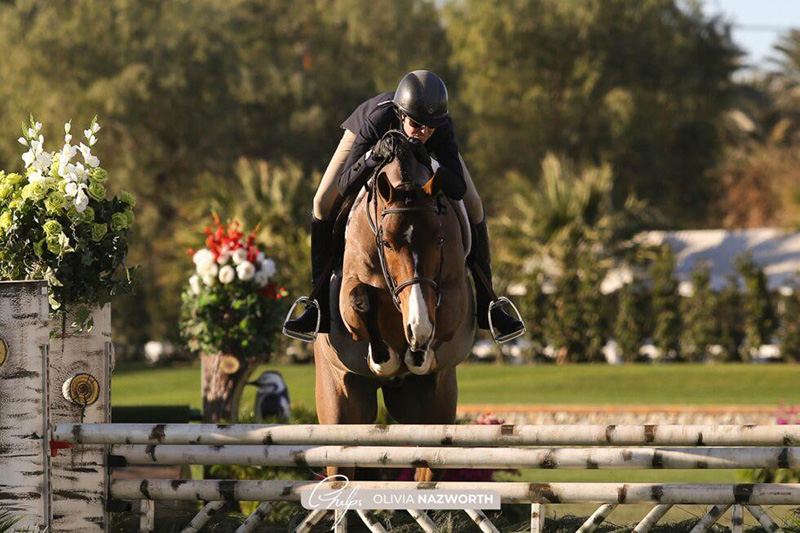 The first round tested the riders with a winding course and four high options to show off their horses' scope and style. Pathfinders on the large grass field, Taylor-Davidson and Theo set the standard as first on course, earning a score of 84 from both judges to total 176. The score put them in a tie for third place at the end of the first round, which was dominated by Nick Haness. Haness took the three top spots in round one, earning 179 on Jenkins, followed Dalmore on 177.5, and Caldiano tied for third with Taylor-Davidson on 176.
"I just did what I walked and didn't have to second guess anything and just rode the track that I had to ride," Taylor-Davidson said of going first. "For me, it's less pressure going at the beginning because you're not just sitting here waiting and overthinking. You just go in and do it. I prefer an early draw, actually. I know a lot of people don't."
The top 12 pairs returned to contest a handy course that included a trot jump, a grob and four high options, plus several options after Fence 8 regarding which direction to turn, which way to jump a reversible Fence 9, and which final oxer to choose coming home. Although riders typically go in reverse order of merit, some pairs went out of order to accommodate riders with multiple horses. For the handy round, Taylor-Davidson had the opportunity to watch others go and used it her advantage.
"The two that had rails at the high option at Fence 8 landed and turned right, and that's kind of what I wanted to do because I thought it was the handiest turn," she said. "But seeing that rails fell, I knew that with the jump on the back side, I had a feeling that that could happen. I knew I'd have a rail there, so I just played it safe and just jumped out and went through the grob instead to the left because he's better to jump off his right and land left than he is right to right. With the grob yesterday he was a little like, 'What are you making me do?' But today he was. He was like, 'OK, I guess this is what we're doing today.' "
They scored 196 in the handy round to finish on a total score of 372. Finishing second was Haness aboard Dalmore, owned by Kenilworth Sport Horses LLC, with a total score of 368.5, and taking third was Lisa Wall and Tangled Up In Blue, owned by 3P Equine Partners, LLC, on a total score of 358.
Watch the winning handy round and Taylor-Davidson discussing her fence-by-fence strategy: