Karl Cook and Kalinka Van't Zorgvliet couldn't be beat this year in the West Coast rider's first trip to the Hampton Classic (New York). The pair raced to the top of the $410,000 Hampton Classic Grand Prix CSI5* on Sunday, just two days after winning Friday's $74,000 Douglas Elliman Grand Prix Qualifier.
"Friday was great, and then just trying to carry that confidence into today," Cook said. "And it's hard to do, jumping two rounds on Friday, but it's all the mare. I just get the joy of hanging onto the reins, but it's all her.
"She tries so hard," he added. "I don't know why she tries so hard, but obviously I like that she does. She just loves it."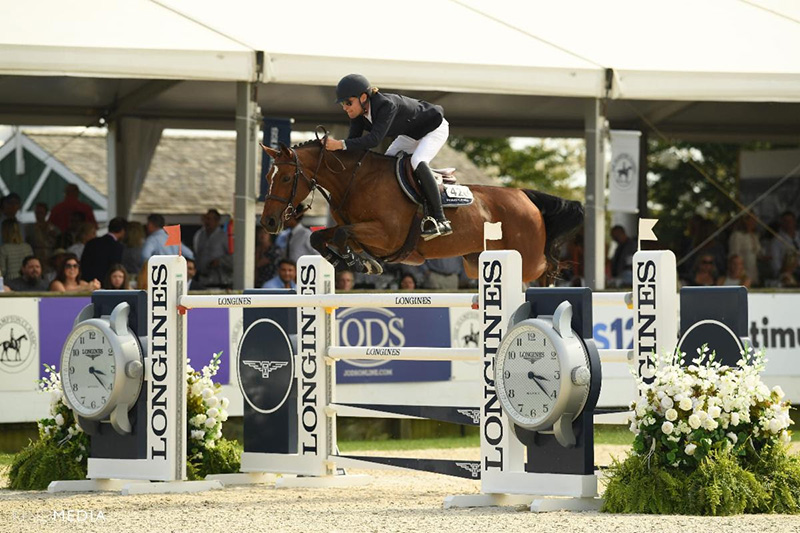 Of the 30 horse-and-rider combinations representing nine countries in Sunday's grand prix, which culminated the annual Hampton Classic in Bridgehampton, New York, nine pairs made it to the jump-off over Alan Wade's 17-effort, 1.60-meter course and five went double-clear.
Last to go in both rounds was Cook, who returned with "Kalinka" (Thunder van de Zuuthoeve—Goldfee van't Zorgvliet) to stop the clock in 36.71 seconds and secure his second victory at the 2022 Hampton Classic.
"It's great to be here," he said. "I'm so glad I came here. I'm grateful to my mom, who owns the horse, and it's just great that we've worked so hard with that mare, had our highs and lows, and still had everything come together.
"If you see her, she's hot, a bit wacky, a little small, and has an inverted-type jump," he added of Signe Ostby's 12-year-old Belgian Warmblood mare. "But the only reason she can do this is because she wants it. She tries so hard for it."
Defending champion Daniel Bluman rode immediately before Cook in the jump-off, and his fast-paced time of 36.93 seconds with Blue Star Investments' 11-year-old Dutch Warmblood mare Gemma W gave them the potential to win for their second consecutive year. That added pressure didn't faze Cook and Kalinka when they entered to tackle the course.
"I watched Karl's ride, and he's a deserving winner," Bluman said. "He rode great all week and had a lot of success, and I already knew when I crossed the timers that he would beat my time. It was just a matter of if the rails stayed up or didn't. I tried to get the crowd going to interfere with his focus, but I know Karl. He's a winner, and I did absolutely everything I could. I'm very happy for him."
Katie Dinan and Brego R'N B took third with a jump-off time of 38.32.
"It was such a fun jump-off, with Katie and Daniel, it was so fun to just go faster and faster, and to be exciting for people," Cook said.
Watch Cook and Kalinka's winning jump-off, courtesy of ClipMyHorse.TV USA: