In just their third start at the World Cup level, Hunter Holloway and Pepita Con Spita topped a field of 29 to notch their first victory Saturday at the $150,000 Longines FEI World Cup Las Vegas CSI4*-W at the South Point Arena.
The pair won their first Fédération Equestre Internationale grand prix back in May, but it took six international grand prix victories this year before Holloway, 23, of Topeka, Kansas, felt the mare was ready to step up to the World Cup level, which they did in October.
"She's been a fantastic horse to bring along," Holloway said. "Hopefully she'll be a team horse for the future, so that's something we'll look forward toward."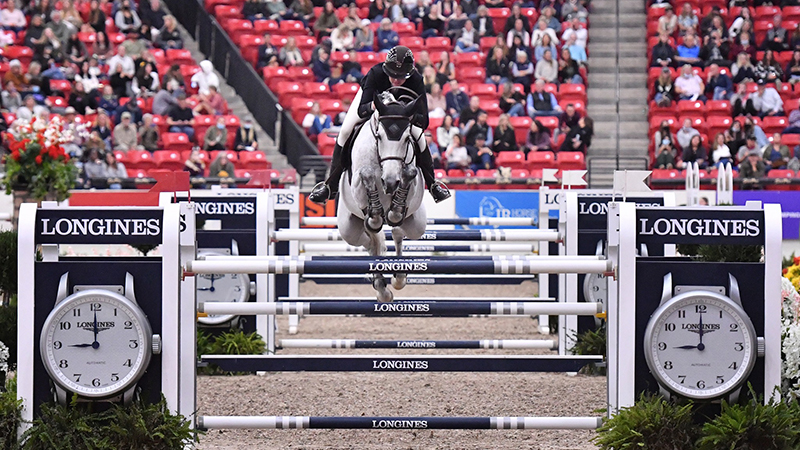 Holloway led an all-American, all-female podium at the Las Vegas National with the 10-year-old Westphalian mare Pepita Con Spita (Con Spirit—Pamina, Come On) owned by Hays Investment Group, finishing ahead of 21-year-old Natalie Dean, who earned a third World Cup placing in as many starts aboard Chance Ste Hermelle, owned by Marigold Sporthorses, LLC. Laura Hite finished third after jumping the first clear round of her World Cup career aboard her longtime partner Calypso van de Zuuthoeve, owned by HF Farms LLC.
"This is really exciting, seeing three American flags here," said Robert Ridland, U.S. show jumping chef d'equipe. "I would say that this is the best indoor facility in the world for our sport. It's amazing what we've been seeing all week in all the divisions. It's on an upward trajectory, and to be honest, I had no idea this many people would show up! That was amazing."
Guilherme Jorge of Brazil designed the course for Saturday night's feature event in the South Point Arena, within the South Point Hotel, just minutes from the famous Las Vegas strip. Rails fell throughout his winding track, which featured technical tests at every turn, particularly through the final line. The final 1.60-meter vertical fell for Ireland's Conor Swail and Vital Chance de la Roque, who kicked off the 2021/2022 NAL season with wins at Vancouver (Canada) and Sacramento (California).
"When we work together, me and Robert, I know that the aim is always on the top sport," Jorge said. "We have really good conditions here. It's a really nice size arena for an indoor ring. For us, as course designers, it's always nice to see the horses jumping well. The faults were all spread. Everybody I think can go home with a good experience."
Six other combinations advanced to the shortened track, but clear rounds were still hard to come by. Holloway was the first to produce a double-clear effort, and she set a stiff standard at 37.77 seconds. Only Dean could replicate a clear round, but she settled for second, more than three seconds (40.83 seconds) behind the winner.
"That mare is super consistent going quick, and the faster she goes, the better she is," Holloway said. "So, I was always going to go for it. That was my plan from the start with her, to give it my best go."
From here, Holloway's focus is forward, and she continues on with the NAL with the confidence that her mare is fully prepared for bigger tests ahead.
"[The Longines FEI Jumping World Cup Final] is something that we're aiming for with that horse. She's a perfect age for it, and she's going to be really ready for it by then," Holloway said. "We're excited to keep going with her and see how things shake out."
While Swail did not make the jump-off, his 11th place finish helped him regain his lead in the NAL standings with 43 points. Tiffany Foster of Canada sits second with 42 points, while Dean moved into third with 41 points.
The competition will be rebroadcast at 8 p.m. Eastern Nov. 29 on CBS Sports Network. See full results here or watch the top three finishers' jump-off rounds now: