With the only double-clear over two rounds of competition, Switzerland's Steve Guerdat and Venard de Cerisy captured the $1,973,610  CP International Grand Prix on Sept. 12 during the Spruce Meadows 'Masters' Tournament in Calgary, Alberta. It was the first time Guerdat, a former world champion and Olympic gold medalist, has won Spruce Meadows's richest five-star.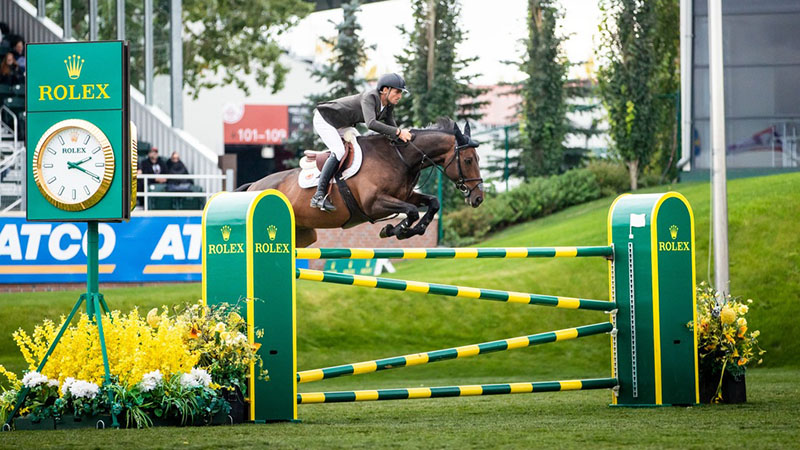 Finishing just behind him were a pair of U.S. show jumping team members from the Tokyo Olympics: Kent Farrington and McLain Ward. Farrington and Gazelle, his partner from Tokyo, left all the rails up but had a foot in the water during the first round to take second. Ward, aboard Kasper Van Het Hellehof, also had four faults in a slightly slower first round and a clear second round to take third.
"It's a helluva feeling," Guerdat said in the post-event press conference. "It's a class that, since I'm a little kid, I've always been dreaming of winning. I've walked a hundred times in front of the wall with the winners' names and I've always thought, 'I'm not going to quit until my name is up there.' It's one of the nicest days in my career, it's for sure a day I'll remember for the rest of my life."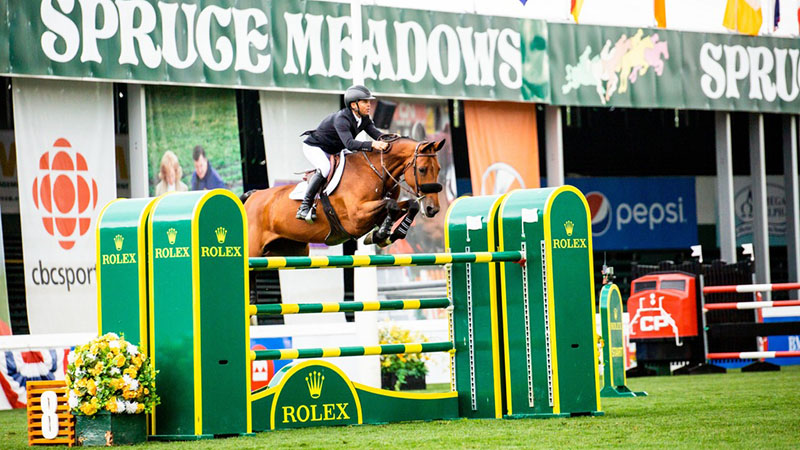 Guerdat said "Venard," a 12-year-old Selle Français gelding (Open Up Semilly—Rosee De Cerisy, Djalisco Du Guet) owned by C.H.C. Horses SA, felt excellent all week long leading up to the class. The pair were one of four to jump clean in the first round, and by going on to post the only double-clear in the second round, Guerdat avoided having to jump off for the win—though he was confident Venard was up to that challenge.
"He felt amazing from Day 1. Every round he's jumped, he gave me an unbelievable feeling," Guerdat said. "I thought, if I ride good, he's going to be on my side and help me, and that's exactly what happened. We had a good first round, but a much better second round and, to be honest, he felt like he would have gone for a third round, the way he was feeling. I'm so proud of the horse today."
Guerdat has been riding Venard for the past five years. The horse "doesn't have the best of techniques," he said, but his power and his will to win compensate for that:
"His mind is unbelievable. We bought him when he was 7 years old, he was jumping in France, and if you see our first two years together, I don't think anybody would have put a penny on us winning a grand prix like this one. But he's been unbelievable the last three years now. He's been giving me so much that I'm really happy for him today that I can give him this win and so he will stay in the history books."
The win was a bit of vindication after the pair failed to make the individual jumping final in Tokyo and Switzerland finished out of the medals in the team competition there.
"I missed my Olympics, and the only way to make it up was by winning this grand prix," he said. "It's amazing and I'm so delighted with my horse and my whole team that's been working so hard."
The CP International is one of the legs of the Rolex Grand Slam of Show Jumping, which Guerdat now is in contention to win. The CHIO Aachen (Germany), coming up Sept. 19, is the next stop  in the Rolex Grand Slam series.
Watch the pair of clear rounds that earned Guerdat and Venard de Cerisy the victory at Spruce Meadows:
Full results are available here.