As Harmony's Duval sashayed down centerline to "Play That Funky Music" with Adrienne Lyle in the CDIO3* Grand Prix freestyle during Week 10 of the Adequan Global Dressage Festival, it was hard to imagine him as the gangly, uncoordinated 5-year-old that Lyle started under tack so many years ago.
The powerful gray looked at home under the lights in Wellington, Florida, on March 19, showing off to a variety of crowd-pleasing funk rock tunes and scoring a career-best of 80.02% to complete a clean sweep of the CDIO3* Grand Prix classes.
"It was worth staying up past my bedtime!" joked Lyle, 36, who bases in Wellington in the winter. "There's really nothing that compares to riding at Global on a Friday Night Stars. It's one of my favorite experiences in the horse world."
The victory was particularly sweet for Lyle, as she reflected on how far she's come with "Duval." The 13-year-old Dutch Warmblood (Rosseau—Uptown Girl, Riverman), owned by Duval Partners LLC, was bred in Colorado by Leslie Malone's Harmony Sporthorses, and Lyle has ridden him for his entire career, carefully bringing the leggy gelding up the levels.
"To do this on Duval, who we had from when he was unbroke, all the way up to becoming an individual gold medalist here, is just really special," said Lyle, who also rode Duval on the silver-medal winning Nations Cup team. "I've got an unbelievable group of owners that have supported me along the way."
Lyle chose a freestyle she'd previously performed with Grand Prix mount Wizard in 2011 at Dressage At Devon (Pennsylvania). "I wanted to go back to something I knew since Duval has done one freestyle in his life," said Lyle, "so I could give him a good experience out there."
Watch Lyle and Duval's winning freestyle, courtesy of Richard's Equine Video.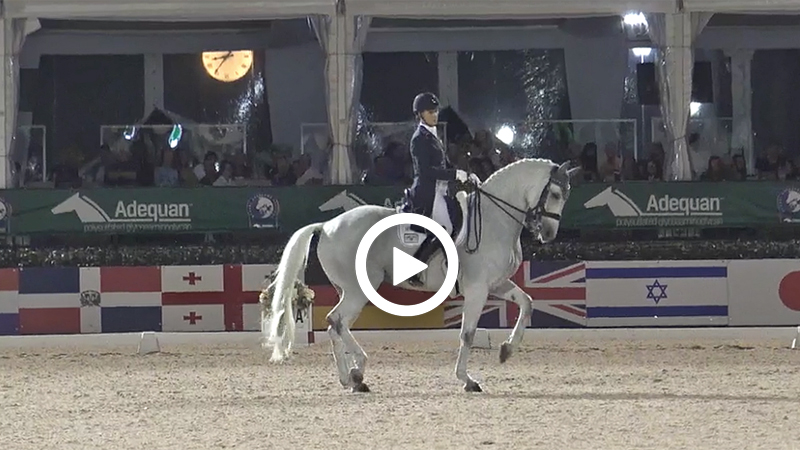 "I think he's got some fun, powerful canter work," Lyle continued. "It's not the most difficult freestyle out there nowadays. When I made it, they didn't have the degree of difficulty score the way that they do now. But it still has double pirouettes [and] piaffe pirouettes, so it gets enough [degree of difficulty points]. I think it's a really fun one; it doesn't always have to be for him the most difficult every time he goes out."
---