Three riders from a field of nearly 40 were set to jump off for top honors after two rounds of competition in the $3 million CP International at the Spruce Meadows Masters in Calgary, Alberta, on Sept. 11: Steve Guerdat of Switzerland on Venard De Cerisy, Gilles Thomas of Belgium on Aretino 13, and Daniel Deusser of Germany on Killer Queen VDM.
But when Thomas lowered two rails and Guerdat dropped one, Deusser was left to guide Killer Queen around the course at a more leisurely pace, finishing 4 seconds behind Guerdat but leaving the rails in their cups to claim victory.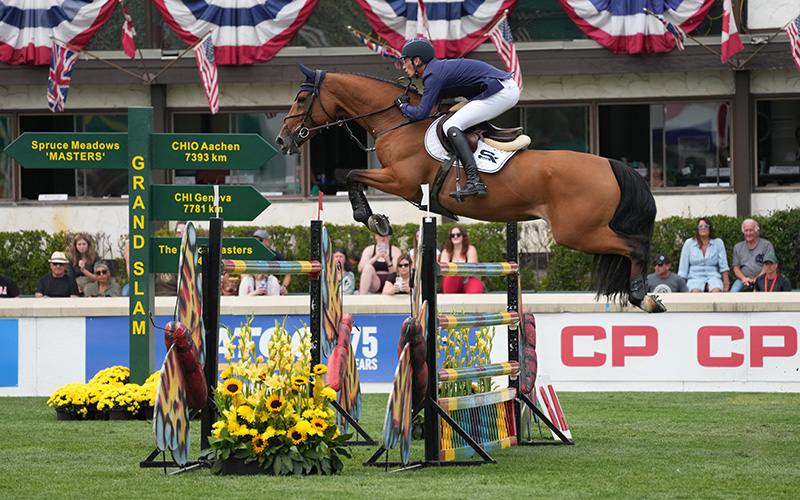 "It's a class that I've followed since I was very, very small," Deusser said. "I watched it on television, and I still have VHS cassettes at home that have the grand prix here. I've watched it over and over again, and I could never imagine to be here, so to win the CP International, presented by Rolex, here in Spruce Meadows is a fantastic feeling."
Watch his winning round from ClipMyHorse.TV USA:

It was no small feat getting to the jump-off, however. In the opening round, no clears after the first 20 starters and a string of DNFs were testament to the difficulty of the course, designed by Venezuelan Leopoldo Palacios, with a triple combination after a water jump just one of the obstacles catching lots out. It wasThomas of Belgium and his 14-year-old gelding, Aretino 13 who proved the course was rideable, after confidently clearing the 14 obstacles fault-free in a time of 84.72. Shortly afterwards, McLain Ward—the only U.S. entry in the field—demonstrated his and his mare HH Azur's class and harmony, notching up the second clear of the round in 83.73 seconds. Guerdat and his 13-year-old gelding Venard De Cerisy and Germany's Deusser aboard 12-year-old Killer Queen VDM (Eldorado VD Zeshoek—Derly Chin De Muze, For Pleasure) recorded the only other double-clear performances of the first round.
The top 12 riders advanced to the second round, where Ward, the winner of Friday's Tourmaline Oil Cup at Spruce Meadows, dropped a rail at the first of the double liverpools to finish seventh and set up the three-horse jump-off.
"She had a fantastic week, to be honest,"  Deusser said of his mare, who he owns with Stephex Stables. "I started the first day with a small class and I was doubting to jump her in a big competition, but in the end I jumped her in the big class on Friday, just because she has never been here in the International Ring. I think it was a good decision today; she jumped three fantastic clear rounds and she will definitely have a big, big dinner tonight and some carrots and sweets!"