Dan Kreitl had never won a Fédération Equestre Internationale event before this weekend, but he made it a big one by topping The Dutta Corp./USEF CC4*-L Eventing National Championship at the Tryon International Equestrian Center (North Carolina), finishing on a score of 40.0 with Kay Dixon's Carmango. Liz Halliday-Sharp rode Ocala Horse Properties' Deniro Z, a 14-year-old Dutch Warmblood gelding (Zapatero—Zonne-Trend, French Buffet XX), to the reserve championship on a score of 40.6. Completing the podium was Phillip Dutton and Anne, Caroline and Michael Moran's 10-year-old Irish Sport Horse mare Azure (Omar—Cavalier Roselier, Cavalier Royal) with a score of 42.6.
It was the first CCI4*-L for both Kreitl and the 9-year-old Westphalian gelding Carmango (Chirivell—Taramanga, Templer GL XX), making it extra special for the pair as they edged out Halliday-Sharp by 0.6 points. It was a storybook weekend from centerline to startbox to stadium finish timers.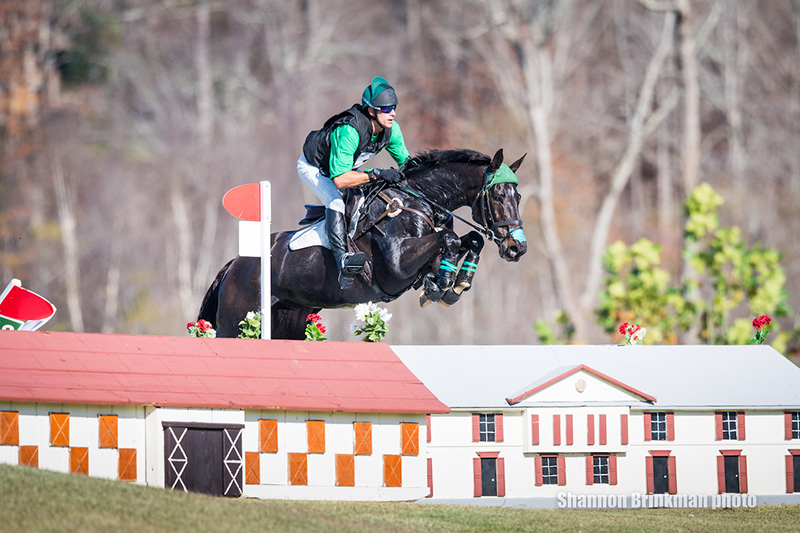 "I was really happy with Carmango to get steady tests in the dressage," said Kreitl, Muncie, Indiana. "He's a really consistent horse, and I was happy with him there. Then on cross-country, it was our first CCI4*-L division for both of us, and it was definitely challenging enough and took some scrappy riding, but I'm super proud of the horse. I was curious how he was going to feel today, and show jumping has never been our strongest phase, but he had a lot of jump. I was thrilled with his fitness and how he recovered."
For Kreitl, who runs a student housing business and is competing at the highest levels for the first time, the win was surreal as he sat between Halliday-Sharp and Dutton at the press conference. "It's amazing to end on such an epic high, and to win against these legends in the sport. As an amateur, I look up to them, and I've always thought someday I'd love to be able to be up there and win," he explained. "It was kind of a pipe dream, so it's super fun to actually get to live it out here today."
Watch Kreitl's cross-country round, courtesy of USEF Network:
The electric atmosphere of the Tryon Stadium was just enough for Kreitl and Carmango after some hairy moments in the past.
"I appreciate the atmosphere and the big stadium here," he said. "This horse, in Kentucky this year, spooked badly at the atmosphere, and it's nice to be able to have venues where he can get more exposure. I think it's a great venue for that."
As the newly-crowned Dutta Corp./USEF CCI 4*-L Eventing National Champion, Kreitl received a $20,000 ticket grant that will allow him to travel abroad to compete with Carmango at the competition of his choosing in 2023. He said he hadn't let himself get his hopes up by dreaming of where he would go with the ticket.
"I haven't considered where I would go, because I was like, 'Let's just cross this one step and get it done first!' " he said. "I've been in the lead coming into show jumping before and haven't won. I'm super excited, though, and definitely can't wait to take advantage of this awesome opportunity to go overseas. I think it's a gift of a lifetime, and an opportunity I probably wouldn't have otherwise."
Watch Kreitl's show jumping round, courtesy of USEF Network: