Lexington, Ky.—Aug. 14
The USEF Pony Jumper Individual National Championship came to an exciting conclusion on Saturday afternoon. Fourteen combinations contested a challenging track designed by Jasen Shelley to determine the individual medals. Three combinations sat tied for the lead on four faults heading into the final phase of the competition: Alexis Bauman and Miracles Happen, Michaela Munson and Bluebelle, and Audrey Turner and Prince Oliver.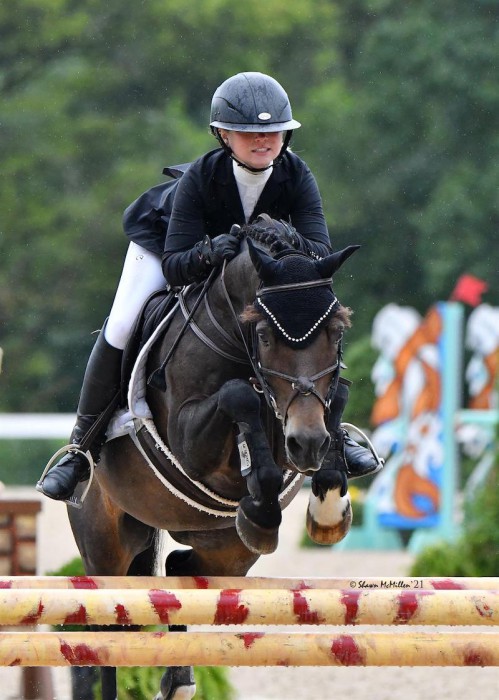 Both Bauman and Munson had clear rounds, resulting in a jump-off to determine the gold and silver medals. Munson (Rogers, Arkansas) and Bluebelle, Genevieve Munson's 2000 Pony mare, went first and had an unlucky rail at the final fence in a time of 42.207 seconds. Bauman (Woodstock, Illinois) and Miracles Happen, Amber Bauman's 2005 Welsh Pony gelding, went for a steady round, finishing clear in a time of 48.216 seconds.
Watch their winning ride:

Bauman made her 10th and final appearance at Pony Finals a meaningful one by claiming gold with "Roy." This year was her second time competing in the pony jumpers, and she used the experience she has gained since her last appearance to have a top performance.
"It is so cool because at the 2019 Pony Finals I didn't make the ribbons for the individuals; I was just out of it," said Bauman. "So I said, 'OK, mom, I want to go for gold this year' because it is my last year."
Munson and Bluebelle took home the silver medal, while Turner (Timberlake, North Carolina) and Prince Oliver, her 2009 Warmblood/Quarter Horse gelding, earned the bronze medal.
Leaderboard:
1. Alexis Bauman and Miracles Happen
2. Michaela Munson and Bluebelle
3. Audrey Turner and Prince Oliver
Want more Pony Finals? We've got stories about special competitors here. You can find results at Shownet.biz. Plus make sure you're following The Chronicle of the Horse on social media @chronofhorse.