On the strength of the only double-clear cross-country round in their division, Woods Baughman and C'est La Vie 135 on Sunday won the Dutta Corp./USEF CCI4*-L National Championship, held at Tryon International Equestrian Center (North Carolina).
Despite being held on cross-country and Baughman losing track of where they were against the clock, the pair ultimately were the only ones to finish Capt. Mark Phillips' track without time penalties, moving them from third after dressage to first after cross-country Saturday. Another double-clear round in Sunday's show jumping competition secured their win on their dressage score of 29.4.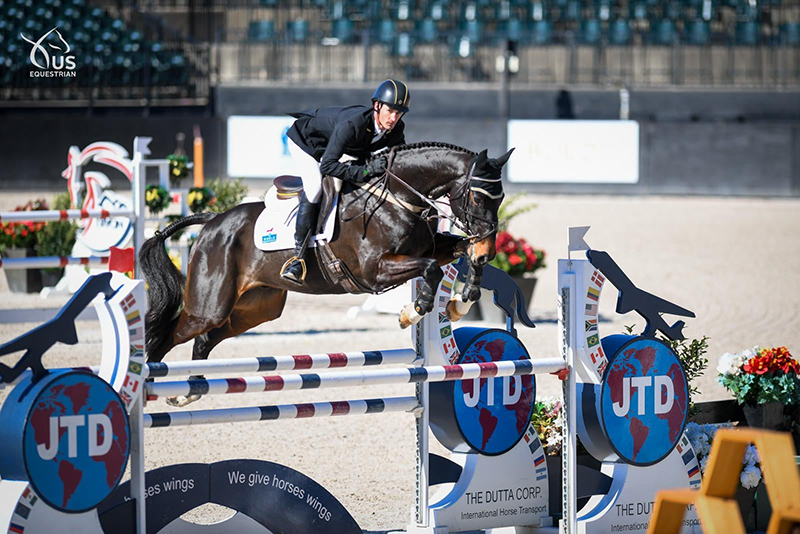 "On cross-country yesterday, he was such a machine," Baughman said of "Contendro," a 13-year-old Hannoverian (Contendro I—Anette, Aarking xx) he owns with his parents, Kim and James Baughman. "I wasn't sure about the time at the end, so I just dropped the reins. I let him do his thing, and we ended up well inside the time.
"Overnight, I was just keeping him as relaxed as possible, so he didn't get all tight, especially with it being so cold this morning," Baughman continued. "He had so much energy left today that I was still holding him back in the show jumping. I felt pretty confident going in. I actually lost control a little bit in the victory gallop, but it's all good!"
It was a good weekend for Baughman and West Virginia's Last Frontier Farm, where he keeps Contendro and works as an assistant trainer to Sharon White. White finished second behind her student and assistant aboard her own Claus 63 in the 9-year-old Holsteiner's debut CCI4*-L, adding only time penalties to their dressage score to finish on 36.7. Will Coleman and Hyperion Stud's Chin Tonic HS, also debuting at the level and who were leading after dressage, added time penalties on cross-country and then had the final fence down in show jumping to finish in third on 38.0.
Winners from other divisions of the Tryon International Three-Day Event were Phillip Dutton and Z, owned by the Z Partnership, in the CCI4*-S; Ariel Grald and Forrest Gump 124, owned by Annie Eldridge, in the CCI3*-L; Tik Maynard and his own Galileo in the 79-horse CCI2*-L class; and Boyd Martin and Gestalt, owned by Sherry Pound in the CCI1*-L.
Watch Baughman's winning cross-country and show jumping rounds: