Steffen Peters and Suppenkasper have cantered down centerline 20 times in Grand Prix CDI competition in the last two years, and on every single occasion they've earned blue.
So it wasn't surprising that the pair claimed the big freestyle win at the Adequan Global Dressage Festival CDI5* in Wellington, Florida, on Feb. 26 with a score of 80.99%, their best of 2021.
"There were lots of things that were great," said Peters. "The piaffe felt really good, great half-passes, the pirouette felt good. To me, one of the highlights of 'Mopsie' now, that used to be so difficult, is the collected walk. I used to have to hide that a little bit in the corner, but now I'm doing it on the diagonal because I can really show the relaxation. That might look like a boring movement, but to me it's huge. Of course, I risked a little bit much in that one extension, so he broke; one little fumble. The rest felt great."
While there are three more weeks left of the AGDF, Peters opted to quit while he was ahead with Akiko Yamazaki's 13-year-old Dutch Warmblood gelding (Spielberg—Upanoeska, IPS Krack C).
"We decided to bubble wrap him from here and preserve him and head back to California next week," said Peters, who hails from San Diego and is aiming for the Tokyo Olympic Games this summer.
Watch their last winning test of the 2021 Florida season, courtesy of Richard's Equine Video.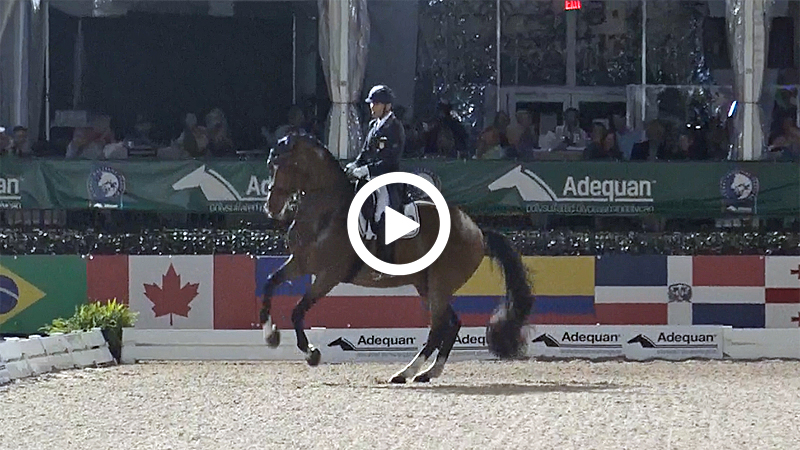 Final Results FEI Grand Prix Freestyle CDI5*, presented by CaptiveOne Advisors:
Place, rider, nationality, horse, horse information: judge E%, judge H%, judge C%, judge M%, judge B%; final score
E, Agnieszka Majewska (POL); H, Peter Storr (GBR); C, Michael Osinski (USA); M, Christoph Umbach (LUX); B, Cesar Torrente (COL)

1. Steffen Peters (USA) on Suppenkasper, Akiko Yamazaki and Four Winds Farm's 2008 KWPN gelding by Spielberg: 81.775, 81.350, 80.375, 79.575, 81.900; 80.995%
2. Yvonne Losos De Muniz (DOM) on Aquamarijn, her own 2005 KWPN mare by United: 76.275, 79.450, 76.075, 77.150, 76.400; 77.070%
3. Guenter Seidel (USA) on Equirelle, Leatherdale Farms and Louise Leatherdale's 2009 KWPN mare by Florett AS: 75.450, 74.325, 76.600, 77.600, 73.825; 75.560%
4. Jan Ebeling (USA) on Indeed, Vantage Equest Group II, LLC's 2008 Danish Warmblood mare by Hofrat: 72.700, 74.550, 73.750, 75.000, 73.675; 73.935%
5. Katherine Bateson Chandler (USA) on Alcazar, Jane Forbes Clark's 2005 KWPN gelding by Contango: 75.975, 72.775, 72.550, 71.175, 69.925; 72.480%
6. Sahar Daniel Hirosh (ISR) on Whitman, Jane Suwalsky's 2003 KWPN gelding by Rhodium: 69.875, 67.800, 70.175, 71.575, 68.425; 69.570%