When The Dressage Foundation recently announced the five young women selected for this year's Young Rider Dream Program—Ava Dingley, Emily Glover, Anna Graves, Emma McKeighen and Jillian Sheppard—two of the other names sounded familiar to McKeighen. All three, it turned out, are from Washington state and know each other from their involvement in dressage.
McKeighen, 21, of Enumclaw, Washington, and Graves, 21, of Seattle, crossed paths for the first time six years ago, at a Lendon Gray clinic held at DevonWood Equestrian Centre in Sherwood, Oregon.
"Since then, we've seen each other at shows," McKeighen said. "This past summer, we actually both have been competing at the Prix St. Georges, which has been super fun, but I've gotten to know her over the years at the shows and everything."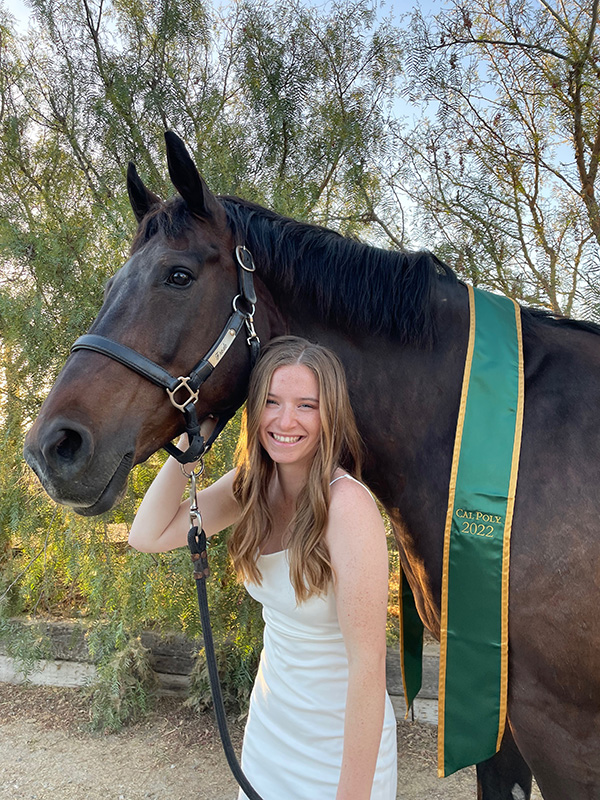 After getting her undergraduate degree from California Polytechnic State University with a business major and a concentration in accounting In June, McKeighen decided to pursue a master's degree in taxation. She and her gelding Frodo moved across the state to Spokane, where she is studying to become a certified public accountant at Gonzaga University.
It was at her gelding's new home, Spokane Sport Horse Farm, where McKeighen met Glover, 22, a Spokane resident. Although the two see each other regularly at the barn, neither knew the other had applied to TDF's Young Rider Dream Program until recently.
"We realized we both applied to the program after we'd been accepted, because I told no one," Glover said. "I totally didn't think I was going to get in. So I told my trainers and the people that helped me apply, but other than that, I didn't tell a soul. It wasn't until a week after we had all been accepted that [Emma and I] put the pieces together. We were riding, I think we were both on a walk break in the arena, and she was like, 'OK, is this 'Emily' you?' and I said yes!"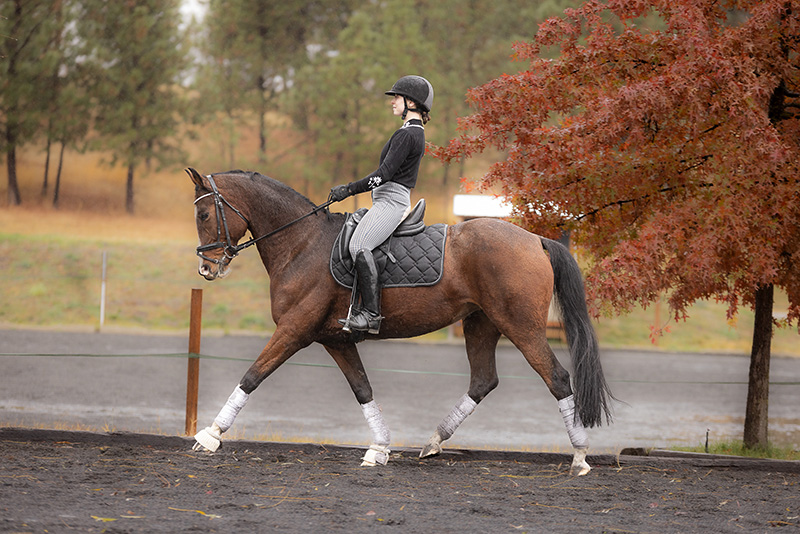 All three Washington riders will be headed across the country to Wellington, Florida, for the first time at the end of January. TDF's Young Rider Dream program offers a fully funded immersion into high-performance dressage sport for selected 18- to 22-year-olds. To qualify for the program, candidates must be competing above third level and never have competed or trained in Wellington before.
While the program's itinerary and schedule are designed for committed riders on the path to becoming professionals in the equestrian industry, every participant selected this year has balanced pursuit of dressage with the demands of seeking a bachelor's degree. Some have even chosen to pursue other career goals in tandem with their dressage aspirations. In the evenings, Glover is a full-time nurse at Sacred Heart Medical Center on the oncology floor.
"It's not difficult [to balance horses and work] if you make horses a priority," said Glover. "It can be overwhelming sometimes, but as long as horses are a priority for me, they take precedence over other things sometimes. I chose a job and a schedule that would fit my riding. I ride in the morning, and then I work from 3 to 11:30 p.m."
Olympian Michael Poulin originally founded the program to give top young riders an opportunity to experience international competition in Europe, and pre-COVID trips traditionally went to Germany. The COVID-19 pandemic has forced the program stay stateside for the past few years, with participants training in Wellington and having the chance to watch an international competition on home turf at the Adequan Global Dressage Festival. (In 2024, TDF officials hope to expand the program, both sending a group to Europe and maintaining the Wellington-based version, through ongoing fundraising and a $100,000 matching gift challenge from Margaret Duprey and Cherry Knoll Farm.)
"I'm really excited," Graves said. "It sounds like we'll be able to go to one of the freestyle nights. I'm also excited to learn about dressage theory, hopefully from some really good riders. I really hope that I can come away with some ideas about how I could go [about pursuing] a dressage career and how people make it happen in the Wellington area."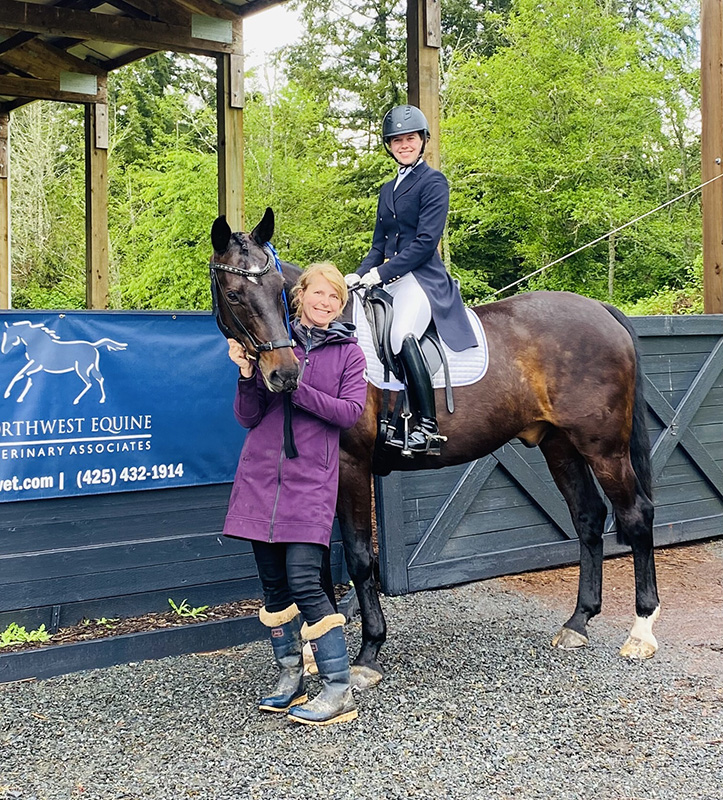 McKeighen has similar hopes for the program.
"Dressage really is a very complicated sport," she said. "I think everyone has a different approach, but there are also the basics that everyone follows—the basic principles you always come back to. I think it'll just be really cool to hear from all the different professionals and see how I can apply that to the training process with my own horse, because I really would like to make it to the Grand Prix one day.
"I'm really looking forward to meeting other dressage people—especially the other girls who got selected for this trip—and just making some new connections," she added.
While having a familiar face in the group could be reassuring, it is by no means necessary for the program's success, according to the Washington participants.
"To know that I know someone is at least a bit comforting," Glover said. "But I think regardless, it's going to be an awesome trip. Because [the participants] are a bunch of motivated, like-minded riders that are going to a really cool place."