This year I've brought one student to the Dover Saddlery/USEF Hunter Seat Medal Final, Annalise Manoog. I had two others qualified, but they decided to do the Hamel Foundation National Horse Show 3'3" Equitation Championship [in Kentucky and can't cross enter in any 3'6" equitation finals].
Annalise has had a great season. She won her ASPCA Maclay Regional qualifier and just won the 15-year-old equitation, section A, championship at Capital Challenge [Ohio]. This is her first year doing the 3'6" finals. She did the [Hamel Foundation Championship] and the Taylor Harris Insurance Company Medal Final the last two years and last year got a ribbon in both.
We have two horses here at Tryon: Carollo and Come Monday. Carollo is Annalise's horse, and Come Monday is a backup horse.
The horses arrived Monday with Nicole Lindquist who works for me and is fantastic. She brought the horses from the World Equestrian Center in Ohio. She called while she was on the way to make sure our shavings would be at the stalls, but when she arrived at 8 p.m. they weren't there. Luckily my husband knows Lance Bennett, who is the assistant show manager at Tryon, and she called him, and he got everything sorted out.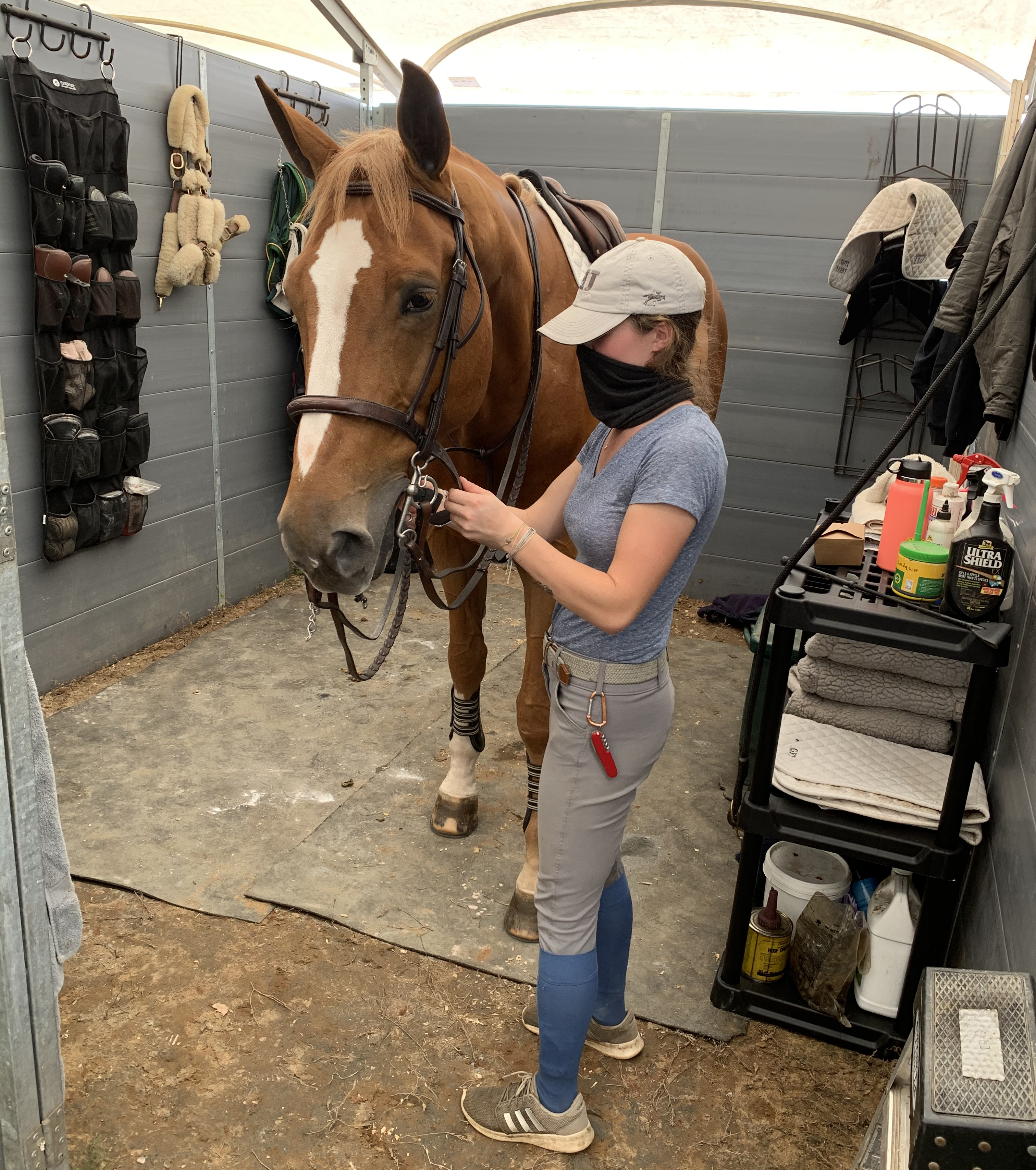 The schooling class for the Medal is the only thing going on today in the covered arena, and they've reduced the time in it to 70 seconds—it used to be 90. It's a nice course. There is a designated first jump, and then you can make up your own course, practice what you need to do; it allows you to get up and back around the ring a few times.
Normally when they do this we're in an arena with a jumbotron with a countdown clock. Not this year. This year the show manager, Peter Doubleday, is at the in-gate blowing the whistle and manning the clock. The next rider can go into the ring at 50 seconds, so they have 20 seconds to get ready for their round. It seemed to work out just fine.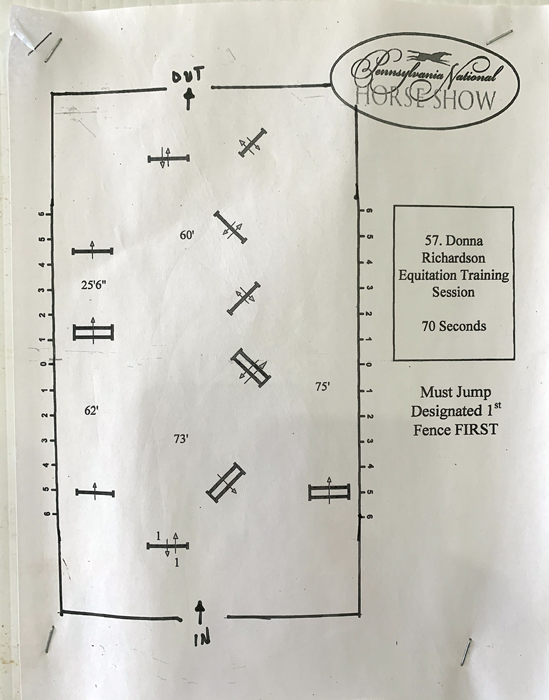 There's a regular big horse show going on here at the same time as the Medal Final. The people at the regular horse show took the permanent stalls, so we're in essentially a polo tent. The stalls are nice, and the horses are happy though, and we're stabled with our friends. There are about 20 stalls under our tent, just one single aisle, and there are three or four tents. The good news is we're just a stone's throw from the ring, so that will be great tomorrow.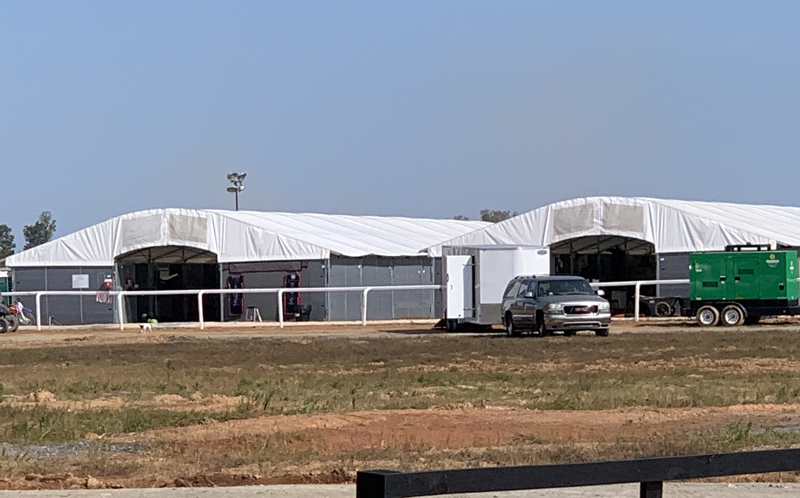 I've never been to the Tryon International Equestrian Center before. I was a bit disappointed to find out the final will be in an covered arena. There are not any stands, just a few chairs scattered around the outside. There is an indoor at TIEC, but I understand they had to use it to house more Medal horses.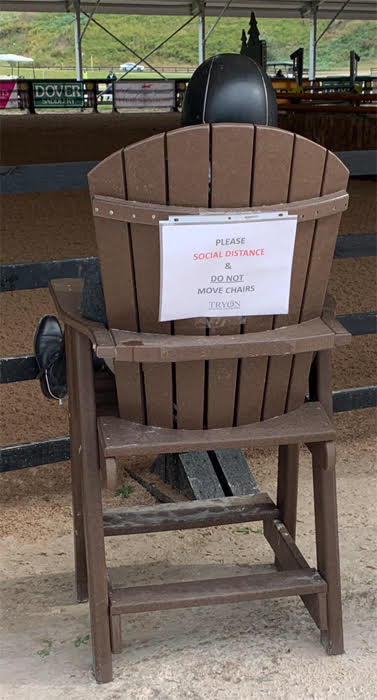 It's going to rain all day tomorrow, so we'll be schooling outdoors and then going to the covered arena to show. When I asked where the parents were going to watch I was told that they'd watch online.
The covered arena is probably about 130 x 300, but they've cut off a bit to create a holding area, so it's closer to 130 x 275. I'd say it's definitely not as wide as the ring at [the Pennsylvania Farm Show Complex in Harrisburg where the class is usually held]. I think it will be less intimidating because in Harrisburg you have the stands, and here there's not much going on around the outside. What I do at home to prepare is divide one of my huge rings into the size of the show arena and set a tough course in the space they're going to be showing in.
They're doing a good job with COVID protocols here. You have to check in online, and they send you a code on your phone. Then they've got four or five guys scanning your phone and giving you your wristband for the day, as well as taking your temperature. Another thing that's different this year because of COVID is there will be no welcome party or anything. I'm told the order of go will go up online at 4 p.m. today.
My daughter [Emma Fletcher, who won the Dover/USEF Medal Final last year] is flying in tomorrow. She's at Baylor University in Texas. She's coming in to do the commentary of the top 25 on Sunday along with Tom Brennan, and she'll present the award to this year's winner. 
Kathy Fletcher runs Grazing Fields Farm in Buzzards Bay, Massachusetts, where she trains students in the hunters, jumpers and equitation. She's been attending the Dover Saddlery/USEF Hunt Seat Medal Final for 35 years. Last year her daughter Emma Fletcher won the Medal Final, and she's had other students earn top ribbons at equitation finals over the years.