Wellington, Fla.—Feb. 13
When McLain Ward came into the ring for the jump-off in the $380,000 Fidelity Investments CSI***** Grand Prix, Rothchild was feeling feisty—pawing the ground and stopping mid-canter stride for some lively crow hops before Ward was able to encourage him forward and on to the winning time.
Apparently, it was only a small taste of what Ward's longtime partner had been putting him through in the warm-up ring.
" 'Bongo' and I were having a rough night in the schooling area," Ward said. "It's a pretty lively atmosphere back there, and this is his eighth year jumping grand prix here. He knows it; he anticipates it. Our warm-up was pretty rough, and he was pretty excited to the point where I wasn't sure that it was going to go very well."
He needn't have worried. Bongo blazed to the lead in 48.96 seconds, well ahead of second-placed finisher Meredith Michaels-Beerbaum and Comanche 28's time of 50.05.
A horse known for going in his own unconventional way, Ward appreciates the "try" Bongo gives him, even if his form is not as knee-snappingly picture-perfect as his other mounts.
"It's been pretty remarkable the last couple of years, what he's stepped up and done," Ward said. "He does it 100 percent from heart and try. It's always wonderful to have a horse with that kind of spirit."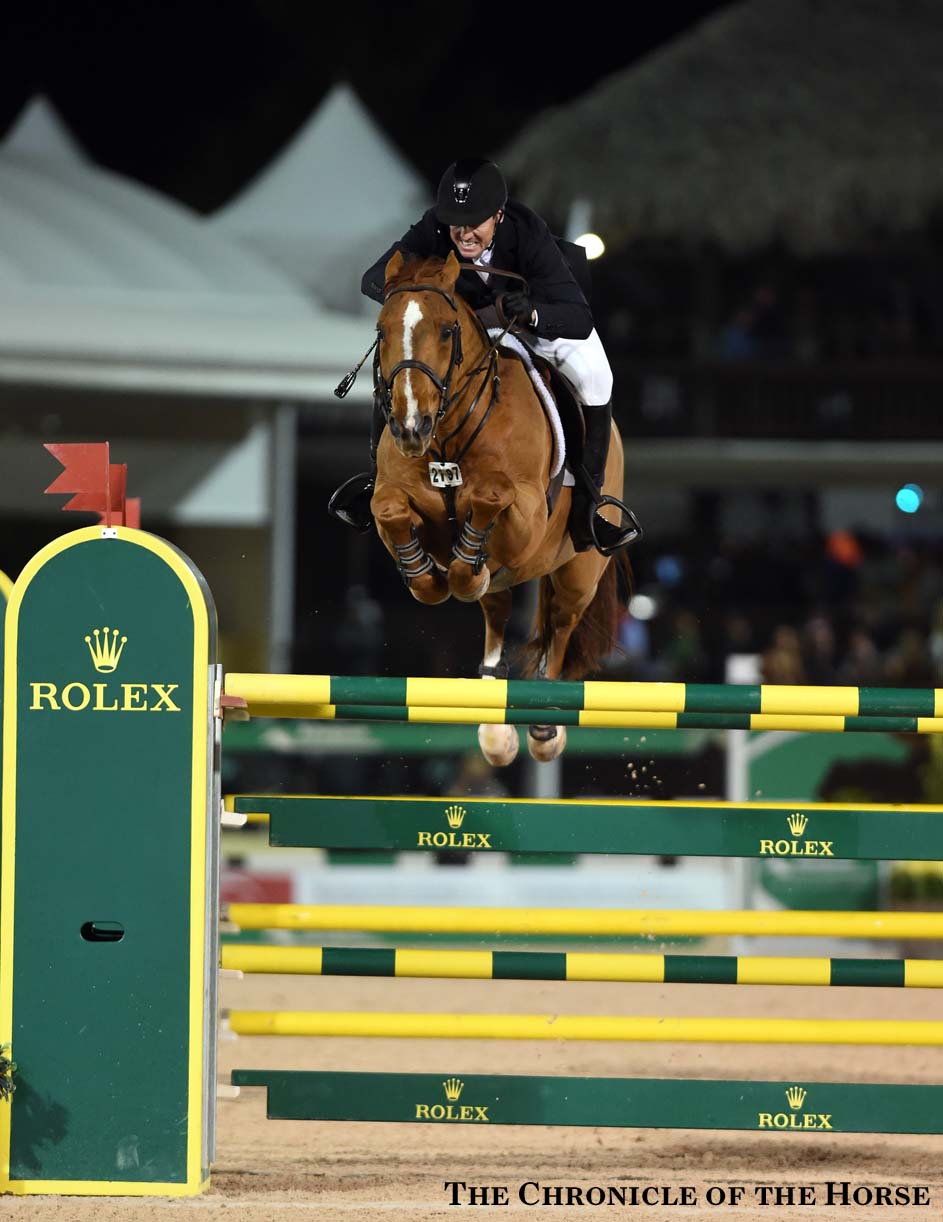 McLain Ward and Rothchild blaze to a win. Photo by Lindsay Berreth.
Ward has had an excellent couple of weeks showing in Florida—a week before his win in tonight's five-star, at the CP Wellington Masters tournament, Ward won both the $35,000 Welcome Stake and the $50,000 Longines Qualifier CSI*** with HH Carlos.
And let's not forget about his up-and-coming super star, HH Azur, the spectacular mare Ward and his team are grooming for Rio. To say Ward's string runs deep is an understatement.
"It's great to have a horse like Rothchild that can compete at this five-star level along with Azur," Ward said. "It allows me to make good choices for the mare."
Michaels-Beerbaum has played bridesmaid twice in big grand prix classes the past two weeks—she took second to Kent Farrington in the $200,000 Longines FEI World Cup Qualifier aboard Fibonacci before following Ward in the five-star.
"I think the jump-off was a difficult jump-off to ride. It was a really twisty turny type course. It suited a horse like Rothchild better than it suited my horse Comanche," Michaels-Beerbaum said. "[Comanche] is new to going this fast, and turns and things like that. I was relatively pleased with how he went."
Michaels-Beerbaum took an extra tight inside turn back to a massive vertical that had the crowd gasping at its daringness, and even Comanche was a little surprised to be threaded through the space, giving Michaels-Beerbaum a slight peek before galloping on through the hole and clearing the fence.
"I decided that my only chance was to try the inside," she said. "After watching McLain, I thought maybe there would be a small chance if I did that, that it would save enough time. I saw McLain's jump-off, and it was a super round, a super ride.
"[Rothchild] jumped fabulous," Michaels-Beerbaum continued. "On a day like that I would say he is almost unbeatable. I was thrilled with Comanche. Like I said, we're new at this game a little bit together."
Ward did not bother trying the inside turn with the lightning fast Bongo, smiling as he admitted, "You have to watch him on a slice once in a while. He'll duck out from time to time. I thought I could actually go around very quickly."
Mark Bluman may have been the lowest-placed competitor at the press conference (he placed third to Ward and Michaels-Beerbaum aboard Califa LS), but he was by far the most excited. His first round alone had him grinning and fist pumping to the crowd when he turned to look at the score clock and saw he was clear.
In the press conference, that same big smile was back as Bluman looked over at Ward and Michaels-Beerbaum.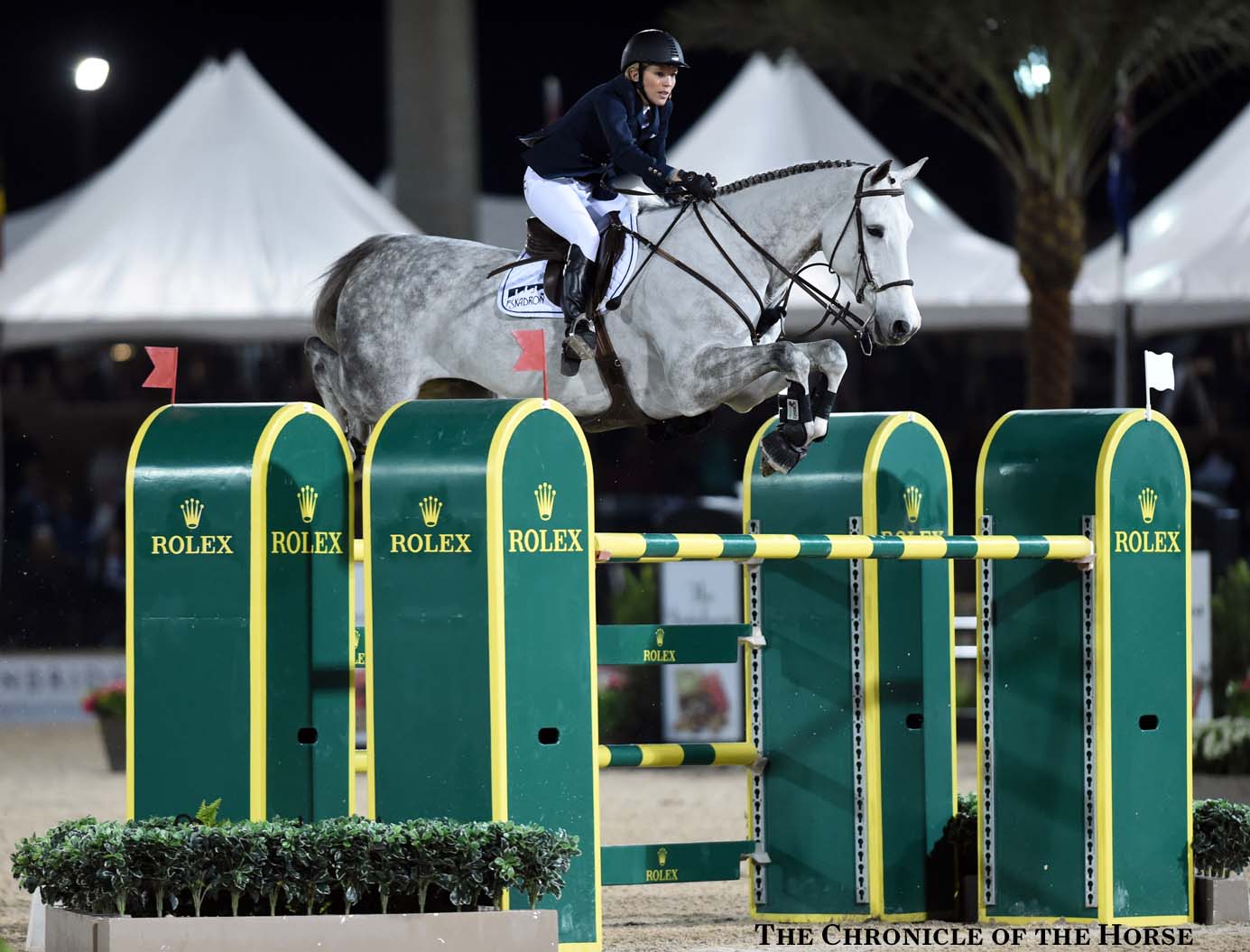 Meredith Michaels-Beerbaum and Comanche 28 finished second. Photo by Lindsay Berreth.
"Coming in here, it's an unbelievable feeling that finally I'm sitting right next to the people that I have been looking at since the beginning – since I was 7 years old," Bluman said. "Here I am. It's just a very exciting moment. I'm just thrilled. I literally can't believe I'm sitting here right now.
"This is my second five-star show of my life," Bluman continued. "To be here again with these geniuses right next to me – I have no words for what happened tonight. I still can't believe it."
Ward teased the young rider that when you go clear, you should play it cool and act like you've done it a hundred times before (Bluman removed his helmet as he galloped past the crowd on one long side of the ring, waving it in the air and elicitng cheers), and Bluman shook his head and laughed.
"But what you didn't know was that was the first time, the very first time!" he said, pointing to the International ring in front of him.
Bluman will take Califa to Ocala, Fla., next week for the show's regular grand prix, while Ward plans to take Rothchild to Ocala to jump in the $112,900 FEI Furusiyya FEI Nations Cup.
For full results, click here.